Organizations today have realized the value and impact of internal mobility and employee development. A key part of this equation is an internal talent marketplace – a powerful tool that smart-matches employees to potential roles and other career development opportunities within their organization.
As HR teams navigate their talent marketplace implementation, ensuring you have leader support early on is a significant contributor to the overall success and adoption of the platform. Getting leaders on board requires a strategic launch strategy – one that prioritizes their engagement and inclusion right from the get-go.
What leaders may be worried about
It's important to be aware of the main concerns leaders and managers may have in the lead-up to your talent marketplace implementation so you can address them ahead of time. Some common worries are:
Too much change: Change can be overwhelming. Leaders often have a million other things on their to-do-list and even if they understand the benefits of a talent marketplace, they may be hesitant to adopt new technologies or new workflows.
Afraid of losing their best talent. A talent marketplace facilitates and prioritizes internal mobility. Managers may be resistant to losing their top-performing talent to other teams within the company. 
Team disruptions: Managers may think that this renewed focus on internal mobility and employee development could cause disruptions and change within their teams.
While these concerns are valid, the key here is to help leaders understand the benefits of the change for themselves and for their employees. Dr. Amy Centers, VP of Client Transformation Solutions at Fuel50, says to influence their desire to participate and support the change, you must provide a compelling case for how they will be better off or what they get out of engaging in the change. You must answer, "What's in it for me?" early and often in your communications.
Being mindful to spotlight key leader WIIFM (what's in it for me) messaging, along with clear and complete context for the change, will go a long way in helping leaders realize the benefits of a talent marketplace across their team and business – Dr. Amy Centers, VP of Client Transformation Solutions at Fuel50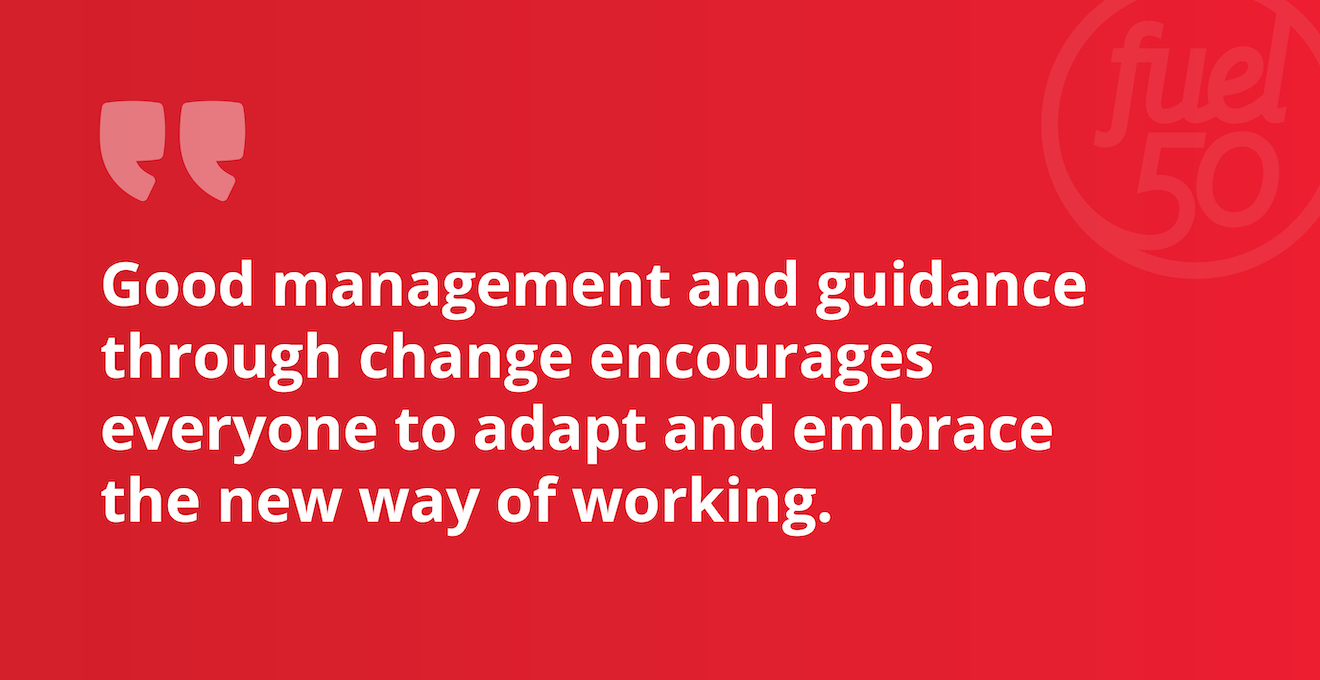 Strategic change management is essential during your talent marketplace implementation
Organizational change can be intimidating. However, it doesn't have to be if employees are well-prepared and well-informed. Good management and guidance through change encourages everyone to adapt and embrace the new way of working.
The Fuel50 SPARKS change model is a useful tool to ensure you have a thought-through strategy to engage employees and sustain success over time. SPARKS leverages elements of McKinsey's 7-S and Prosci's ADKAR Models for one cohesive and comprehensive plan.
The SPARKS model recognizes the connectivity and interdependence of all the change elements. They are each of equal importance to the success of your project and need to align for change to be effective.
Strategy: Define your project's mission/vision, identify its strategic positioning, create your strategic objectives, map your strategy, determine your strategic initiatives, and evaluate the success of your strategic execution.
People: Define your project stakeholder groups. What socialization and enablement does each group need to fully engage? How equipped are managers to support their people? What do leaders need to advocate for your project/desired change?
Attract: What type of communications and marketing campaigns will create the needed energy, excitement, and engagement to accelerate and sustain this change? How can you segment your communications to ensure each stakeholder group receives targeted WIIFM messaging?
Ready: Assess the strength of your project planning, leader buy-in, and change readiness to ensure desired change acceleration.
Kindle: How will you launch the talent marketplace across the business? This phase marks the shift from launch planning to fueling your initiative for sustained success.
Sustain: Grow your early talent marketplace engagement and insights via measuring and evaluating success, building accountability systems, celebrating and recognizing change wins, rewarding engagement, and seeking stakeholder feedback.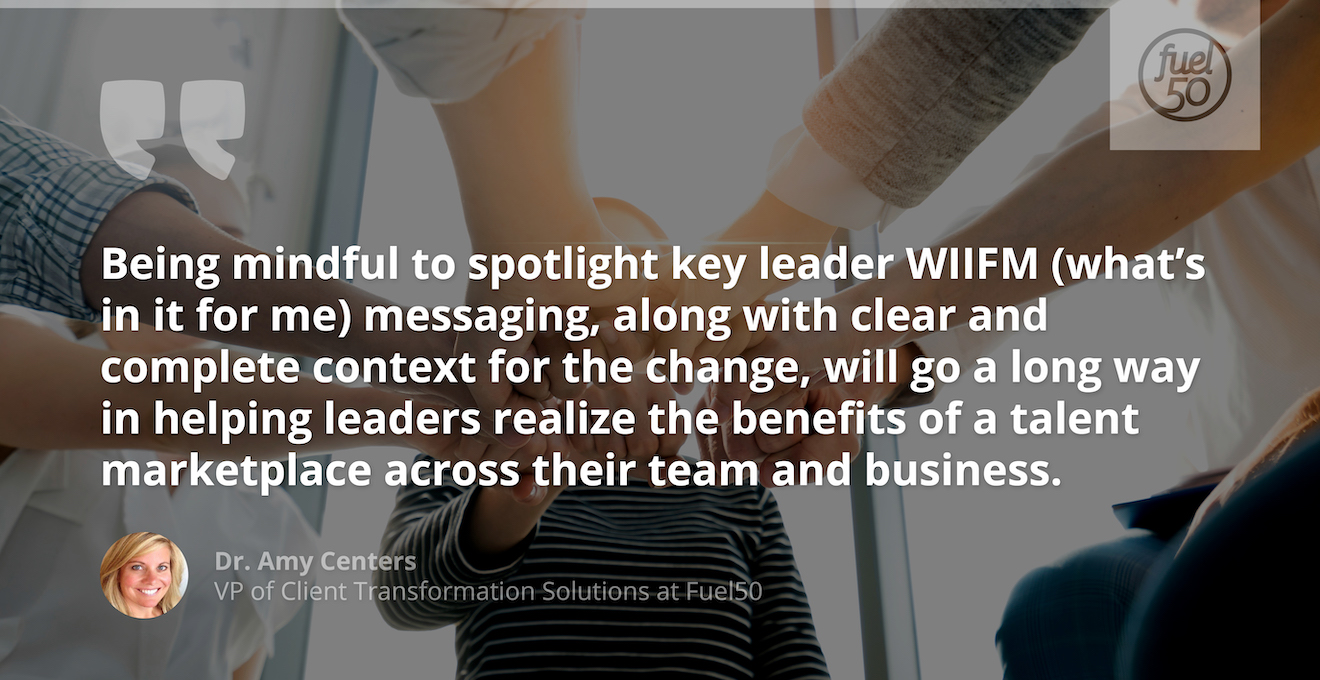 Tips For a Successful Talent Marketplace Implementation
Be clear about the 'why'
Start by communicating the purpose behind your talent marketplace implementation. Ask yourself, what were the main drivers for implementing a talent marketplace? What are your vision and goals for the new platform? How do you see it impacting the rest of the organization?
Include what the organization's ideal employee experience looks like with the talent marketplace and how this will help leaders better support their people. Being clear about the 'why' will enable leaders to better understand the reasons why this change is needed.
Keep senior leaders in the loop
Keep leaders in the loop throughout your planning and implementation process – giving them regular updates on timelines and progress. Marie Power, Director of Talent at CarTrawler, wanted to ensure the change management process during their talent marketplace implementation was seamless. She kept their extended leadership team and key stakeholders involved from the beginning with regular updates, ongoing progress, and sneak peeks of the platform and its functionalities. Doing so kept leaders informed and helped build hype and excitement for the launch.
"There's really something around getting your leadership team involved early on when you're going live [with a talent marketplace], showing them the system and showing them the functionality around the system… It really gets their buy-in which supported them from a change management perspective. It made the go live a whole lot smoother." – Marie Power, Director of Talent at CarTrawler
Continue to educate and engage managers
Leaders play a critical role in the success of your talent marketplace, so it's important to ensure they are well-equipped to champion the platform and advocate for its use. When rolling out a talent marketplace program, you should also implement leader training to help them understand how to use the platform to better support their people. Give them extra resources such as training, personalized coaching, or other learning materials to ensure they are confident with the platform.
"It's helpful to remember that leaders are employees first and that they need support in understanding and processing the change needed to implement a successful talent marketplace. This may include a briefing pack with all the information they might need to support their team members, as well as some training in coaching their employees in this new space." – Dr. Amy Centers, VP of Client Transformation Solutions at Fuel50
Engaged leaders cultivate engaged employees
Leaders hold the power to influence others across the organization, and when they encourage the use of the platform and are enthusiastic about its benefits, that excitement flows onto employees. Taking the time to help managers and leaders become champions of the talent marketplace will significantly impact the adoption and utilization of the platform across the board.
If you want to learn more about how organizations are utilizing and implementing the talent marketplace, explore our client success stories.