As markets fast evolve, many companies face a mismatch between the skills their employees currently have and the capabilities their business needs to meet strategic goals. Without the right skills and expertise, enterprises cannot fully leverage innovations, meet changing customer demands, or pursue emerging opportunities. Furthermore, many organizations do not have clear visibility to what skills exist across their workforce, making identifying skills gaps, let alone solving them, incredibly challenging. 
By shifting to a skills-based approach, leading organizations are enabling business leaders and HR teams to quickly identify skills gaps, create tailored reskilling and upskilling journeys, and mobilize talent to fill critical needs. 
Why the shift to skills-based

?

 
World of work experts have long touted the need for organizations to be more agile to better respond to global and economic changes. By looking at job titles and roles alone, organizations do not get a complete picture of the skills, knowledge, experience, and capabilities that already exist across their workforce. Without this, it is difficult to see where they can upskill and mobilize talent to fill skills and knowledge gaps. 
Yvette Vargas, Head of Development at Citizens Bank, explains, "Skills are the new currency. We're dealing with people and human behavior, not just knowledge. We're in the business of helping manifest people's knowledge and skills into activities: initiatives that will help our customers, colleagues and communities actually transform their lives." 
A survey of CEOs by Deloitte1 found labor and skills shortages were the second most cited external factor disrupting their business strategy. However, once skills and capabilities are mapped across the organization, identifying skills gaps, both current and future, and then solving them becomes far easier. 
As Transforming into a Skills-Based Organization describes: "Shifting from a traditional job-based talent strategy to a skills-based strategy enables these organizations to respond to change quickly and more effectively, giving them a competitive advantage in today's unpredictable environment."2
Jeremy Manjorin, Chief Learning Officer at the Federal Reserve Bank of New York, shares that a skills-based approach helped his team cultivate a heightened awareness of the organization's learning needs and opportunities, in addition to its existing training and development resources. Manjorin explains that by having individual skills and competencies identified for each role, the team was able to connect them to workshops, online learning programs, training programs provided through content partners such as LinkedIn Learning, and microlearning assets.3 
Research by Fuel50 highlights some further benefits of skills-based strategies, including broader talent pools, reduced bias in hiring, and increased organizational agility.4  
T

ype

s

of skills gap

s
According to Valamis5, skills gaps can generally be categorized as three defined types: 
Knowledge Gap

– a lack of knowledge related to the job. This could be the specific knowledge required to perform tasks successfully, the knowledge needed to understand how the work fits within the wider organization, or the

institutional knowledge

particular to a given organization. Removing knowledge gaps can improve employee performance and collaboration between staff members.

Skills Gap

– while knowledge generally refers to learning information and an individual's intellect, skills refer to the ability to apply the proper knowledge in any given situation. Employees can pick up knowledge through studying, whereas skills must be performed. The skills needed for a particular job could be mental (e.g., coding ability), physical (e.g., fitness required for a physical role), or soft skills

such as communication and emotional intelligence.

Performance Gap

– a lack of motivation or engagement leading to poor performance. Unlike the previous two types, performance gaps occur when an employee with all the tools to be successful underachieves. This could be for several reasons, including ineffective management or individuals misaligned with the organization.

 
How to identify skills gaps within your organization
The process for identifying skill gaps and training needs is reasonably straightforward, but it is time-intensive. However, it is worth investing the time and resources to do it properly as this establishes a solid foundation that allows HR to fully understand its workforce and develop strategies for improved productivity and agility.
The world's largest and most broadly based healthcare company, Johnson & Johnson, had a goal to ensure they understood the skills they have and the skills they still need to achieve their goals.6 As Christina Norris-Watts, Ph.D., Head of Assessment and People Practice at J&J, highlights:
You have to start with defining the skills and defining that construct underneath the skill, meaning what is the definition of the skill, what are the proficiency levels of those skills. And, if you're going to use them for decision-making, you're also going to need to validate them to link them to jobs.
Here are 5 steps for bridging the skills gap7:
1. Determine the company strategy
Clearly document the goals and KPIs of the organization. This is a crucial first step as you will use these to determine the best short-term and long-term roles (and then the skill requirements associated with those roles) necessary to support the company strategy.
2. Identify specific roles required to achieve company goals
You can identify the best short-term and long-term roles to support the company strategy internally or using template roles from open sources, such as the Future of Jobs Report posted by the World Economic Forum. To further refine this, you can separate roles into emerging jobs that will be more prominent in the future and declining jobs that are less important moving forward.
3. Develop a skills inventory for all roles
Outline the skills required for the roles identified as necessary to attaining your company goals. The easiest way is to accomplish this is to invest in a skills architecture solution with a skills ontology that is fueled by the latest digital market data and maintained and kept up-to-date by a dedicated team of I/O Psychologists and HR Specialists. With the right skills architecture and ontology, you will end up with a zero-bias, dynamic framework of capabilities, specialist skills, and tools and technologies that establish a common language for skills comparison across your organization.
4. Establish what existing skills you have across the workforce
Before you can identify skill gaps in the workplace, you need to know what skills you have. Activating a talent marketplace on top of this skills architecture will give you insight into what skills (and at what proficiency) your employees currently have.
With Fuel50 Talent Marketplace, organizations can marry organizational needs with worker capabilities and desires to create a workplace that encourages retention through skills identification and development, project-based learning opportunities, career pathing and mentoring. Further, Fuel50 uses AI to assist organizations in automating the daunting task of creating and maintaining a skills-based job architecture that is regularly updated based on relevant internal and external data in a way that is scalable and unbiased.

Fuel50 Talent Marketplace can accelerate an organization's transformation to a skills-based workforce, providing them the opportunity to retain and develop talent to remain agile and effective in the face of unpredictable economic conditions. If you have not examined how Fuel50 Talent Marketplace can help your organization, it is well worth your time.
– Judges' Comments, Ventana Research Digital Innovation Awards

5. Perform the skills gap analysis
By comparing the skills your organization needs against the skills it already has, you can see where the gaps are and start to plan for upskilling, reskilling, and gap training for your talent. Forward-thinking organizations who want to maintain their competitive edge are using AI tools to do this and to go beyond simply surfacing data and analytics, instead leveraging deep insights from all levels of their workforce. Zachary McCleary, Senior Learning Program Owner at KeyBank, explains:
The Insights function has added an immense layer of value by allowing our organization to have a better view into the skills our employees possess. Being able to understand our skills landscape and get granular data into departments and even singular employees allows us to better prepare for talent needs and skill gaps. I've found the ability to monitor our major business units' skills to be critically important and has really assisted in selling the value of Fuel50 to our business leaders. Some "hold out" business leaders are now jumping at the opportunity to leverage Fuel50 in their organization, as they can use Insights to better prepare their teams for the strategic priorities of the business.
You can read more about KeyBank's story here. 
Fuel50's Insights provides aggregated views of the current skill gaps and learning preferences across your entire organization or filtered based on demographics. Insights is designed to power intelligent organizations to make better data-led decisions with deep insights into people, skills, capabilities, workforce agility and readiness. These better-informed strategic decisions can subsequently help improve talent and skills strategies, workforce planning, and career development initiatives.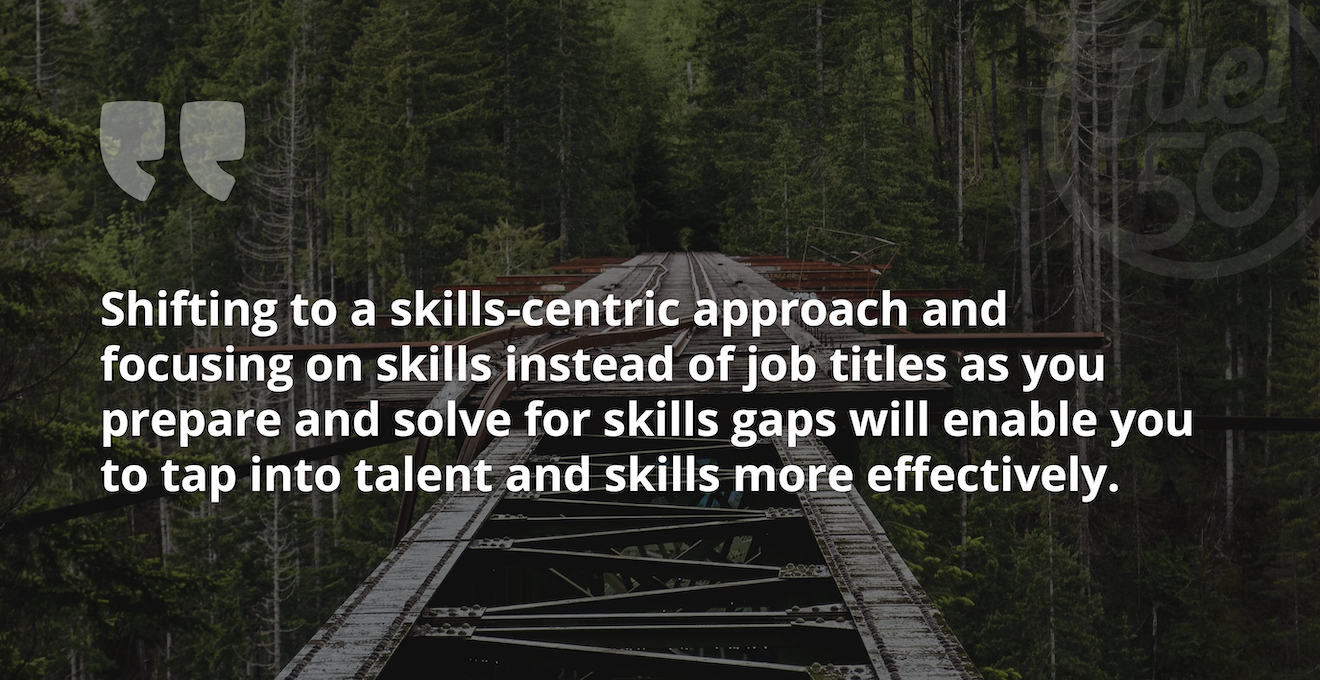 Tracking and closing the skills and

talent gap
The evolving nature of business and the workforce means it is not enough to solve just today's skills gaps as a one-off. Over time, and as the world of work continues to evolve, your organization will identify new skills and training gaps that need addressing. 
Shifting to a skills-centric approach and focusing on skills instead of job titles as you prepare and solve for skills gaps will enable you to tap into talent and skills more effectively wherever they reside, now and in the future, and will be essential to remaining successful. 
Investing in tools that support this shift can mean the difference between your organization's success and failure in the future of work. 
Tom Andriola, Vice Chancellor for Information Technology and Data and Chief Digital Officer at University of California, Irvine, surmises, "The concept of a skills gap is always going to be there. The question is, what is your organizational strategy to be able to continue to close those gaps when the target is constantly moving on you? And this is where a platform like Fuel50 becomes very, very powerful." 
1. Summer 2023 Fortune/Deloitte CEO Survey Insights – Calm in the Face of Disruption, Deloitte. https://www2.deloitte.com/us/en/pages/chief-executive-officer/articles/ceo-survey.html. Accessed Unknown.
2. Transforming into a Skills-Based Organization: Everything You Need to Know, Fuel50. https://fuel50.com/learn/transforming-to-a-skills-based-organization/. Accessed Unknown.
3. Banking on Holistic Development, Ryann K. Ellis, Association for Talent Development, https://www.td.org/talent-development-leader/banking-on-holistic-development. Accessed 19 April 2023.
4. Capability Trends Report: Deconstruction of Jobs Edition, Fuel50. https://fuel50.com/resources/capability-trends-report-2021-q4/. Accessed Unknown.
5. What is Skills Gap and How to Conduct Skills Gap Analysis, Valamis. https://www.valamis.com/hub/skills-gap. Accessed 8 Sept 2023.
6. Episode 147: How Johnson & Johnson are Scaling Their Skills-Based Approach to Talent – Interview with Christina Norris-Watts & Doug Shagam, David Green, My Future HR. https://www.myhrfuture.com/digital-hr-leaders-podcast/how-johnson-johnson-are-scaling-their-skills-based-approach-to-talent. Accessed 11 April 2023.
7. How to identify skill gaps in the workplace, Indeed Editorial Team, Indeed. https://uk.indeed.com/career-advice/career-development/how-to-identify-skill-gaps. Accessed 17 August 2023.