How KeyBank uses AI to help their employees be CEO of their own careers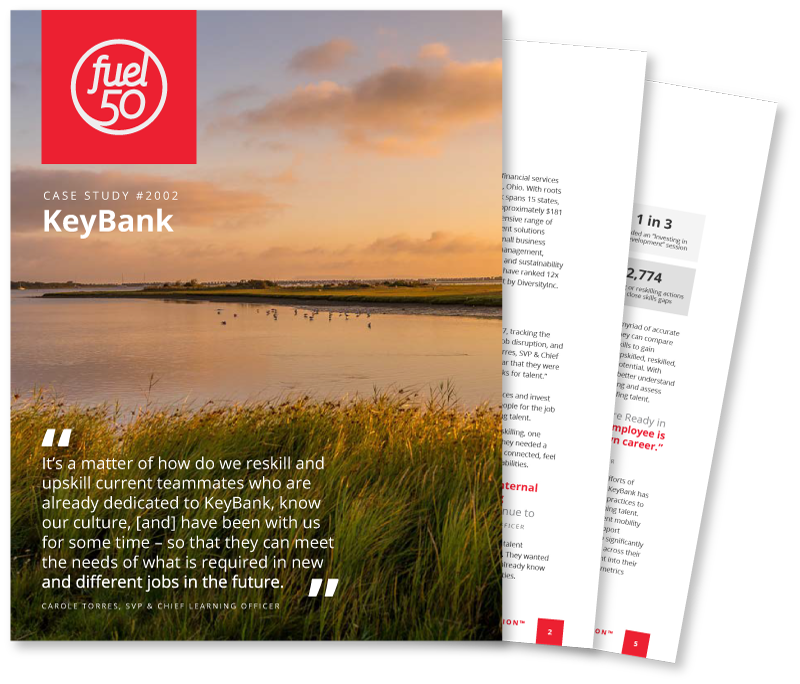 KeyBank is a nationwide bank-based financial services company headquartered in Cleveland, Ohio. With roots dating back to 190 years ago, KeyBank spans 15 states, employs 17,000 people, and retains approximately $181 billion in assets. They offer a comprehensive range of business insurance and risk management solutions services, including personal banking, small business banking, commercial banking, wealth management, and more. KeyBank's diversity, equality, and sustainability initiatives are highly regarded and, they have ranked 12x in the Top 50 Companies for Diversity list by DiversityInc.
KeyBank has been on a journey since 2017, tracking the nature of changing workforce dynamics, job disruption, and 'the war for talent'. According to Carole Torres, SVP & Chief Learning Officer at KeyBank, it became clear that they were "no longer competing with [just] other banks for talent."
Carole Torres and her team recognized that they had to pivot their talent practices and invest in their employees to outperform competitors. They wanted to prepare their people for the job disruptions they knew were imminent while making sure that they were retaining talent.
What they needed was a thoughtful and proactive approach to upskilling and reskilling, one that would help better equip both management and employees for the future. They needed a more modern way to align all employees across the organization, help them stay connected, feel included, and give everyone across the enterprise insight into their skills and capabilities.
"Our original intent was always about increasing internal mobility, driving employee engagement, increasing retention, and to really help position KeyBank to continue to deliver for our clients." – Carole Torres, SVP & Chief Learning Officer
KeyBank was looking for a talent marketplace solution that would increase internal talent mobility, boost retention of their current talent, and aid the attraction of new talent. They wanted to deploy an enterprise-wide upskilling program so that dedicated employees who already know their culture can be reskilled, upskilled, and enabled to take on future job opportunities.
"It's a matter of how do we reskill and upskill current teammates who are already dedicated to KeyBank, know our culture, [and] have been with us for some time – so that they can meet the needs of what is required in new and different jobs in the future."
HR TECH STACK
System of Engagement: Fuel50
System of Record: Workday
KeyBank's Chief Learning Officer, Carole Torres, and Chief Information Officer, Dean Kontul, have worked together to develop a business-led initiative called Future Ready at KeyBank. This initiative has been designed to drive workforce change in a way that is accessible for all people across all levels of the enterprise.
"We really wanted it to be employee-led and manager- supported because employees have to own this." – Dean Kontul, EVP & Chief Information Officer
The initial steps of the Future Ready initiative encouraged employees to participate in training sessions, online courses, and job shadowing. However, this alone was not enough.
Knowing that in-house development was not the path forward, KeyBank assessed HR Tech vendors to find a time and resource efficient solution. They were looking for a simple onboarding and implementation process and a platform that could seamlessly integrate with their other HR and Learning Management Systems. They decided that Fuel50 best met their needs, and so the Future Ready initiative launched Grow at Key (Fuel50).
Grow at Key utilizes Fuel50's AI opportunity marketplace to revolutionize career development at KeyBank. Fuel50 gives employees insight into their personal values, skillsets, and the opportunities available to them within the organization. It serves as a capstone product in the Future Ready initiative and has created a common framework to align all the pieces of their efforts, resulting in increased employee engagement, talent retention, and internal talent mobility.
Ultimately, the goal is for all people at KeyBank to be aware of the competencies, technical, business and people skills they need to be future ready, so that KeyBank can remain competitive not just for their employees, but for their clients too.
"'Future Ready' means we're an organization that embraces technology and change, so that we can become more digital, productive, agile,and really have that growth mentality, and so that we can focus on our clients and maintain our strong culture here at KeyBank." – Carole Torres, SVP & Chief Learning Officer
"We find that it's critical to attract, grow and retain talent – it's not just a nice thing to do for our teammates, but it's critical to our success. Our leadership recognizes that people are our greatest asset and investing in our team members is paramount to ensuring that they are equipped to meet our client's current needs as well as their future needs."
72%
"Grow at Key (Fuel50)" user return rate
9,858
"Future Ready" skills assessed
1 in 3
attended an "Investing in My Development" session
100%
increase in "Aspiring Leaders Program" participation
60%
increase in training participation and usage
2,774
upskilling / reskilling actions set to close skills gaps
With Fuel50, KeyBank has been able to pivot their talent practices for an improved employee experience. KeyBank's people can now, for the first time, connect to the learning and development opportunities they need to increase their skills and grow into new or expanding positions across the enterprise. Every individual can own their career growth journey and access the right tools to prepare themselves for the future work landscape.
"We grounded Future Ready in the idea that each employee is the CEO of their own career." – Dean Kontul EVP & Chief Information Officer
KeyBank now has a myriad of accurate and up-to-date roles that they can compare against current employee skills to gain insights into who could be upskilled, reskilled, and where there is growth potential. With these insights, they can better understand their organizational positioning and assess their strategy for future-proofing talent.
Through the forward-thinking efforts of Carole Torres and Dean Kontul, KeyBank has successfully pivoted their talent practices to be better at attracting and retaining talent. They have increased internal talent mobility and can now more effectively support employee growth. They have also significantly increased employee engagement across their enterprise and gained more insight into their existing talent and talent mobility metrics than ever before.
"Building this program wasn't just about staying ahead of our peers, it was really a matter of longer-term success and growth for [KeyBank]." – Carole Torres, SVP & Chief Learning Officer
"We grounded Future Ready in the idea that each employee is the CEO of their own career."