With over 140 years of industry experience, City & Guilds is a leader in global skills development. They work with education providers, employers, and governments in over 100 countries across the world to help people, businesses, and economies grow by shaping skills systems and supporting skills development.
They believe that people deserve the opportunity to (re)train and (re)learn again and again – gaining new skills at every stage of life, regardless of where they start. City & Guilds partnered with Fuel50 to help surface the skills and capabilities of their employees, improve their strategic workforce planning, and better support employee growth and development.
Ashley Compton, Client Success Manager at Fuel50 sat down with Hannah Wysome, Head of People Enablement at City & Guilds to share her thoughts, insights, and experience on their Fuel50 journey.
Who are you and what do you do?
Based in the People team at City & Guilds, I'm responsible for helping deliver a seamless and meaningful employee experience through the use of best-fit technologies. I work closely with colleagues across the business to ensure that we've got a joined-up People technology estate that supports our employees at every step of their City & Guilds journey.
How did you hear about Fuel50? Why did you choose Fuel50? What stood out?
I'm a big follower of Josh Bersin, so I first became aware of Fuel50 via his early involvement with the company. We had entered into a quite extensive research phase to look at how we could use technology to support with assessing skills and capabilities. As an organization that's grown through acquisition, we needed a tool that could support us with bringing all colleagues' talents to the surface. We knew we'd have hidden talents that we wanted to make visible, but we also wanted to see where we might have gaps when it came to the skills we needed for our future strategic plans.
As an organization, we inspire and support people to progress into the job, on the job, and onto the next job by developing their skills at every step of their career journey. For us, it was very important that any talents we helped our colleagues develop had a lifespan beyond just one role. Fuel50's Workforce Architecture meant that we could map our organizational talent blueprint to contemporary, industry-mapped skills and capabilities, giving us the confidence that we really would be developing skills for now and for the future – something that's a perfect match to our purpose.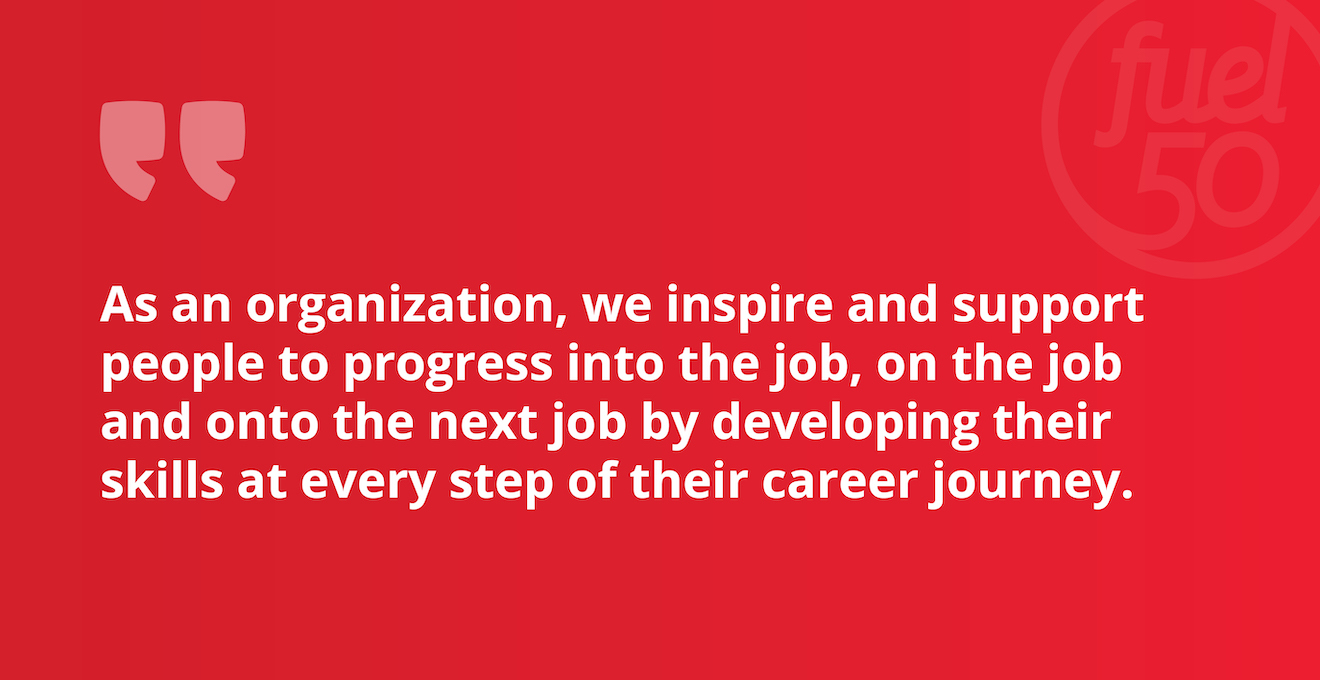 Describe the challenges City & Guilds was facing before implementing Fuel50. How did these challenges affect your organization?
Due to the fact that we are a group of businesses that have come together under the umbrella of City & Guilds over a relatively short timeframe, we've not been in a position to take stock and look holistically at our approach to strategic workforce planning. Much of our planning activity and our performance management activity has been paper-based which, though not ineffective in itself, has made it difficult for us a People team to be able to get the full picture of our organizational capability.
Through the initial implementation stage of Fuel50, we uncovered some challenges within our people data structures, which we needed to work through to make the pilot phase tenable. Although it's better if everything can run smoothly from the outset, these discoveries have really helped bring focus to some fundamental areas of improvement, which are now all underway.
What does Fuel50 give you that is the biggest game-changer for City & Guilds?
We are a skills organization – we help other people develop life-changing skills. Fuel50 gives us the chance to practise what we preach. It's a catalyst for us to think about our own skills pathways at City & Guilds, allowing us to create a career framework that supports internal mobility, skills development, and provides greater opportunity for all colleagues to grow and progress.
What is the main reason you would recommend Fuel50?
Fuel50 has allowed us to embark on a big change to our talent development approach without us having to start from scratch. We've been so impressed with the accuracy of the skills and capability profiles that we've been able to create through using the Fuel50 Talent Ontology™, particularly for some of our more specialist roles. Our pilot users have found the interface to be really intuitive and, from their perspective, it's proving to be a very valuable tool for self-reflection and personal development.
What would you tell someone considering Fuel50?
It's a tool with huge potential to influence lots of areas across the talent, performance management, learning and resourcing landscape. It's important to keep your focus on the 'why' when it comes to thinking about which modules to switch on first. We went back and forth between only switching on one module vs switching on everything. We've actually reached a happy medium, where we've put our focus on bringing skills and capabilities to the surface, so that we can facilitate great line manager conversations about personal development goals and objectives.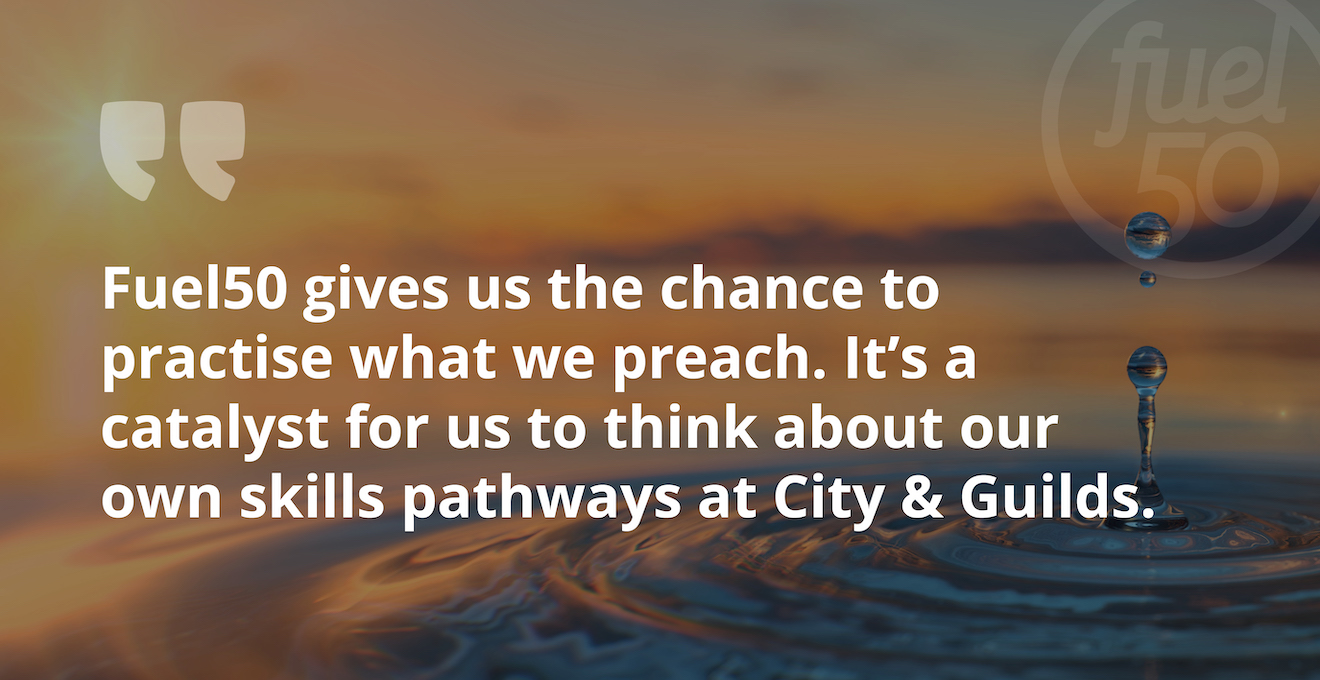 What has exceeded your expectations while working with Fuel50's people?
We had a brilliantly patient and empathetic implementation team. We weren't fully set up for success on our internal systems at the beginning of the process, which meant we needed to elongate some of the initial implementation timeframes. We know how disruptive this can be for our vendors, but Fuel50 showed great understanding and were proactive in helping us get through those early hurdles. As we've moved onto the Customer Success team, we've been bowled over by the enthusiasm and support from our Fuel50 Customer Success Manager – every meeting casts a little ray of sunshine on our working day and they serve as a great reminder to us to celebrate our achievements.
What was one unexpected benefit of using or working with Fuel50?
A real benefit has been how it's sparked off ideas for ways in which we can use Fuel50 as the hub for bringing a number of our People offers together. As an example, one of our pilot users uploaded their Clifton Strengths profile into their Fuel50 profile to bring their intrinsic talents into the system. This then helped us think about how we can bring more Strengths information and resources into the platform, so that from a user perspective, they've got everything in one place.
Anything else you'd like to share?
We're really pleased with how our journey with Fuel50 is evolving and it's great to be working with a partner who's taken the time to understand our business and our ways of working as a project team.
Fuel50 delivers measurable impact to 80+ leading brands across the globe. Discover other client stories here, and learn more about how Fuel50's Skills-Based Talent Marketplace powers internal mobility, workforce agility, and better talent experiences.