With the talent shortage currently at a 17-year high, the search for skilled talent remains a top challenge for employers today. This ongoing dilemma has emphasized the need for organizations to shift their focus from external hires to internal candidates to maximize their talent pools and fill vacant roles.
Succession planning plays an important part in this shift by optimizing and encouraging internal mobility across an organization. It's a more strategic approach to building talent pipelines to help prepare and develop employees for future roles within the business. If the tight labor market is predicted to worsen, why search for new talent when you already have skilled employees who can fill critical roles with less expense and less transition time?
Activating Workforce Agility Through Succession Planning
According to research from ManpowerGroup, it's expected that by 2030, the global talent shortage will reach more than 85 million people. Many factors are contributing to the shortage, including demographic shifts that are resulting in baby boomers leaving the workforce, the after-effects of The Great Resignation, and the ongoing skills gap.
The sharing of skills and institutional knowledge of those leaving the workforce to the next generation of workers will be essential in preserving the continued success and growth of your organization. Effective succession planning will help safeguard your organization from the uncertainty and inefficiency that comes with change and disruption. Think of it as a contingency plan that outlines your course of action when the need arises.
Having these talent pipelines in place builds the agility your organization needs to respond to changes quickly and efficiently. HRD points out that succession planning is a practical way to minimize disruption through proactive risk management, enabling your organization to adapt to changing circumstances and fill critical roles with little to no negative impact on productivity and performance.
Changes within the world of work are inevitable, so it's important that your organization is prepared. While it is impossible to predict what the future holds, a robust talent pipeline will help ensure a smoother transition when changes are needed, putting employees and the organization in a better position to tackle what's to come.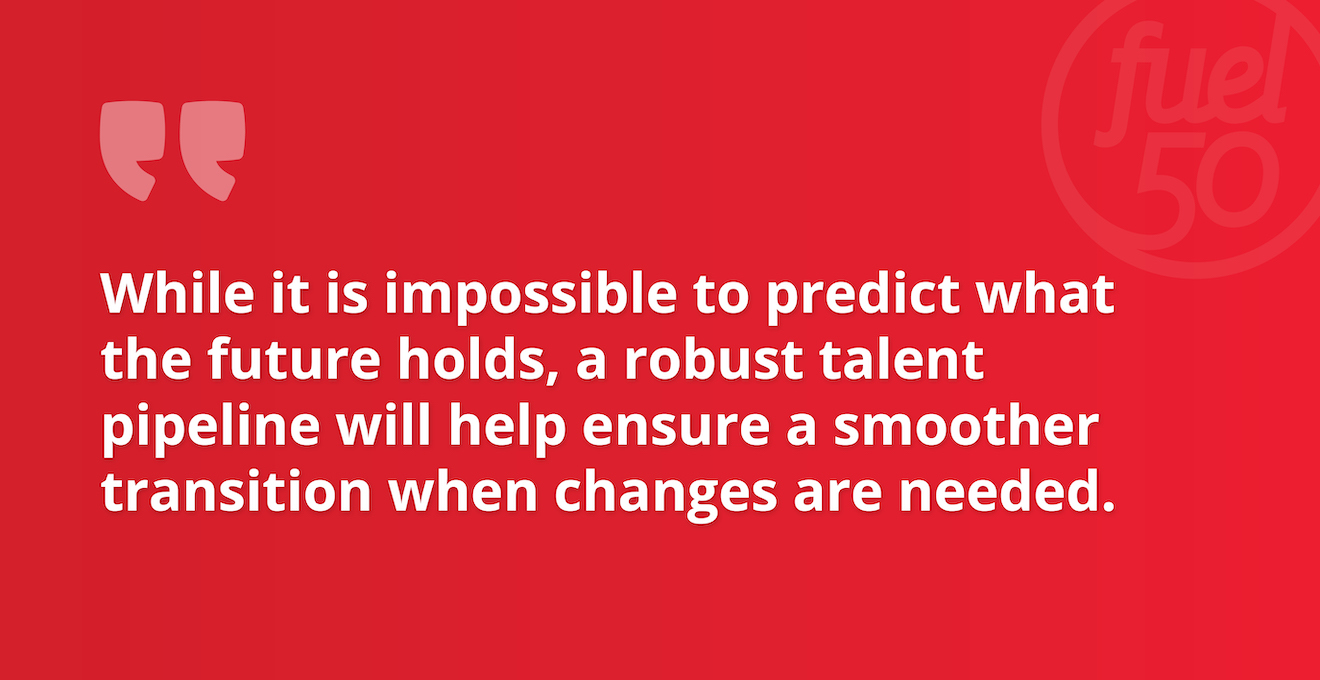 Equipping Your Organization With Critical Skills for the Future
A key advantage of succession planning is that it kicks off an important process of identifying critical skills, competencies, and knowledge that are needed for an organization to operate at its best. This process enables you to easily pinpoint which roles are vital for business continuity, as well as which skills are needed for future growth.
Adopting HR technologies such as a talent marketplace can support this process by giving you clear visibility into the skills you have across your workforce and identifying potential skills gaps. You can then implement development plans to ensure your people are learning the right skills to be able to fill these gaps.
Fishawack Health ­– a global commercialization partner for the biopharmaceutical, medical technology, and wellness industries – has experienced the effects of the talent shortage first-hand. They utilized Fuel50's skills-powered talent marketplace to mobilize their talent, identify skills gaps, build talent pipelines, and create development plans to better prepare their people and the organization for the future. Nick Holmes, Global Head of Career Experience at Fishawack Health, explains the importance of skills visibility to support more meaningful and intentional L&D programs:
One of the big ways Fuel50 is helping us close our skills and capability gaps is predominantly through identification. It enables you to see those skills, see those gaps, and then gives the HR and L&D teams the ability to then design interventions that are going to help close those gaps through mentors, feedback, and learning.
A succession plan won't achieve anything if you don't have the right development plans to support it. Employees that are prepared with the right training, mentoring, and learning will be able to take on new roles with confidence and ease.
Retaining Employees With Internal Opportunities
Retaining your people amidst the talent shortage is more crucial than ever. LinkedIn Research shows that employees are twice as likely to stay at an organization if they have the chance to take on other roles within the business, highlighting the significance of internal mobility in keeping employees engaged and satisfied at work.
A succession plan powered by Fuel50's talent marketplace maps out an employee's career path within the business, giving them a visual insight into what their future career could look like. It also smart-matches employees to internal opportunities to facilitate their growth and development, while also supporting the redeployment of talent to fill organizational vacancies and activate your talent pipelines.
Not only will this help retain your people, but it will also drive their engagement and motivation to continue developing their skills through internal opportunities such as gigs, projects, and mentorships. When you commit to succession planning and creating a culture of internal mobility, you can build talent pipelines that support the development of your people, keeping those employees invested and on track for future success and growth.
The key to safeguarding your organization here is prioritizing the skills that you will need in the future and aligning that with the ambitions and goals of your employees. A well-aligned development strategy considers what each employee wants out of their career and marries that with the needs of the business, making it a mutually beneficial experience for both the individual and the organization.
Cindy Rubbens, Senior Vice President People at Relayr, is a big advocate for encouraging employees to be engaged and empowered to own their individualized career journeys. Relayr utilized their talent marketplace to enhance the organization's development initiatives and support their succession planning strategy.
For us in HR, [Fuel50 provides] visibility into succession planning and workforce planning skills. For our employees, Fuel50 delivers automation, simplification and career ownership. I see a bright, bright future." – Cindy Rubbens, Senior Vice President People at Relayr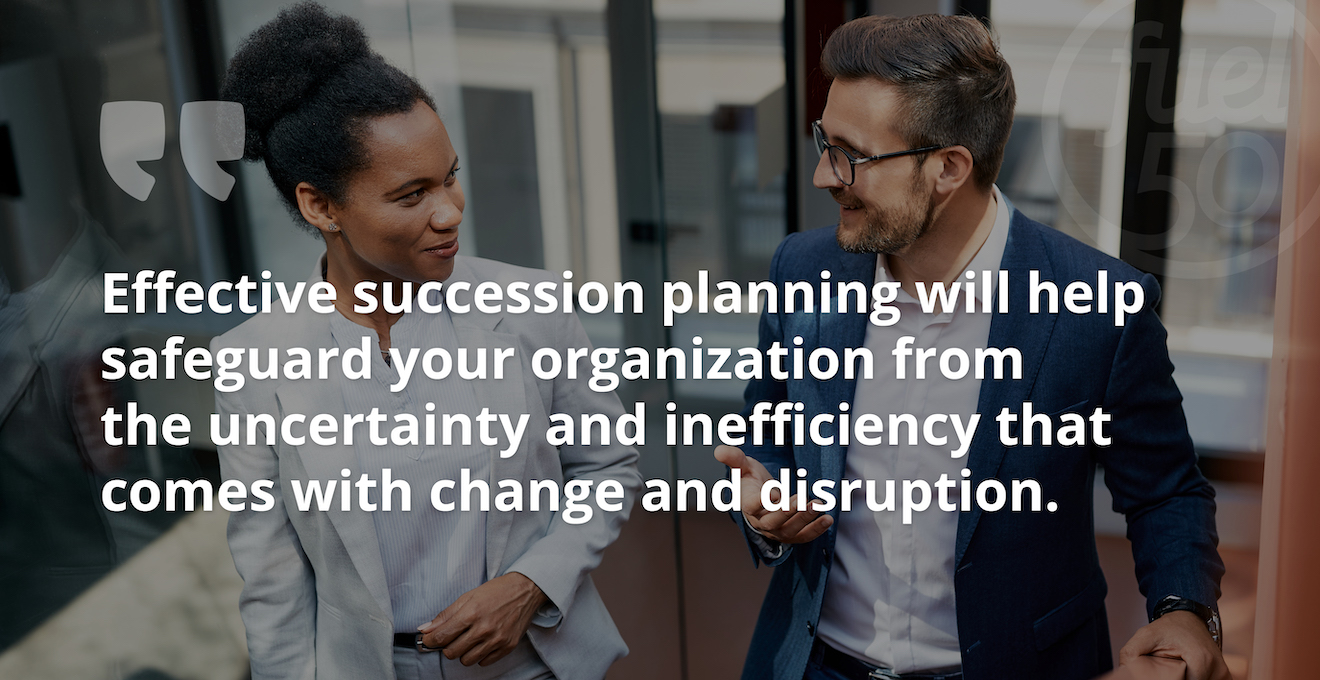 The Bottom Line ­– Succession Planning is Integral for Future Success
There are key ingredients to a smart succession plan – knowledge sharing, skills development, and internal mobility. Prioritizing these elements within the process and having the right technology to reinforce it will elevate your succession plan and increase your talent supply significantly.
While there's not much we can do about the tight labor market, taking a proactive approach to succession planning will better support your people and your organization through today's ever-changing environment.