This article was written by Anne Fulton, CEO and Founder of Fuel50, and was originally published by HRM Asia.
When thinking about future-proofing the workforce, many employers fail to look inside first. Either that, or they simply do not have visibility into what skills and capabilities exist already across their organization. Instead, they amp up their hiring machines to source talent externally, failing to realise that research shows outside hires take three years to perform as well as internal hires in the same job. As the clouds of uncertain market conditions appear overhead and companies try to use cost-cutting measures as growth strategies, recruiting talent externally can cost at least twice as much.
The reality is that our world of work is changing more rapidly than ever before. World events are informing the skills and capabilities required in the workplace. At the same time, employees have new expectations. People want to do meaningful work for employers that put the employee experience first, as illustrated by the recent wave of "quiet quitting." Outdated notions of what motivates workers and how they want to work are being redefined.
Future-proofing the workforce is not just about offering hybrid work environments and flexible schedules. Our research shows that despite over 75 percent of organizations having strategic priorities aimed at understanding, building, and mobilizing their talent, less than half of HR have visibility into the skills and capabilities within their organization. Researchers at McKinsey say taking a skills-based approach creates more resilient workforces. Skills are five times more predictive of job performance than education and more than two times more predictive than hiring for work experience.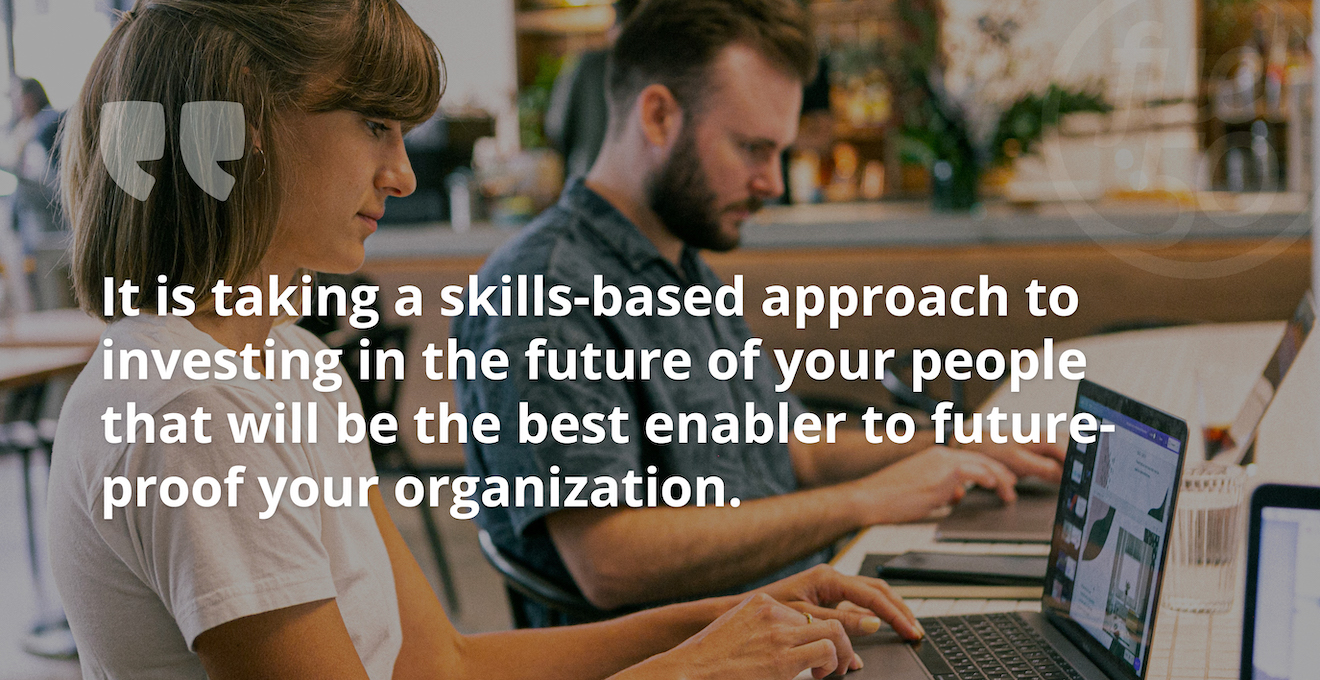 With all eyes on Davos, the World Economic Forum recently published its Jobs of Tomorrow research. Assessing the unmet need across ten countries to establish a better future for workers, they uncovered that these countries (Australia, Brazil, China, Germany, India, Japan, South Africa, Spain, the UK, and the US) will have gaps for 33 million healthcare workers and 21 million education workers. Green jobs will also increase, including agriculture and forestry workers (11 million); environmental, civil, and chemical engineers (more than 70 thousand) and environmental construction roles (almost 80 thousand.)
To safeguard the future of their organization, HR leaders need to take a skills-based approach to building and retaining talent. A skills-based model satisfies the needs of the employer and employees by recognizing and rewarding the potential of existing talent and creating diverse talent pools. The skills-based approach unlocks internal talent mobility, which improves engagement and retention. By providing access to growth opportunities and employee-driven career development, organizations can begin to create a culture of ongoing learning that fosters reskilling and upskilling.
While there is a natural tendency to believe external hires are more productive, research consistently shows otherwise. According to the Society for Human Resource Management (SHRM), promotions from within have a much higher probability of success than hiring from the outside. HBR highlighted that it takes two years for an external hire to receive the same level of productivity as an internal hire and that performance review data indicates external hires are lagging in performance reviews for the first two years. The superiority of internal promotions over external hires increases at the higher levels of the organization. Our own data shows that internal hires have much faster times to productivity because they know their way around the organization and that institutional knowledge eliminates delays in being valuable from day one.
"Deciding whether the focus (and money) should be on recruitment or retention comes down to aligning the people strategy with the business strategy", said Peter Fasolo, CHRO of Johnson & Johnson and Human Resource Executive's 2022 HR Executive of the Year. "The key is balance, which comes from having a deep understanding of both your internal and external talent marketplace. The focus should be on identifying a capability gap and then determining the best way to address based on evaluating talent that is in high demand versus talent that is in high supply."
A talent marketplace provides visibility to the skills and capabilities in the organization and the skill gaps you need to close. It also enables you to communicate the in-demand skills the organization has while connecting employees to the right learning content or mentors to help close those gaps.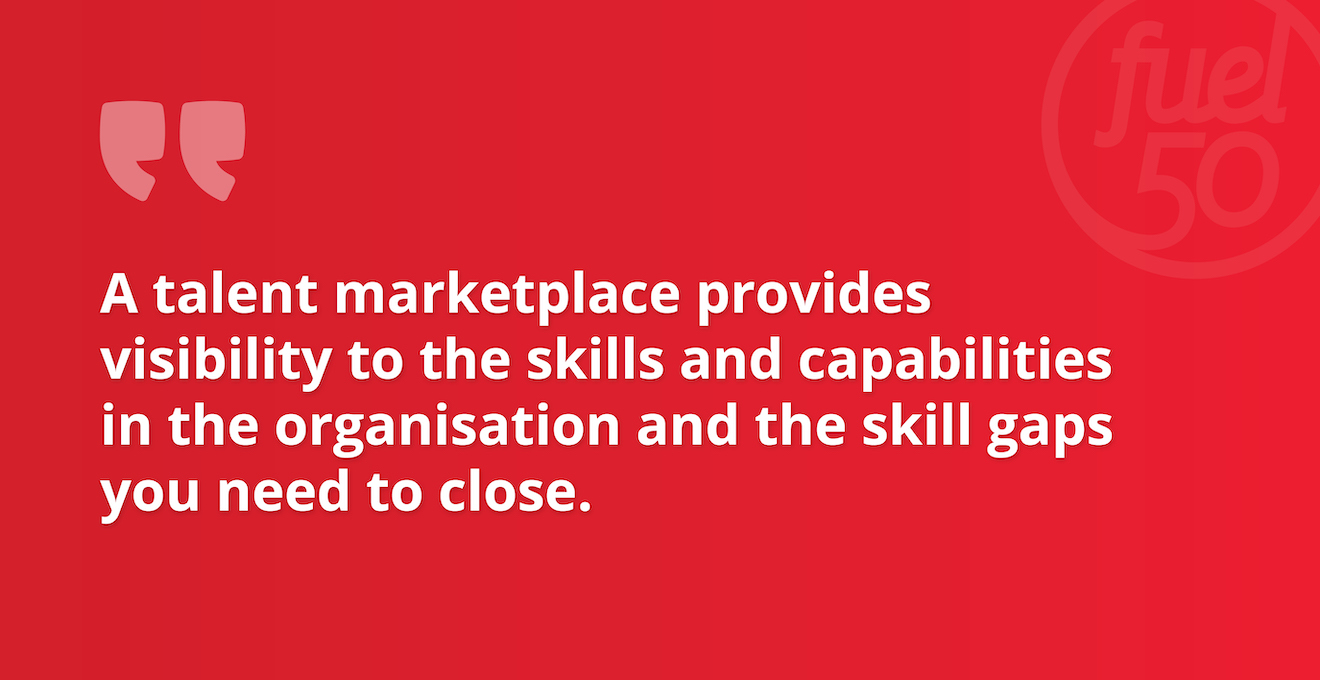 Building your talent is your best strategy. Creating a bridge where you have a really engaged approach to your talent community enables them to see a future path to opportunities. Can they see that if they were to start as an account manager, they could become a director or VP in the future and see a roadmap for this? Can you engage your talent pools in these learnings so that they are starting faster? Are they ready, and are you connecting them to the right kind of learnings pre-hire, so you have an informed, engaged, and motivated talent pool?
Consider an example of how internal talent can be retained and redeployed cost-effectively. When consumers were no longer visiting physical retail establishments, the role of retail merchandiser became diminished. These people possess communication and interpersonal skills, numerical and analytical skills, and can cope with pressure and unstructured requests. Shifting them into customer service roles means retaining these valuable employees while simultaneously filling positions needed for the future – workforce agility in action. And when employees know their company culture celebrates reskilling, upskilling, and enabling people to take on future job opportunities, they stay.
Upskilling and reskilling the workforce as a future-proofing measure requires learning and development professionals to be elevated to that rock star status, working in concert with managers. LinkedIn cited that 91 percent of employees say it is very or extremely important for their manager to encourage career growth, learning and development of skills. In the same findings, 84 percent of managers felt this could help close the skills gaps on their teams.
Providing employees with the opportunity to grow in their careers is a top priority for best-in-class organizations focused on future-proofing the workforce. And it is taking a skills-based approach to investing in the future of your people that will be the best enabler to future-proof your organization.
ABOUT HRM Asia
HRM Asia is a multi-platform media and events company helping to build, connect and celebrate the professional HR community in Asia-Pacific.  Across our dedicated digital quarterly magazine issues, digital content, custom webinars/roundtables and world-class events, we provide an array of thought-leading HR discussion and information to HR leaders and business professionals throughout the region.
Learn more about HRM Asia.