The Fourth Industrial Revolution (4IR) or Industry 4.0 describes the rapid development and adoption of technology that has revolutionized our work and life. Yet, whilst we continuously adapt to the opportunities and challenges that 4IR presents, we must brace for the impact of another pervasive revolution transforming the global economy and how we do business – The Sustainability Revolution, also known as Industry 5.0.
This revolution calls for organizations to demonstrate their capability and support in understanding, overseeing, and mitigating environmental, social, and governance (ESG) effects. In this report, we identify 12 of our trending capabilities associated with the Sustainability Revolution.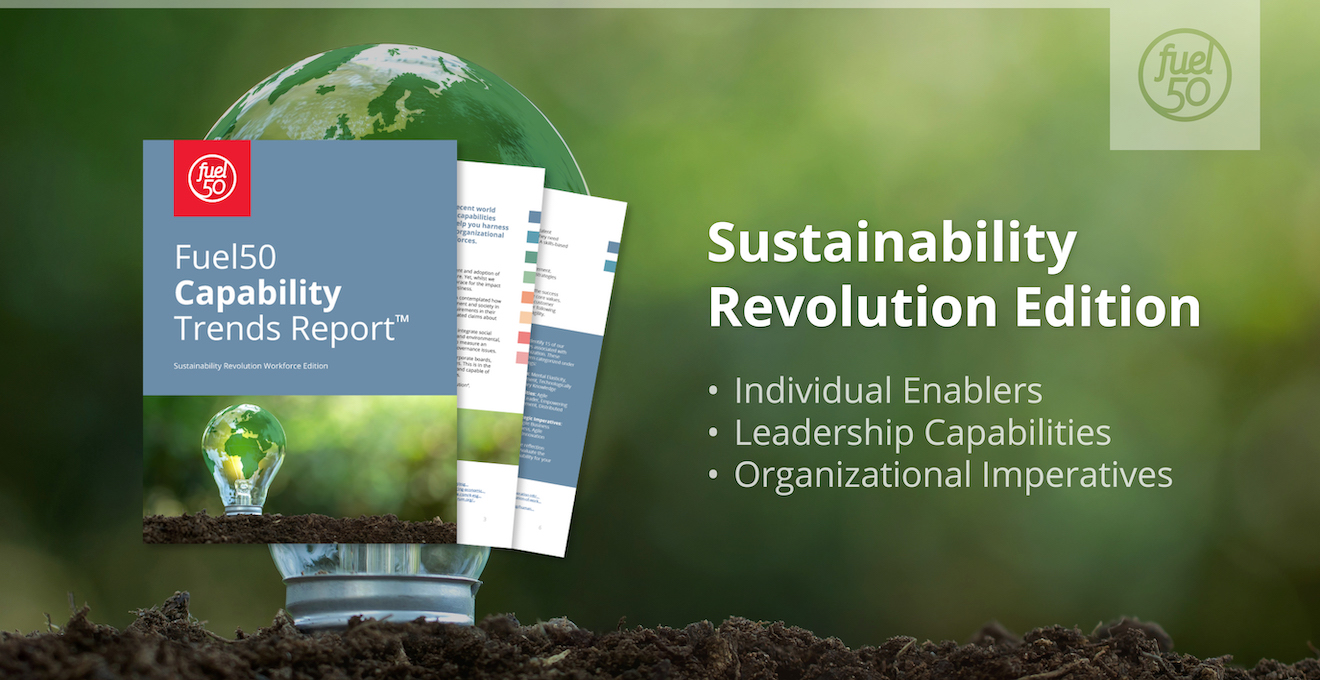 Organizations that appear uncommitted to ESG objectives risk losing investors and experiencing reputational damage detrimental to their participation in the economy.
Fuel50's research explores and identifies transformational capabilities to support the adoption of sustainable business strategies and the development of specific ESG-related skills and capabilities for individuals, leaders, and the organization.
This report is designed to help you harness the latest global capability trends to ensure that your organizational talent strategy is aligned to the current driving global force.
Discover the latest capability trends from across the globe.
What has been happening in the world?

How do we anticipate these events will impact the world of work?

The importance of amplifying the right capabilities to minimize or embrace these world events
The capabilities and specialist skills highlighted in this report need to be embedded into the following three levels of workforce architecture: Individual, Leadership, and Organizational. We have also included some reflection questions to help you evaluate the importance of each capability for your organization.
Enjoy reading! We look forward to sharing more research and insights with you.
Written by Fuel50's Workforce Architecture Team
Contributors: Natalie Mabaso
Fuel50's dedicated team of Workforce Architects and Industrial and Organizational Psychologists feed the Fuel50 Talent Ontology, train our ethical AI with Diversity, Equity, and Inclusion design principles at heart, and support best-in-class organizations using Fuel50 to transform and future-proof their talent strategy and workforce architecture.