How Fuel50 helps NetApp deliver exponential returns for their people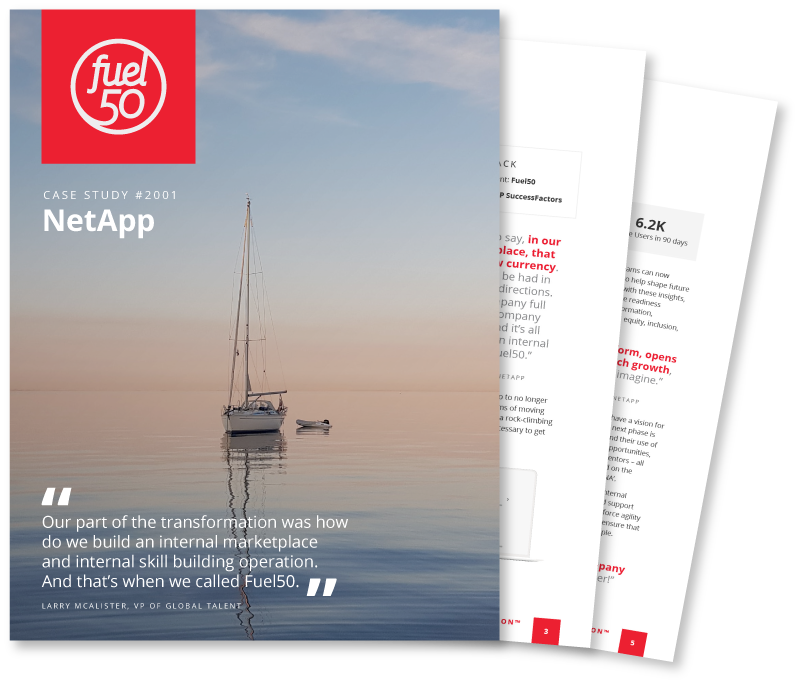 NetApp is a hybrid cloud data services and data management company headquartered in Sunnyvale, California. Founded in 1992 with an IPO in 1995, it has ranked in the Fortune 500 since 2012. NetApp offers hybrid cloud data services for management of applications and data across cloud and on-premises environments.
NetApp is in the middle of a business transformation from a traditional data storage business to a cloud company. Those require two entirely different sets of skills and two different mindsets for who to sell to. As a result, their talent needs to evolve.
According to Larry McAlister, VP of Global Talent at NetApp, they were "flying blind". Although they had a very clear vision, based on their business imperatives, NetApp needed to innovate their talent practices for the future of work, or they were "going to lose".
What they needed were high-performing teams that worked together to grow and evolve their skills and roles within the organization, ultimately supporting the transformation of the business. To achieve that, NetApp had to change the entire way that they were looking at their employee-leader relationships and the way their people worked together. They needed to make the conversation between employees and managers more authentic, more productive, and real.
"Once we saw that AI is at our fingertips now, we decided we had to dig into this, or we were going to get leapfrogged by our competition in hiring and developing and retaining our people." – Larry McAlister, VP of Global Talent at NetApp
NetApp was looking to find a way to future-proof their talent. They wanted to enable and support internal talent mobility and workforce agility throughout their organization to ensure that they were developing and retaining their people.
"Our part of the transformation was how do we build an internal marketplace and internal skill building operation. And that's when we called Fuel50."
HR Tech Stack
System of Engagement: Fuel50
System of Record: SAP SuccessFactors
NetApp has embarked on a multi-year effort to reshape the employee experience and is committed to investing in its people like never before.
To begin with, they replaced outdated processes such as performance ratings, rankings, and trainings, and moved towards improving the connection and collaboration between managers and employees. Outdated forms were substituted for quarterly conversations that allowed employees to talk about their future, performance, and growth. Twice-yearly pulse surveys were also introduced to complement these conversations.
However, these efforts alone were not enough to deliver the innovation, insights, and the readiness for the future of work that Larry McAlister and his team were looking for.
NetApp adopted a renewed focus and sparked a shift to technology, career growth, and developing and activating enterprise-wide talent. They brought in 16 different vendors – some for recruiting, others for career pathing and career planning – and everyone had input into what solution was going to work best for them.
Unanimously, NetApp decided that Fuel50 best met their criteria, goals, and needs.
Fuel50 is an AI-driven internal talent marketplace that broadens employees' exposure to new opportunities at NetApp, resulting in increased talent mobility, reskilling and upskilling, and ultimately an agile, future-proofed workforce.
"We really want to say, in our internal marketplace, that skills are the new currency. There is growth to be had in so many different directions. [...] We want a company full of learners, not a company full of knowers... and it's all made possible by an internal marketplace with Fuel50." – Larry McAlister, VP of Global Talent at NetApp
The aim is for people at NetApp to no longer think about their growth in terms of moving up a ladder but instead scaling a rock-climbing wall in whatever direction is necessary to get them where they want to go.
"We now have vision into everyone in the company, what they want to do and where they want to go... We are no longer flying blind and we have more insight now than we've ever had in the history of HR."
197.2K
Skills Inferenced through AI
21.4K
Skills Assessed in 90 days
6.2K
Unique Users in 90 days
With Fuel50, NetApp has scaled talent identification in ways they have never done before. NetApp now has access to their talent, they are adopting a mindset of talent activation, and their strategy to broaden the talent pool is being realized.
To help drive their business transformation, NetApp needed to assess the readiness and strength of their workforce skills. They did that very quickly by using a skills inventory with inferred talents built by Fuel50's powerful and ethical AI.
As a result, NetApp now has visibility to what skills and talents they already have vs. what they need. They know how to grow them, and they know where they are across the organization. They can use this new workforce intelligence to strengthen their organization and their strategy.
NetApp's people can now start building out personalized career journeys. Not only are they being connected to future jobs, but they can also see the personalized skill gap information for their current job. This transparency to what they need to do to grow in their current role provides immediate benefit.
NetApp's HR and Talent teams can now surface data and insights to help shape future workforce decisions. And, with these insights, they can begin to assess the readiness for things like digital transformation, sustainability, and diversity, equity, inclusion, and belonging (DEIB).
"Fuel50, as a platform, opens the door to so much growth, more than you can imagine." – Larry McAlister, VP of Global Talent at NetApp
Together, NetApp and Fuel50 have a vision for continuous improvement. The next phase is for NetApp employees to expand their use of Fuel50 to connect to learning opportunities, projects, gigs, vacancies, and mentors – all personalized connections based on the employees' individual 'career DNA'.
Above all, NetApp now has the internal talent marketplace to enable and support internal talent mobility and workforce agility throughout their organization to ensure that they develop and retain their people.
"In my 25 years as a professional, I've never seen a company so committed to its employees – proud to be a NetApper!"