Recent curveballs to the world of work have included a global pandemic, the great resignation, the global energy crisis, the Russia and Ukraine war, skill and talent shortages, and rising inflation, which is going to continue for the near future. Organizations, therefore, need to shift from traditional ways of operating and develop appropriate strategies to stay competitive, relevant, and agile in a volatile, ever-changing market. One such strategy is to focus on the acquisition and development of skills, as well as the associated HR processes, to allow the organization to remain resilient and thrive – this is referred to as Skills-Based Talent Management Practices.
Julie Dervin, Head of Global Learning and Development at Cargill, the largest privately held American global food corporation, shared this soundbite in a podcast with Deloitte Learning Consulting:
Our business environment is changing so rapidly, and the skills needed to compete look so different than they did even five to seven years ago. Many of our people processes that HR, as a profession, has institutionalized for decades were built for a different, slower, much more stable environment. They weren't built for the speed and agility that our businesses require from us today." [1]
Designing and building an agile workforce is now critical as it allows organizations to pivot more easily to accommodate changing business imperatives. At Fuel50, we support businesses with creating this agility by designing a Workforce Architecture (enabled by our user-friendly AI platform) that drives the management and measurement of skills across the organization. With the ability to easily see skills gaps, organizations can provide employees with the necessary training to fill them, as well as make tactical and strategic data-driven decisions with regards to hiring, internal mobility, and development (to name but a few areas of application).
In addition, over the last few years, employees have also become more discerning, taking a critical long-term view of their careers and what organizations are offering to support both their individual and career development. Anne Fulton, Founder and CEO of Fuel50, suggests that "Employees now expect choices, especially growth opportunities that fulfill their personal development requirements over linear (and often slow) career advancement."[2] It is now up to organizations to compete to provide the most attractive opportunities from a skills-development perspective to entice new talent, but also to retain and nurture existing talent.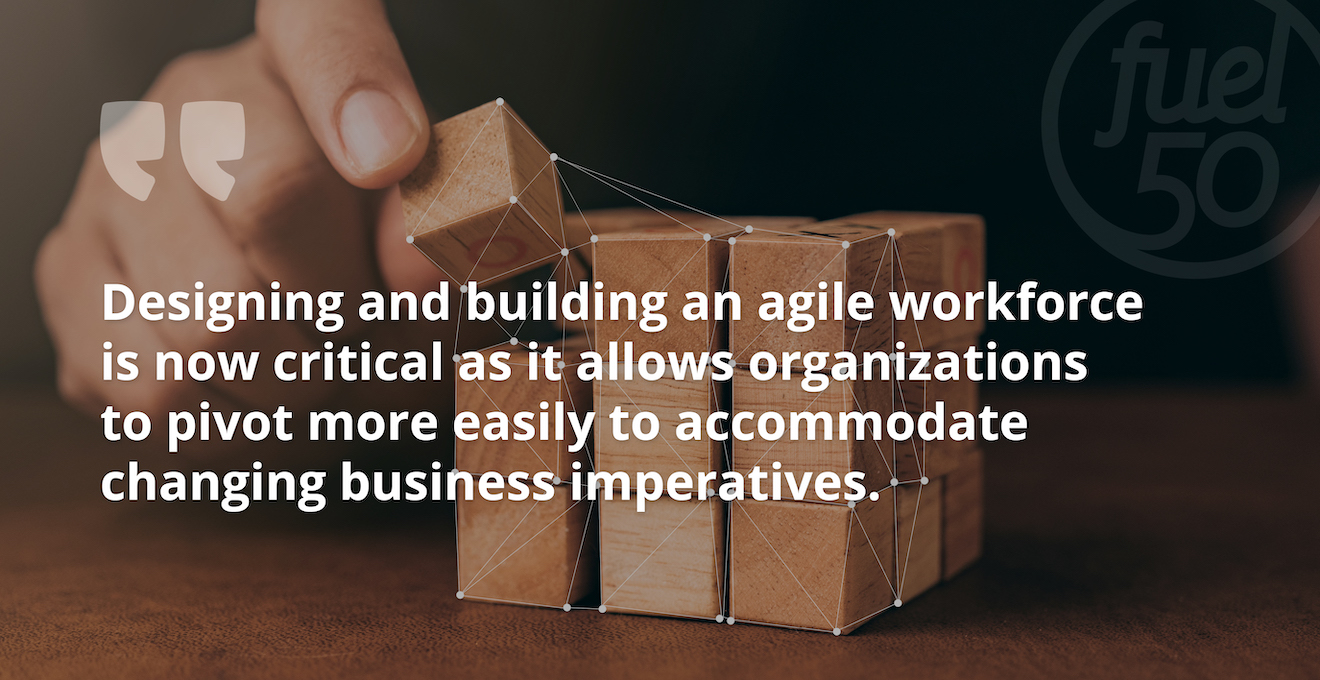 What are skills?
Deloitte's Human Capital services has explained that "for over a century, jobs have been the dominating structure for work—defining how work is done, by whom, how it is managed and led, and how workers are supported by every HR practice, from hiring to compensation to career progression to performance management."[3]
If the necessary workplace agility is to be commonplace, then a move to a skills-based organization (as opposed to a job- or role-based organization) is essential. This Fuel50 article defines skills-based organizations as those who assign tasks based on skills rather than roles, and role-based organizations as ones where employees are placed in roles based on their education, credentials, and experience to complete tasks associated with that role.
To better understand the concept of a skills-based organization, let us first understand what skills are. Fuel50 broadly divides skills into two fundamental areas, namely capabilities and specialist skills:
Capabilities: Refer to the knowledge, skills, and abilities that are transferable from one job to another and across industries. They are sometimes referred to as 'soft skills.' Irrespective of where you sit in the business, these capabilities are critical for success.​
Specialist skills: Refer to the knowledge, skills, and abilities specific to the industry or job. They can otherwise be referred to as "hard" or "technical;" skills. These are needed to perform narrowly defined tasks and duties. ​
There has been a further enhancement of key capabilities by Udemy Business, an online learning and teaching platform, in their 2022 Workplace Learning Trends Report where they use the term "power skills".[4] In the same report, Melissa Daimler, the Chief Learning Officer at Udemy says, "power skills have always been an important part of workplace learning, and their importance has only grown more urgent as the global workforce navigates the changes of the last few years. Enabling employees to develop power skills related to communication, collaboration, and change leadership is key to building an agile business and a strong company culture." Critical thinking and problem solving, empathy, teamwork, creativity, and adaptability are others highlighted as crucial for business success in Questionmarks, Modern Skills for 2022, report.[5]
From a technical skills perspective, programming, project management, the analysis of complex figures or data, or the use of specific tools are examples. As organizations face complex challenges that require quick solutions, it is the technical expertise of employees that enables cost-effective and sustainable solutions to be created.[6]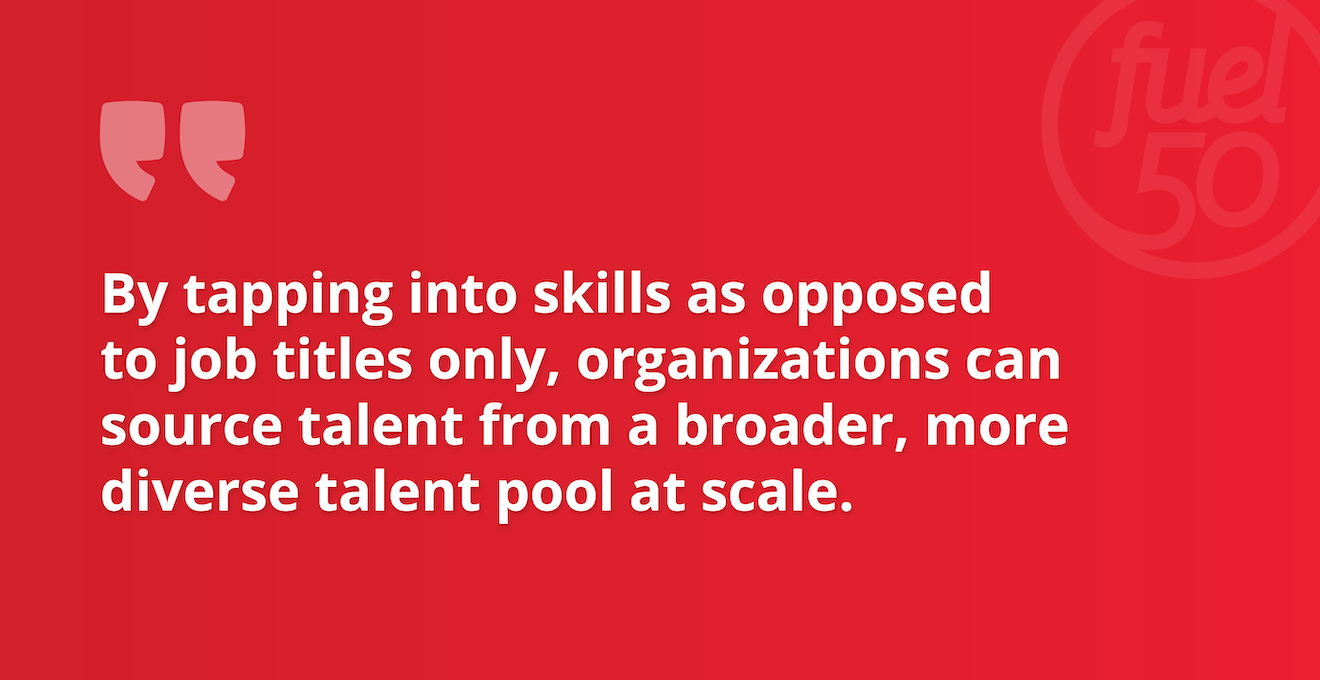 What are the benefits of a skills–based organization?
In Fuel50's Capability Trends Report on the Deconstruction of Jobs, the benefits of being a skills-based Organization are as follows:
Increased talent supply: By tapping into skills as opposed to job titles only, organizations can source talent from a broader, more diverse talent pool at scale, which allows them to address talent demand and supply more effectively. In turn, this presents a different way of solving talent shortages. Effective skills management strategies enable organizations to pivot in response to rapid dynamic and competitive environmental demands. And visibility to the skills pool makes it easier to transfer skills to other parts of the organization affected by change.
Enhanced career opportunities and growth: An organization that adopts a transparent culture around skills can promote curiosity and creativity by enabling employees to think outside of the box about work experiences and, ultimately, their career trajectories. When organizations appreciate skillsets for their collective value of interdisciplinary and cross-functional knowledge, it opens up more growth opportunities for employees.
Reduced bias in selection and promotion: Focusing on skills provides a more objective assessment of suitable talent in hiring and promotion processes and may also reduce unconscious biases associated with these processes. Deloitte's Human Capital services have conducted both quantitative and qualitative research to understand how organizations are thinking about the move to skills-based organizations and how (or if) they are operationalizing it—surveying 1,021 workers and 225 business and HR executives around the world and across industries and interviewing nearly a dozen executives.[3]
Lastly, the graphic below (from that same Deloitte research) clearly demonstrates that organizations that apply a skills-based people approach are likely to be 63% more successful than organizations who don't.
Furthermore, skills-based organizations are also benefitting by being:
57% more likely to anticipate change and respond effectively and efficiently to changing circumstances.
107% more likely to place talent effectively.
98% more likely to have a reputation as a great place to grow and develop.
98% more likely to retain high performers.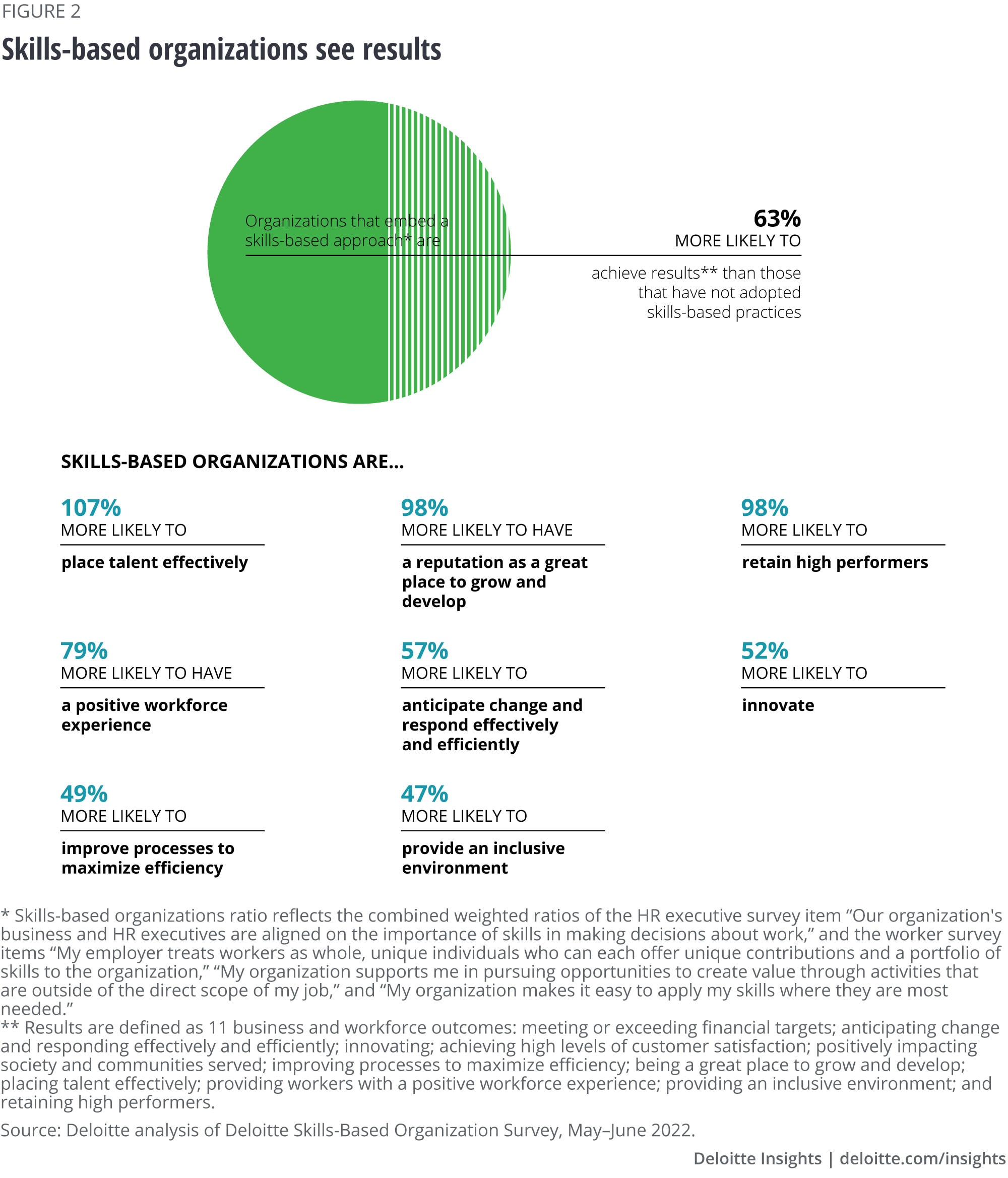 Conclusion
With business imperatives constantly being influenced by the world around us, it is evident that all our previous and current ways of working and organizing jobs are simply not going to be sustainable soon. The research clearly indicates the value of focusing on skills (a much more granular level than jobs) as a strategy to navigate an uncertain, unpredictable, and complex world. Therefore, there is real merit in businesses engaging in some serious reflection to consider a move towards being a skills-based organization. Leadership and influential decision-makers have a key role to play in strategic-level setting, as well as supporting organizations to transition to more agile ways of work, thereby securing their relevance and success for years to come.
Written by Fuel50's Workforce Architecture team
Contributors: Shelley-Ann Viljoen
Fuel50's dedicated team of Workforce Architects and Industrial and Organizational Psychologists feed the Fuel50 Talent Ontology, train our ethical AI with Diversity, Equity, and Inclusion design principles at heart, and support best-in-class organizations using Fuel50 to transform and future-proof their talent strategy and workforce architecture.