This article was written by Anne Fulton, CEO and Founder of Fuel50, and was originally published by Human Resource Executive. 
The concept of rebalancing isn't new. Any investor—new or experienced—has heard the term used during the process of buying and selling assets to balance the risk in one's portfolio. And while HR leaders haven't commonly used the term, they may be soon, as even the Wall Street Journal has nicknamed what's happening in the workplace a "Great Rebalancing" of the employer-employee relationship.
No doubt, we're in uncertain times. World events and how they inform the crucial employee capabilities required for the future of work have added turmoil to how company strategy. In April 2022 alone, there were unseasonal floods in South Africa, tornadoes in the United States and tropical storms in the Philippines. Supply chains were disrupted, communications infrastructure damaged and workers displaced.
In a world already reeling from the continued impact of COVID-19, the conflict between Russia and Ukraine has also had far-reaching global repercussions. Workers' sense of safety—physical and psychological—to such events ignited reactions like the Great Resignation or, at the very least, a shift to prioritize their own wellbeing over the needs of the employer. Employees now expect choices, especially growth opportunities that fulfill their personal development requirements over linear (and often slow) career advancement. These expectations are validated by recent research from ManpowerGroup, which found that 31% of workers would take another role within the next month if it offered a better blend of work and lifestyle; in particular, 42% of millennials want more work/life balance.
Meanwhile, one of the most disruptive events impacting the workforce is hitting companies and consumers alike: the reality of inflation and threat of recession. Higher inflation has led to increased cost of living, diminished consumer confidence, boosted interest rates and escalating labor costs. The pressure to operate under agile business models has required organizations to focus on reskilling and upskilling their workforces to make certain the skills are in place now to support the future.
Analysts at Forrester have been so bold as to encourage companies to hire people for their skills rather than hiring for specific roles. According to the firm, the "stop hiring for jobs" mandate means that when an organization goes through a dramatic change like those mentioned above—a natural disaster, global pandemic or military action—or a more expected business event like a merger and acquisition, it can better adapt. Analyst Katy Tynan commented, "You're losing talent when you only see people through the lens of the job they're hired into."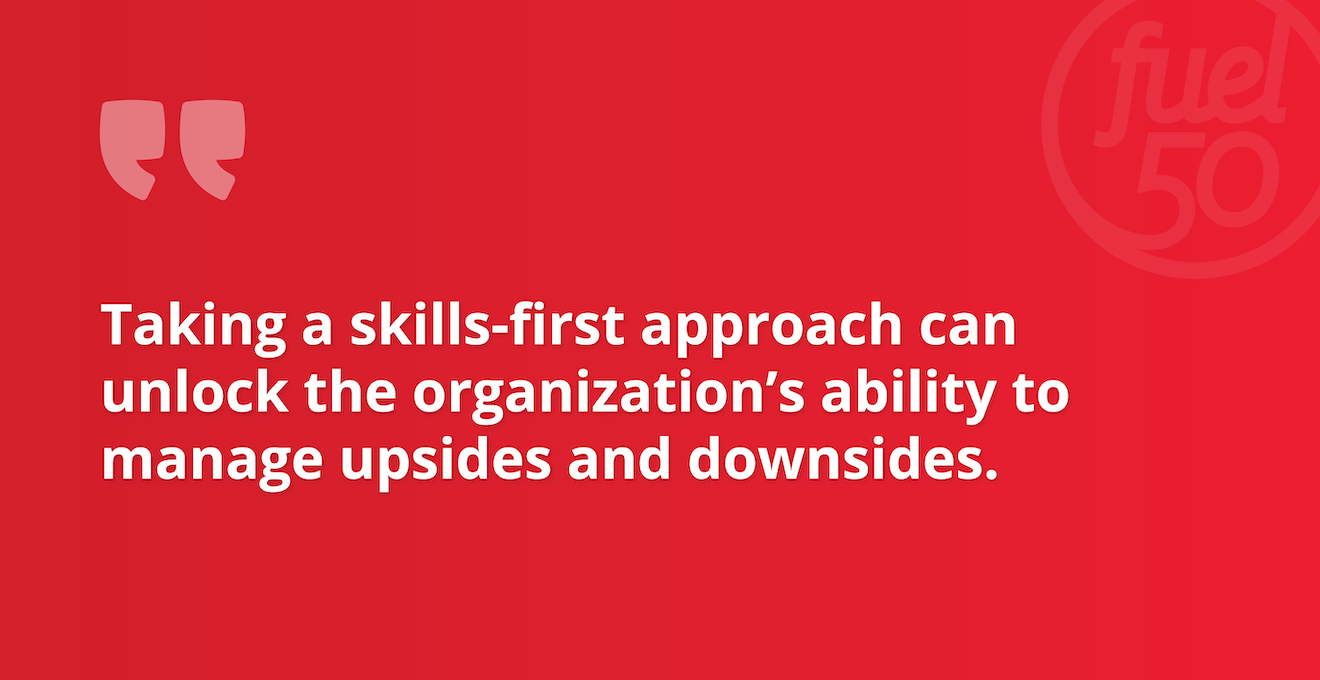 This is a significant lesson for HR leaders today, who are laser-focused on growing—and keeping—their talent base. For instance, recruiting and retention were recurrent themes throughout HRE's recent What's Keeping HR Up at Night? survey. Nearly 72% of respondents said they were somewhat or extremely concerned about losing talent over the next 12 months.
"Deciding whether the focus (and money) should be on recruitment or retention comes down to aligning the people strategy with the business strategy," Peter Fasolo, CHRO of Johnson & Johnson and 2022 HR Executive of the Year, told HRE recently.
"The key is balance, which comes from having a deep understanding of both your internal and external talent marketplace," he says. "The focus should be on identifying a capability gap and then determining the best way to address based on evaluating talent that is in high demand versus talent that is in high supply."
Taking a skills-based hiring and skills-first approach can unlock the organization's ability to manage upsides and downsides. Since skills know no borders and technology facilitates alignment with country and local regulatory requirements, a skills-based approach to hiring enables employers to source and hire talent beyond a geographic talent pool. Having a skilled workforce that isn't concentrated in one area also ensures further protection against geopolitical and physical risks.
This is a pivot employers on the leading edge are already making. According to research by Deloitte, "Forward-thinking organizations are shifting their primary focus from jobs and job titles to skills. This aligns well with an ecosystem mindset that values workers for the skills they provide, regardless of their employment status."
Yvette Vargas, head of development at Citizens Bank, explains, "Skills are the new currency. We're dealing with people and human behavior, not just knowledge. We're in the business of helping manifest people's knowledge and skills into activities—initiatives that will help our customers, colleagues and communities actually transform their lives."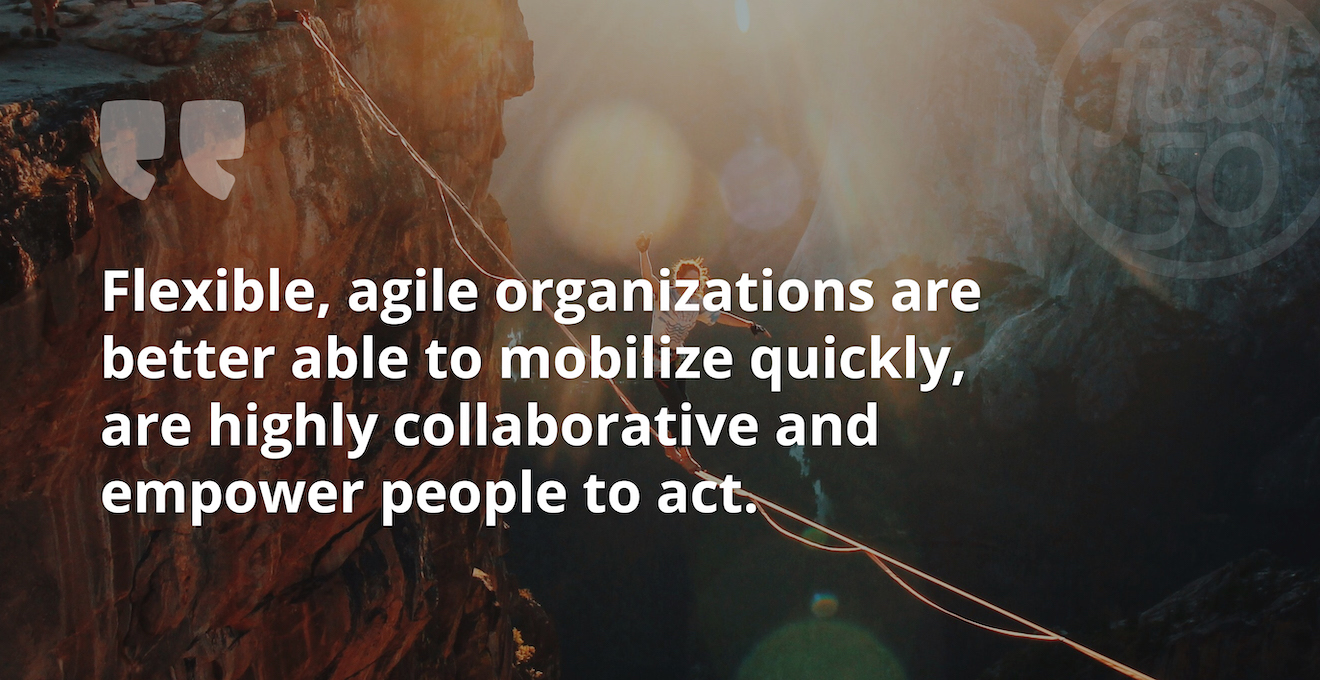 How can you get started to help your company transform into a skills-based organization? Start with a more flexible, agile job architecture. In a recent article in the MIT Sloan Management Review, authors Ravin Jesuthasan and John Boudreau state "organizations are held back by the obsolescence and stubborn inertia of a traditional work operating system that was built for the Second Industrial Revolution, with work defined as 'jobs' and workers defined as 'job-holding employees.' " Flexible, agile organizations are better able to mobilize quickly, are highly collaborative and empower people to act. Getting to this ideal state means hierarchical job architectures need to be simplified into a flat organizational structure that features a more agile, skills- and project-based workforce.
Second, taking a skills-based approach to talent development will enable your organization to understand the skills needed now and in the future. Providing your workforce with "skills transparency" in real-time creates a common organization-wide approach to skills and talent management, allowing you to plan upskilling initiatives while highlighting skills gaps. With skills requirements evolving quickly and some predictions from the World Economic Forum stating 50% of all employees will need reskilling by 2025, transferable skills can ensure business continuity and engaged employees.
Implementing agile methodologies is a third requirement to move from rigid job frameworks to becoming a skills-based organization. High-performing organizations have adopted agile core values, focusing on individuals and interactions over processes and tools. This includes prioritizing responding to change over following inflexible or outdated plans just because it's the way things have been done previously.
Resiliency in this rapidly changing world necessitates thinking differently. Rebalancing by using a skills-based hiring approach can deliver flexibility and agility. It also affords employees the internal mobility and career growth opportunities they require to thrive.
ABOUT HUMAN RESOURCE EXECUTIVE
Human Resource Executive® was established in 1987 and continues today as the premier media outlet covering strategic issues in HR. Written primarily for vice presidents and directors of human resources, Human Resource Executive provides these key decision-makers with the news analysis, insights, strategies and timely research reports they need to excel.  
Learn more about Human Resource Executive here.