For decades, jobs have been at the core of how organizations organize work and manage talent. But in today's world of work, the tides are changing. Technology is continuing to evolve at rapid rates, and organizations are finding it harder to predict and prepare for the future.
This is exactly why workforce agility has now become imperative to organizational success, growth, and future readiness. A skills-based talent strategy – where the focus shifts from jobs to skills – enables organizations to respond to change more efficiently, helping to boost their agility, adaptability, and nimbleness.
Before we dive into why having a skills-based talent strategy matters in today's work environment, let's establish the difference between skills-based and role-based organizations:
Skills-based vs. role-based organizations – what's the difference?
Role-based (or job-based) organizations consist of more traditional workforce structures, where employees are typically put into roles based on their education, credentials, and experience to complete tasks associated with that role.
Skills-based organizations, on the other hand, assign tasks based on skills rather than roles. Fuel50's Capability Trends Report defines them as:
A more agile and employee-centric approach to work where employees are valued for their skills rather than their job title, level, or educational qualifications. It is a new operating model of work where employees are matched to tasks and projects on skills, capabilities, and interests.
According to Deloitte, traditional competency models that are geared towards role-based strategies aren't designed for agility. This limits an organization's ability to analyze their workforce effectively and adapt their talent strategy to the ever-changing needs of the market. Moving towards a skills-based approach to managing talent is quickly becoming necessary for organizations wanting to optimize their workforce and stay agile. Here's why…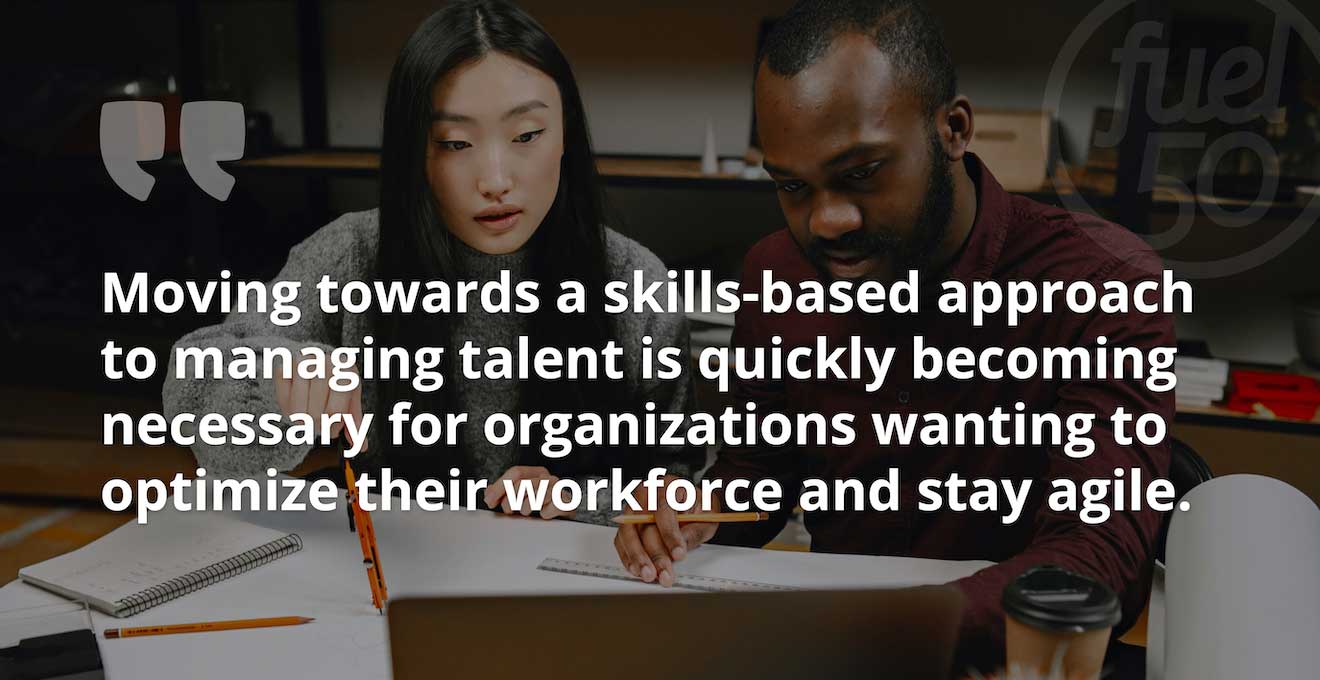 The work landscape has changed, and organizations need to follow suit
We all know the world of work is continually evolving. In fact, strategies that may have worked just a few years ago aren't as fit for the work environment we have today. The rapid changes in technology over the past decade have boosted digital adoption in all aspects of work. As a result, experts predict that 50% of workers will be displaced by technological automation in the next five years and 40% of skills will no longer be relevant.
These workers will need to reskill to stay competitive in the job market or may even need to change the direction of their career altogether. Forbes says this is what has led to many organizations developing a skills-based talent strategy.
Traditional methods that typically look at education, credentials, and years of experience simply aren't cutting it anymore. Looking at talent with a new lens that focuses on skills rather than job requirements is giving employers the agility necessary to operate successfully today.
Effective employee development is more important than ever
LinkedIn's 2022 Learning Report found that 46% of L&D leaders say upskilling and reskilling employees is a key focus area this year, making it the No.2 focus for 2022. However, with many organizations still operating under role-based talent strategies, L&D programs are often being targeted toward staff with higher performance and more experience.
A skills-based approach offers a new way of thinking as it prioritizes employee development on professional skills as opposed to subjective perceptions of employee success and performance. This minimizes the possibility of potential bias, and in some extreme cases, favoritism.
The true game-changer comes when leaders connect skill-building to internal mobility. Prioritizing employee development is now a non-negotiable for organizations to drive retention and engagement. Employees are looking for ways to grow their skill sets and plan their careers, and the best way to facilitate that is through internal opportunities.
Ryan Rolansky, CEO of LinkedIn says a skills-based approach is key:
We really need to change and think about more productive and sustainable ways to help connect talent to opportunity, and our view is that that's going to be done through a skills-based approach.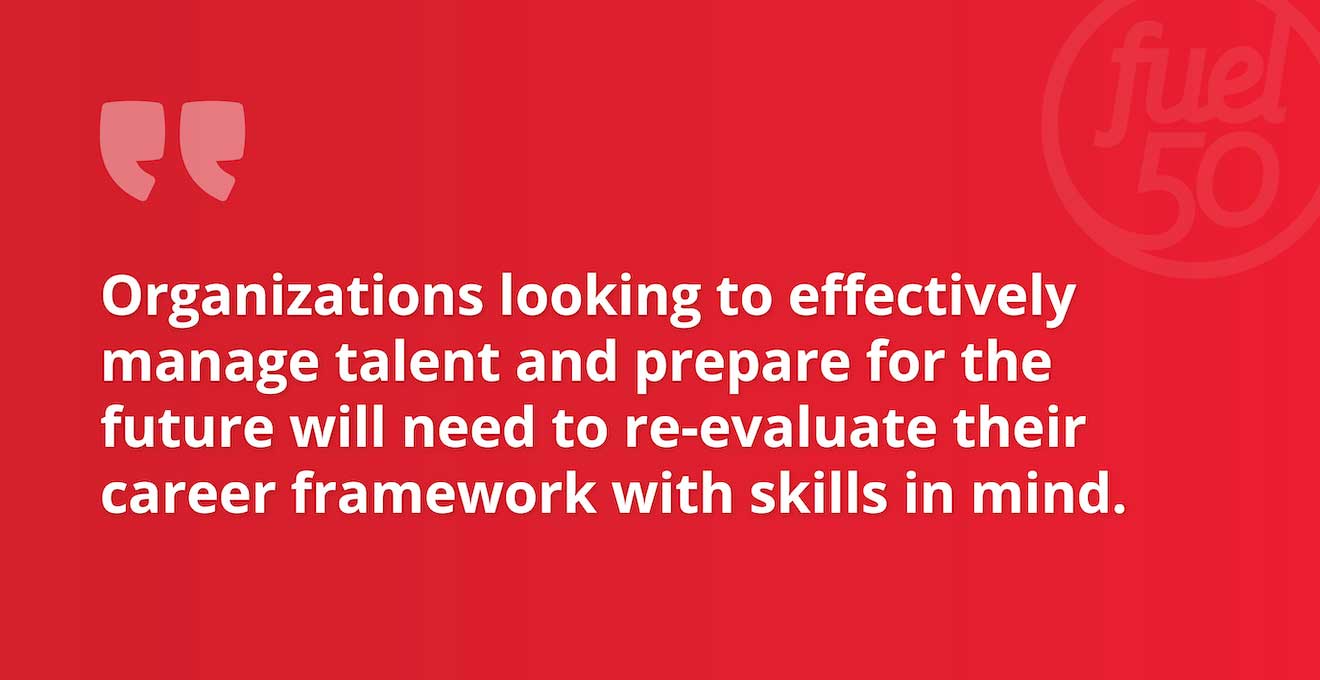 Make the move now for a better future ahead
Organizations looking to effectively manage talent and prepare for the future will need to re-evaluate their career framework with skills in mind. This will require reviewing all job descriptions and updating them with the talents and skills needed for each role, rather than the degrees and certifications required. While this can be a huge undertaking, there are tools that can help you transform your career framework and future-proof your workforce architecture.
It's best to implement a platform that not only modernizes your workforce architecture but also enables you to manage and measure skills across your organization. A talent marketplace can give you the ability to easily find skills gaps so you can provide employees with the necessary training to fill them. When you know what skills you need, you'll be able to make better decisions about hiring, training, and development.
Talent marketplaces that support skills-based functionalities offer better visibility into the skills you currently have within your organization as well as the skills you need to operate successfully. They also help with driving internal mobility and encouraging the transfer of skills across the business, giving leaders diverse talent pools to tap into.
Taking that step towards a skills-based organization can be intimidating, especially when so many organizations are deeply rooted in traditional ways of working, but embracing change and moving forward is what will unleash the potential of your workforce and set your organization up for future success.