What makes an organization successful? This question has countless answers, but one of the most definitive is – 'its people'. Without skilled talent who fuel the operation of a business and help achieve its strategic objectives, an organization wouldn't be able to thrive and grow.
This is precisely why recruiting the right people with the right skill sets is so essential. However, with the effects of The Great Resignation still at play, the talent crisis looming, and a global skills shortage on the rise, the current work environment isn't making recruiting any easier.
There are many challenges HR teams are facing in their pursuit to find the best talent. Understanding these challenges and adjusting recruiting strategies to mitigate their negative impact will ensure your organization is set up for future success. Here are five recruitment challenges you need to be aware of and some recommended solutions for how to overcome them.
1. The War for Talent
We're still in what is now called 'the post-pandemic age', where the war for talent is more prevalent than ever, and talent supply is far from meeting market demands. 71% of organizations say they have more open positions now than ever before, highlighting the fact that there are more job postings than there are skilled people to fill them.
Even with the recession approaching, 65% of HR executives believe talent recruitment will still be an issue, with one stating "While it [the recession] may make it easier to retain staff, I don't think that it will make it easy to recruit into new areas – e.g., new skill sets that are required. So recruiting to develop the team's capabilities, especially in key areas of talent, will continue to be difficult." 
In many industries, job seekers now have the upper hand, allowing them to be more selective about the roles they accept and the companies they become a part of. This shift in power dynamics has required organizations to respond with enhanced recruiting strategies, stronger employer brands, better salary packages, and increased employee benefits.
If organizations wish to remain competitive amongst the barrage of recruiters in today's market,  this is the new expectation – match these demands or risk being outbid. Here are some solutions:
Start reskilling your people. Many companies are tackling the talent shortage by reskilling their existing staff instead of seeking external hires. Provide your people with relevant training and development to build the skills your organization needs to help boost internal talent mobility and workforce agility. 
Adjust your hiring criteria. When it is required to hire externally, finding the 'perfect' candidate may prove difficult. It pays to broaden your perspective and look beyond traditional job requirements and instead focus on transferable and soft skills. If the candidate has a can-do attitude and the ability to learn the skills they will need for the role, they may just be the right fit. 
Build a strong Employer Brand Proposition (EBP). Focus on enhancing your EBP and positioning your organization as an employer of choice. This can include offering financial rewards such as competitive salaries and bonuses as well as employee benefits such as paid time off, parental leave, flexibility, career growth, and ongoing development opportunities.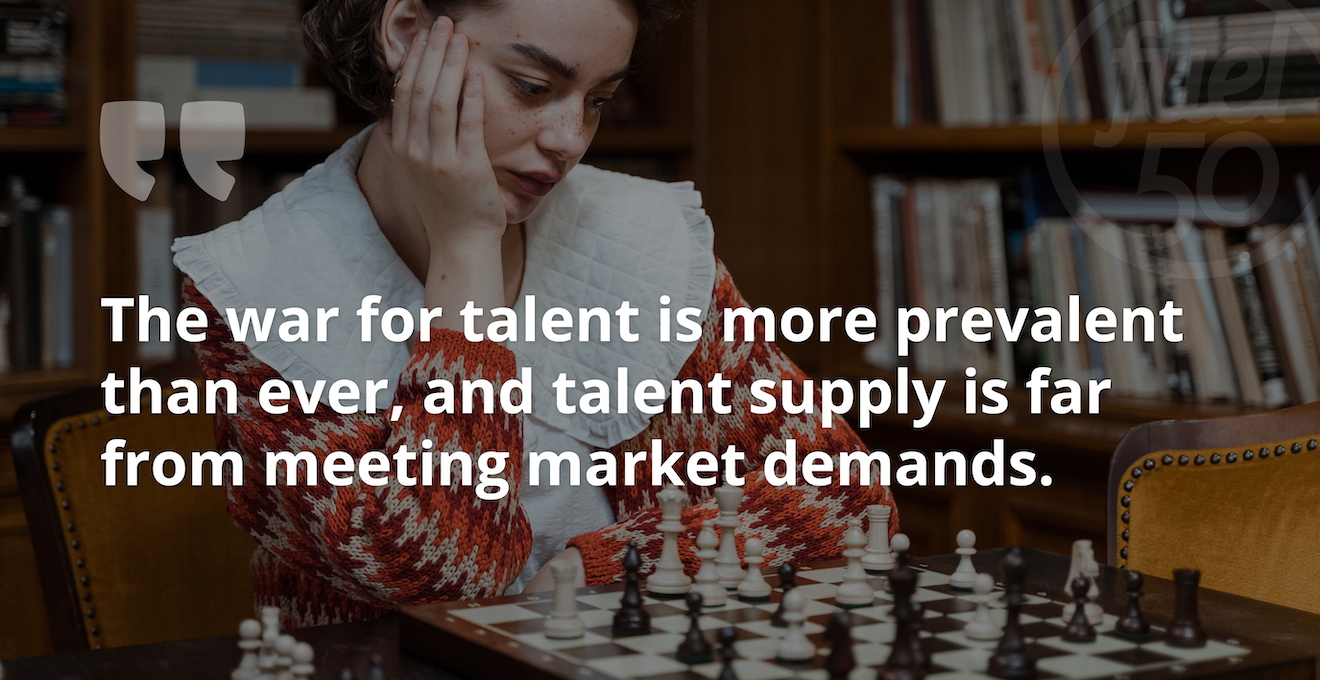 2. The Skills Shortage
The skills shortage is still affecting many organizations today, with 87% of companies saying they currently have skills gaps or expect to within a few years. The shortage stems from rapid advances in technology over the last decade, along with candidates lacking the skills needed to work with these new innovations.
This has caused a widening skills gap that is impacting business performance and employee confidence, making it a top priority for business and HR leaders to address. To combat these challenges, research shows that employers are investing more in employee training, hiring from diverse talent pools, and collaborating with educational institutions to help build talent pools with skills relevant to current business needs. Some solutions to fill these skills gaps include:
Prioritize upskilling and reskilling. Ensure your workforce has the skills needed to enable business growth by providing strategic upskilling and reskilling programs. 93% of organizations that introduce upskilling programs see increased productivity, an improvement in talent acquisition, retention, and a more resilient workforce. 
3. Keeping up with changing needs
With technology continuing to evolve faster than ever, the skills organizations need are changing at a rapid rate. Recruiters now need to work harder to keep up with the needs of their organization to understand the skills and capabilities each department needs not only now, but also in the future.
Having this level of skills intelligence enables your organization to stay agile and make any necessary pivots to operate optimally – but this requires a data-driven approach to skills. One that allows you to make more informed hiring decisions, ensuring you recruit people with the right skill sets.
Manually maintaining data and career frameworks to keep up with ongoing market changes can become extremely tedious and tiresome. It can also breed a multitude of human errors and outdated information. The following solutions can help:
Invest in a Talent Marketplace: Having a talent strategy that is backed by a skills-powered talent marketplace makes sourcing the right skills and capabilities within your organization much more efficient. It empowers you to understand what talent you currently have and subsequently build talent pipelines to fill open roles. A talent marketplace supports workforce redeployment, upskilling, and reskilling to harness and deploy your talent more effectively.
Adopt a data-driven approach: Power your decision-making with intelligent dynamic data and workforce insights. Platforms like Fuel50 offer skills-based insights that highlight real-time data to enable you to better understand your talent, identify retention risks, pinpoint future skills gaps, and make more informed strategic decisions.
Use recruitment technology to find the best candidates: Using technology such as an ATS platform automates, simplifies, and fastens your application process. You can screen large pools of candidates within minutes and have top candidates recommended to you based on their relevant skills and fit for the job.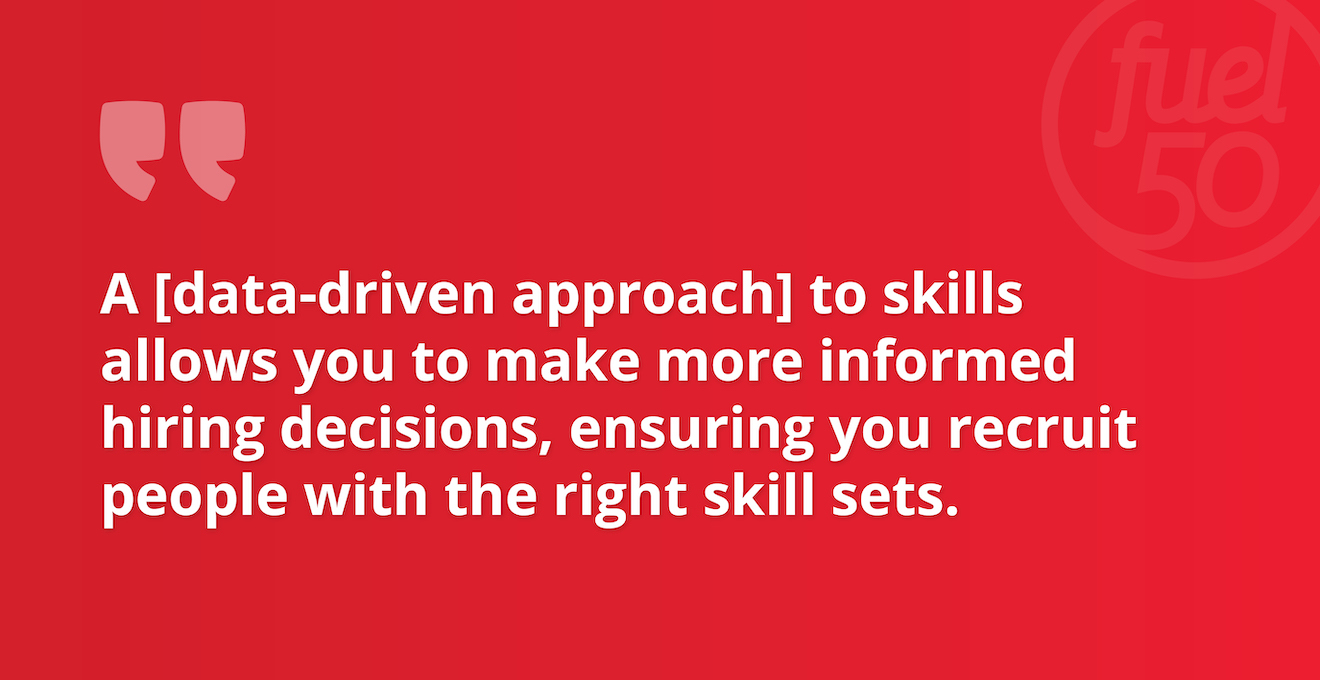 4. Reducing time-to-hire
A long and drawn-out recruitment process can be detrimental to filling open positions. Due to the talent shortage, open roles often remain unfilled for longer periods of time, causing existing staff to pick up the extra work. This can have a negative impact on these employees, leading to overexertion, extra stress, burnout, and reduced productivity.
Recruiters don't have time to waste, especially when skilled talent is scarce. If your recruitment process is too long, there's a good chance your best candidates have either received a job offer from another company or are simply fed up with the lack of response. This brings you back to square one, forcing you to restart the hiring cycle all over again. Here are some solutions to help reduce your time-to-hire:
Build talent pipelines: Take a proactive approach and start building talent pipelines for key roles across your organization. When the times come to find a replacement, you may already have an employee ready to take on the role. Talent marketplaces and CRM systems have excellent pipeline capabilities to help you source the best candidates from your talent pools.

Implement an ATS solution: According to research, 86% of recruiting professionals say using an ATS has helped them hire faster. As mentioned above, an ATS enables you to screen applicants from multiple channels, saving you time in reviewing hundreds of candidates. It also includes existing candidates, helping you screen new and previous applicants all at once.
5. Biases in recruitment
Hiring biases are a major hindrance to workplace diversity. According to Francesca Gino, professor at Harvard Business School, unconscious biases have a critical and problematic effect on our judgment. She explains "they cause us to make decisions in favor of one person or group to the detriment of others. This can stymie diversity, recruiting, promotion, and retention efforts."
According to McKinsey, companies in the top 25% for ethnic/cultural diversity on their executive teams were 33% more likely to be among the most profitable in their industries. Not addressing hiring biases within your recruitment practices can also negatively impact your company culture.
Katrina Kibben, CEO and founder of Three Ears Media, notes that providing the right training and education around unconscious biases can create "ripples into a more safe and better community for everyone." It starts with acknowledging where biases may be present within your organization and taking action  to reduce them. Here are some solutions:
Rewrite job listings: Your choice of words within a job listing can influence the type of candidates you attract. For example, masculine adjectives like 'competitive,' and 'determined' tend to draw in males, while 'collaborative' and 'cooperative' tend to draw in more women. Gino says you can either remove these words entirely or replace them with something more neutral.
Use blind recruitment methods: Blind recruiting removes all identification details from your candidate's resumes such as their name, gender, age, and ethnic background. It helps to level the playing field, enabling you to focus on their skills and experience instead of factors that can lead to biased decisions.
Use AI-driven technology: Modern Hire says the key to solving hiring biases is to automate more recruiting activities intelligently and without bias. AI technology can fight unconscious bias to source candidates and present a list of candidates based on qualifications rather than unconscious biases.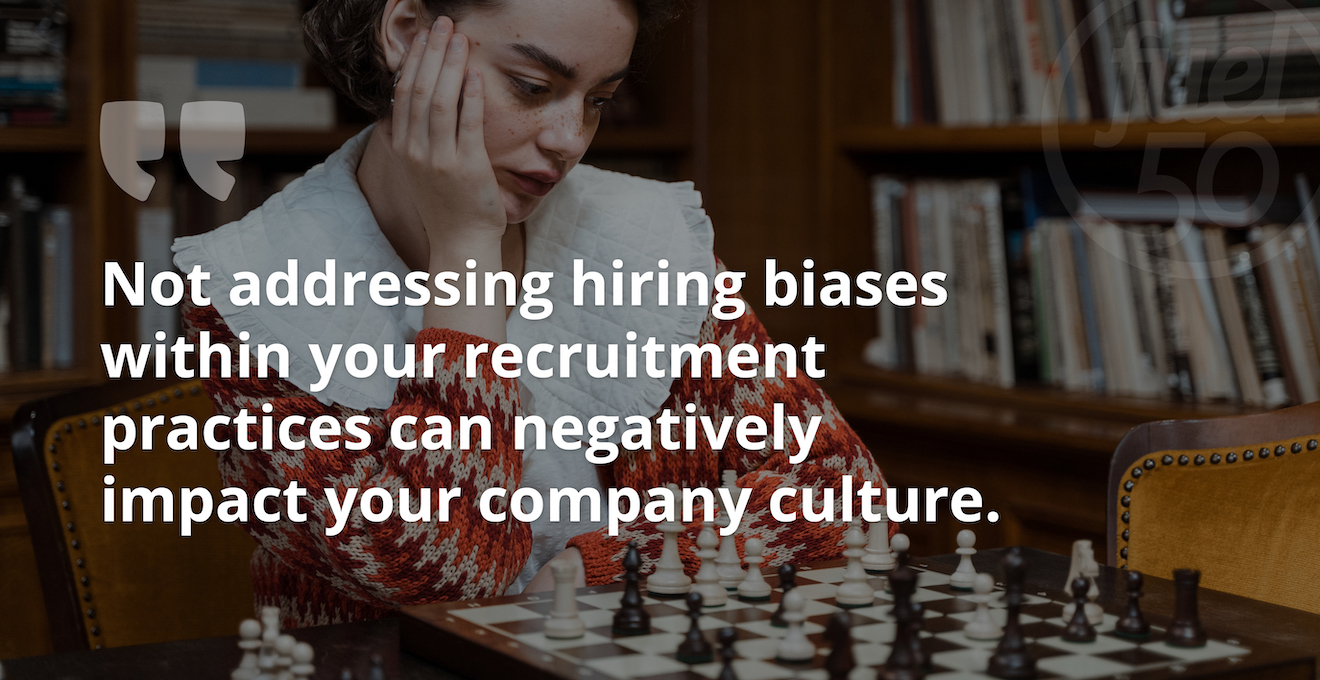 While the world of recruitment today is rife with trials and tribulations, understanding what has caused these challenges goes a long way in overcoming them. It's now up to HR and business leaders to either take a reactive or proactive approach going into 2023, and those embracing the latter are much more likely to experience long-term success at the end of the tunnel.
ABOUT FUEL50
Fuel50 is the skills-powered Talent Marketplace solution that smart-matches your people to coaches, learning, vacancies, gigs, projects, and career journeys. Harness next-gen workforce data, power internal talent mobility, drive workforce agility, and future-proof your organization.
For more information, please visit www.fuel50.com.