Skills taxonomies are an essential part of an organization's toolkit when it comes to powering workforce agility. By understanding what skills and capability levels exist within your organization, leaders can make informed decisions when it comes to mobilizing talent into other roles. Additionally, HR can use this information in their recruitment and L&D strategies, identifying areas where employees can upskill and move into other roles, or where they need to hire externally. 
What is a skills taxonomy?
A skills taxonomy is defined by AIHR as "a structured list of skills defined at the organization level that identifies the capabilities of a business in a quantifiable way. Essentially, it is a system that classifies skills within an organization into groups and clusters. Having a skills taxonomy for your organization creates a unified understanding and language that can be used to deliver effective workforce strategies and drive operational efficiency. It is at the heart of a skills-based approach."1
We can see the benefits of a skills taxonomy, but where it falls short for today's organizations is that it is typically a linear list with simple hierarchies. In other words, it contains titles and skills only. These can lead to messy frameworks with outdated and overlapping titles and skills. Skills taxonomies are prone to becoming duplicative and there is no DEI consideration. Furthermore, an organization's skills taxonomy may not even include every job role, rather only the ones deemed critical to business operations and success. With the world of work evolving at a rapid pace, a simple taxonomy doesn't do employees justice. Using an ontology will give a much broader view across your workforce.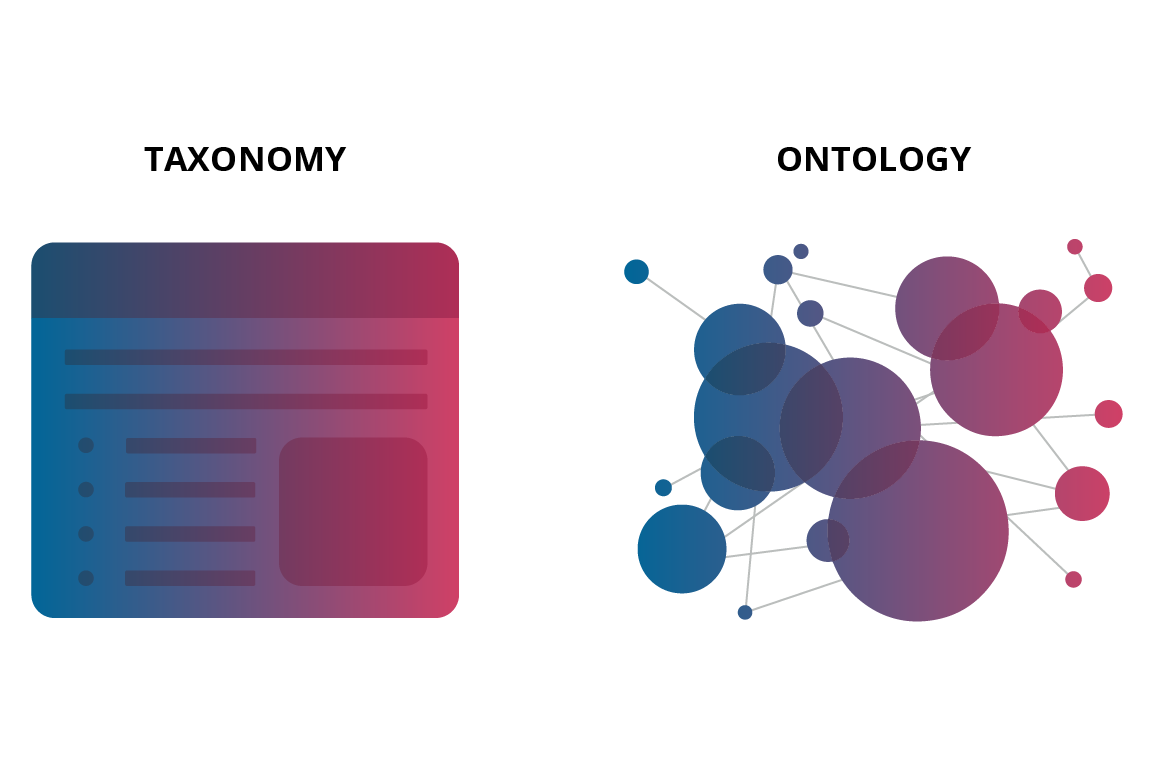 What is a skills ontology?
A skills ontology is multi-dimensional. It is defined as "a set of skills and their relationships between one another".2 Using a talent ontology gives a much fuller picture of the skills and capabilities across an organization and, depending on the hr software and systems in use, can show where an employee's interests lie. This enables organizations and HR teams to easily identify who is ready to upskill, who needs support to move into another role, or who is willing and able take on a particular gig or project.
Fuel50's Talent Ontology™
Fuel50's Talent Ontology™ is a complete capability library that goes beyond the basic datasets of a taxonomy and brings to life the entire role across job title, description, skills, talents, tools, and technologies. It includes generic job descriptions and job responsibilities aligned to 1,000+ common job titles and content covering 45+ functional areas across a broad spectrum of industries. Fuel50 has a dedicated team of I/O Psychologists and Workforce Architects who maintain the ontology to ensure it is kept up to date, and regularly check it against DEI protocols. Furthermore, Fuel50's Talent Ontology™ responds to both market trends and client needs, so its breadth and depth continually grows.