We all know that for an organization to thrive in today's fast-paced environment it needs to be agile. But being able to pivot quickly and effectively only works when you are well-informed on how to optimize your workforce. Having a clearly defined roadmap for every layer of your organization – employees, functions, departments, technology, leaders, and so on – and, more importantly, understanding how these feed into your organization's overarching strategy, better positions you to achieve workforce optimization. 
Getting to the point where each of these roadmaps is clearly defined and includes the appropriate milestones is no easy feat, and often organizations and HR teams discover that they don't have the data or the insights they need to inform these. To truly optimize your workforce, data alone isn't enough – you need to dive deeper to surface the right insights to support your strategic workforce planning. 
At this point, people may say "But aren't data and insights the same thing?"; "I already use data when making decisions"; or "I have the data our BI/Data Science team sends me so I'm fine". Worse still, sometimes Data Scientists and BI specialists use these terms interchangeably to try and avoid confusing people in other departments.  
What is the difference between data and insights?
In a LinkedIn Pulse article, Raoul Pinto, Founder of Edilitics, uses the example of someone shopping online to explain the difference. A user goes to an e-commerce website where they see the expected navigational layout, as well as various pop-ups and floating messages. They scroll down the page to the "new products" feature and see that the product they looked for last week is now back in stock. They click on the product tile and are taken to the product's landing page where details and features, as well as the "Add to cart" button are located. A pop-up appears telling the user to buy within the next four hours to receive free shipping. You add the product to your shopping cart.   
What may surprise you is the number of data points gathered along the way. You expect the usual transaction details such as the item (or items), number of items in a purchase, full price or sale, discount applied, the purchase number, the transaction date, your name, phone number, address, and preferred payment method to be recorded. Also being recorded are data points such as what browser did you use, how did you come to the website (e.g., through an ad or typing the website URL in directly), how long did you spend on each page of the website, how far down did you scroll on each page, what items did you click on, did you add any of the "recommended" items. The number of data points can be innumerable, but individually and without context they are simply just informational notes or points. And business decisions made with only data points and no context can be very bad for business.  
This brings us to the context – what are you using the data points that you're capturing for? An example could be looking at how far down a page users scroll. If 95% don't scroll below the fold (the first part of the screen you see when the web page loads), 3% scroll down once, and 2% scroll down twice, but you can still scroll another three times before reaching the end of the page. This is called analytics, which Pinto describes as "interpreting this data to find meaningful patterns and trends that can then be used to gain knowledge about the business and make improvements and changes."1 
Another example of analytics could be the number of transactions from the previous month compared to the month prior and then compared to the same month the previous year to determine whether sales have increased, decreased or flatlined.  
Pinto continues "That leads us to insights. Insights is gleaning meaningful information from analytics… [that then] need to be actionable and prescriptive". Using the example of the long webpage, the insight would be that the latter end of the page is unused, and the insight is that the page can be shortened, which may also reduce the time it takes the page to load as there is less content. Alternatively, if there is important information lower down the page then the insight could be to redesign the page to be both shorter, and to have the important information higher up the page.   
Pinto continues "While analytics will give different interpretations of your data, insights provide you with the true relevance of the data you've collected with reference to the questions you've been asking all along."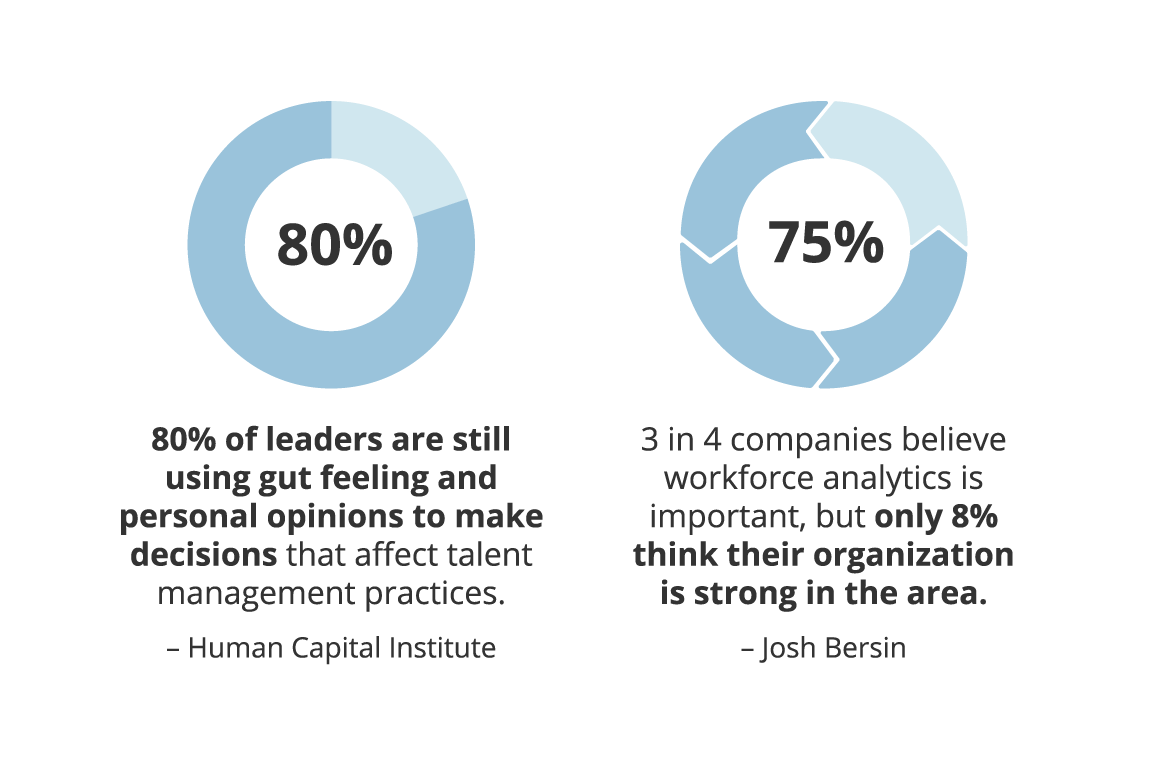 The Impact of Workforce Insights on Organizations
Renowned HR tech analyst, Josh Bersin, highlighted the challenges organizations are facing with their talent data saying, "3 in 4 companies believe workforce analytics is important, but only 8% think their organization is strong in the area (with no improvement since 2014). "2 
Meanwhile, the Human Capital Institute states "80% of leaders are still using gut feeling and personal opinions to make decisions that affect talent management practices. "3   
Using an organization's people analytics, HR teams can see multiple levels of HR and employee metrics through reports. The reports can show things such as how the workforce is tracking against organizational goals; and where talents and skills currently exist within the organization. By putting this into context and gleaning the insights, they can then determine what or where the workforce needs to pivot or scale to get on track with organizational goals or using skills data they can identify where skills currently exist or may exist in future and create a plan to upskill and mobilize their internal talent to address this.  
Benefits of using a Workforce Insights Tool
While organizations can use analytics tools only and infer the insights, using a workforce insights tool in conjunction with analytics delivers powerful intelligence that can be used to optimize your workforce. From understanding what motivates and engages your people, to delivering team insights to managers and leaders, to tracking the return on investment of other HR tools and people, a workforce insights tool can positively impact your bottom line. 
Josh Bersin continues, "You're going to see better-run companies that are able to make better decisions, faster. Organizations will have better people, reduced risk, and lower error rates. You name any problem that any company has ever had, and you can trace it back to people. Depending on the priorities of the CEO and business, you can apply [Workforce Insights] to just about any problem you have." 2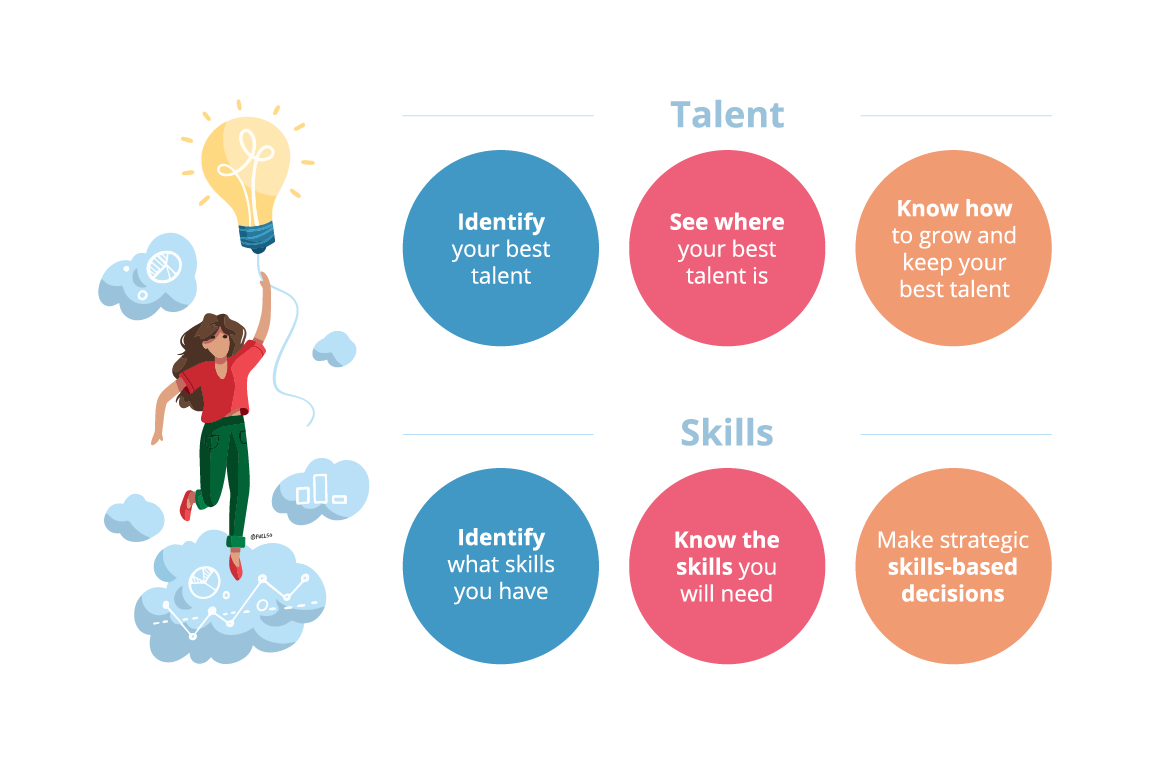 Be Future-Ready
Right now, so long as an organization is recording data accurately and using its analytics to inform decision-making then it will be in good stead. However, if an organization is looking to make better decisions faster, then implementing a workforce insights tool that connects with your HR tech stack can deliver the competitive edge you're looking for.