For the last 5 years, I've been deeply immersed in building a career pathing software solution as Chief Technology Officer of a start-up called Fuel50. Career pathing, you ask? Yes, that is actually a thing! Simply put, it's the name given to a software system which is able to show people viable career paths in an organization from any start role to any destination. In fact, it's quite a "thing" these days! Testament to this fact is that our start-up that hit the blocks a few years ago is now providing our award-winning career pathing solution to many Fortune 500 firms across the globe, some of which are household names.
The business case for career pathing
So, how does a real career pathing solution work? We get this question all the time from prospects who want to know the science behind it, and how we are differentiated from other outfits who claim to do it too. But before I get into that, let's rewind a little. It would be best to explain a bit about the concept of career pathing before we reveal our deepest secrets.
Let's set the scene
Imagine you're an employee at a medium to large-sized company, meaning anything from say 500 up to 500,000 employees. You're sitting at your desk and thinking "Hmm, I'm really not that fulfilled in my current role, I actually always wanted to do website design but somehow I've landed in marketing doing brochures and flyers", a ball and chain spring to mind.
At this point you've got two choices — you either pull up Indeed or some other job board on your phone and browse opportunities in other firms, or elect to talk to your manager about a potential internal career move. In case you're wondering, most people tend to go for option one because, well, let's just say the case for career conversations is another story entirely.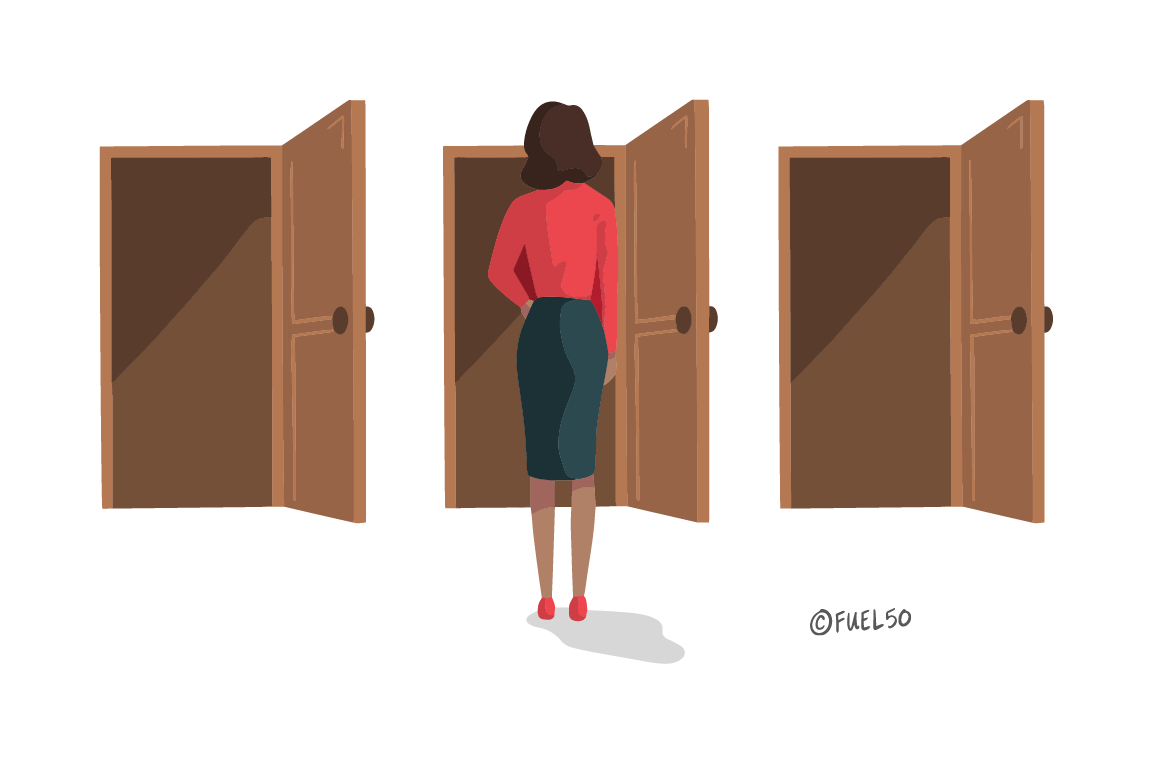 So, why do people leave their jobs?
Why do people look outside for opportunities rather than within? We've all been there — they're afraid of looking like they are complaining, and even if they do ask, they don't have any confidence that their manager will really know or understand. To be fair, how can one person possibly know about every role within a company and what is needed to get 'in' anyway? Your manager is only likely to know about a handful of roles around their sphere of influence, combined with the fact they don't really want to lose you anyway (who enjoys recruiting, really?) so perhaps they aren't really all that motivated to help you look elsewhere.
This lack of visibility to opportunities within a firm is demoralizing to staff, and an internal job board simply does not solve this problem.
People need some context, they need to know what's out there that would suit them personally, and they need to know how to close whatever skills gaps they might have to give themselves a reasonable chance of getting there. This is where a true career pathing solution can help retain an employee that would otherwise have jumped ship.
Getting started with career pathing
Okay, so we've identified the problem, and now we are going to fix it! *high-five*
We're going to provide a software solution that tells people how to land their dream job, and exactly what they need to do to get there, and here's the secret sauce — they'll be able to do it all by staying at your company! A true career pathing solution that allows them to navigate to and from any role within the company and see exactly what steps are needed to get there — a total game-changer!
Before we get developing, we need to make sure two fundamental things are in place:
A complete set of roles with overlapping skills mapped which are graded by skill level, for every role in the company; and
An algorithm, of sorts, that takes the information about skills within roles (and any other role info that might be handy) and can tell an employee how to get from any start role to any destination role
Oh, and it needs to do this in less than a couple of seconds! (a.k.a. the forgotten-but-ever-so-important third thing)
Here's how we solve this.
At Fuel50, we can either work with a company's existing career framework or we'll provide one which is mapped to the roles within the business, complete with the required skills, competencies, qualifications required for each role at each level. Fuel50 has its own dedicated team of Career Pathing Mapping Experts who take care of all this and work together with the client's SME to make sure that there's a complete list of all the company's roles ready to go.
Roles will have overlapping skills, which makes progressions and jumps between roles with related skills actually possible. Without solving this crucial step, no amount of clever algorithms will save your bacon — data is the lifeblood of any system, and so getting the career framework right to start with is half the battle won. End game? Fuel50 can work with your existing frameworks and make the whole process easy!
Why most (pseudo) career pathing platforms fail
Most software solutions in the market get stuck right there — they don't have competency models with overlapping skills. In fact, at the time of writing this I can tell you that none of them do! We've done our competitive research — they simply don't have the data structures to make true career pathing work in real life.
For instance, if a software product claims to offer career pathing, but their skills are not graded by levels, then you know something's wrong.
Most software solutions in the market get stuck right there — they don't have competency models with overlapping skills.
Without skill levels it's literally impossible to determine the difference between, say, a "Senior Developer" role that requires advanced software development skills versus a "Junior Developer" role that only requires a basic level of knowledge. Ideally, a computer algorithm could show a path wherein a Junior Developer can become a Senior, but if both roles just have "Software Development" as a requirement (and I happen to know this first-hand) then both roles will match me equally. For obvious reasons, this isn't really useful as it would give the false impression that a Junior Developer would match a Senior Developer role without having to close any skills gaps! Otherwise known as pseudo career pathing.
For recommendations to be sensible, and for a pathway to be shown that makes intuitive sense, this is a fundamental "Gotcha!" that must be right or the whole concept falls apart. This is why pseudo career pathing systems that claim to do "crowd-sourced competency frameworks" don't work (hit me up if you want some names). If a system simply imports skills from LinkedIn or from simple dropdown lists that users have chosen, and these skills are not graded into levels, then true career pathing does not exist. Period.
Long story short? The devil is in the details when you are picking a real career pathing solution!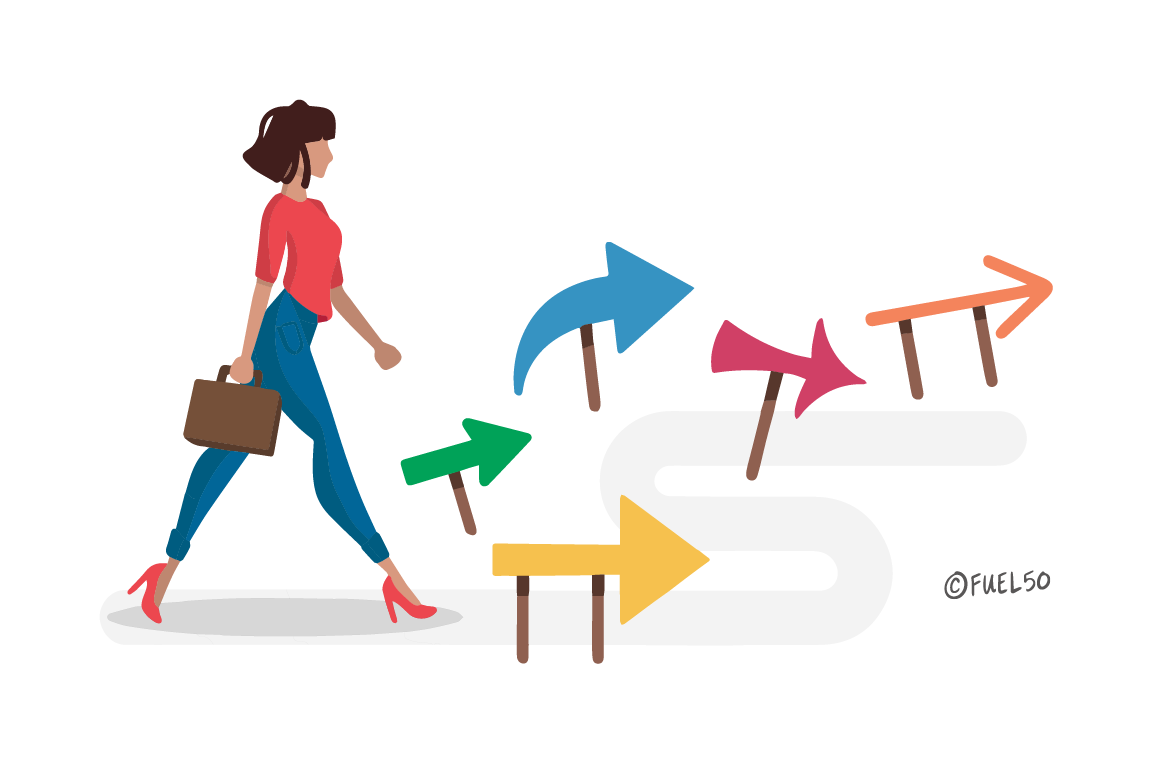 How does true career pathing work?
The short answer is that you'll need a computer algorithm.An algorithm is simply computer code which applies business logic (and often mathematical equations) to figure something out, such as "making a recommendation towards some kind of decision".Let's assume that your company has either purchased a career framework or you've built your own, and you've got roles with overlapping skills and skill levels to make connections between one role and the next possible. Your next task is to design an algorithm that will be able to tell any employee:
How to get from any start role in the company to any destination role (even if these roles are in totally different business areas);
What skills gaps users need to close to get to the destination role; and
What intermediate roles users should go through to get to their desired role
There are many parameters that such an algorithm would have to consider, for example:
How much of a skills overlap between two roles should mean that a jump is actually possible or not?
How much should skills gaps between two roles actually matter (missing skills in one role that are present in another)?
Should there be restrictions on movements between roles of different levels?
How much influence does each level have as a predictor of whether a jump between roles is doable?
How do skills overlaps value compared to other factors such as two roles being in the same department, function, or some other demographic?
What other factors might help inform the algorithm about the feasibility of a jump between two roles being likely in the real world?
How much weighting do we need to give each of the factors mentioned above?
At Fuel50, we created our own "AI-based machine learning models" which trawl through screeds of historical data on role movements. They've told us that some of the above factors were predictive, and some were not. Once we got this mapped out, we were able to construct our core career pathing algorithm which, in real-time, can tell you how to get from any one role within a single company, to another. I'd love to tell you which ones matter and which ones don't, but I think that's the topic of yet another blog post!