Since the global Covid-19 pandemic, the adoption of hybrid working has transformed the way we work. Before, approximately 30% of people in the United States workforce worked from home at least some of the time1. That percentage has more than doubled since the onset of the pandemic.
Many employees were required to adapt to working remotely full-time for the first time ever. People across the globe who were used to working from an office space and being with their colleagues in person, had to set up their own home office and adjust to a new way of working while still striving to achieve a healthy work-life balance. And people leaders were required to invest more time in virtual collaboration as a result.
We became flexible to the changing times and now, as the situation improves around the world, this arrangement we've conditioned ourselves to is changing again to what is known as Hybrid Working.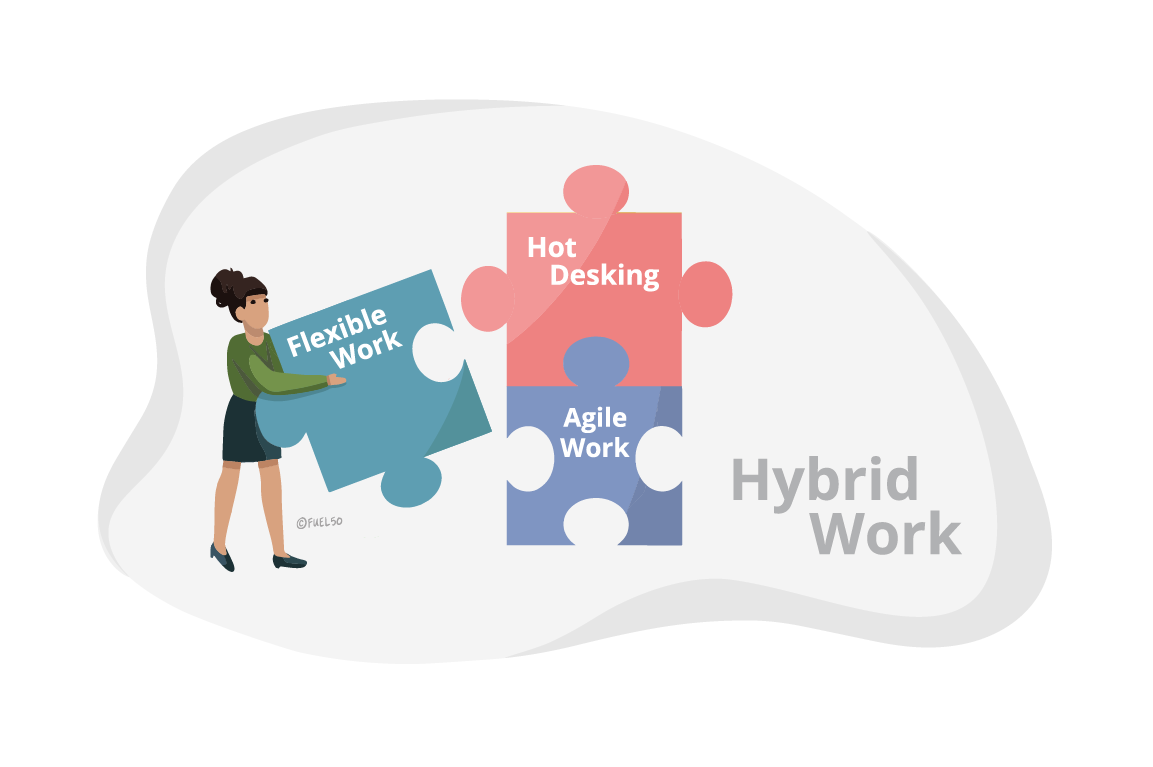 Hybrid working has many variations and interpretations including agile working, hotdesking, activity-based working, or flexible working3. In 2021, we looked at hybrid working "Hybrid Work is Here: The Next Big Workplace Challenge" which focused on some of the findings of Josh Bersin, the well-known HR Industry Analyst. Now, we explore what a hybrid working model looks like, its benefits, and the challenges organizations might face when considering a hybrid working arrangement.
What is Hybrid Working?
A hybrid working model allows people who enjoy working remotely and from a centralized office or permanent workspace, the opportunity to do both. Typically, hybrid working involves people working from the office two to three days of the work week and working remotely from their home office or co-working space the other two to three days. Research has shown that the concept of a hybrid working arrangement is gaining popularity and employees are open to the idea of spreading their work time between the office and a remote location4.
Organizations can also opt for split-teams where you have both full-time centralized office workers and full-time remote workers, which is likely based on the nature of the role.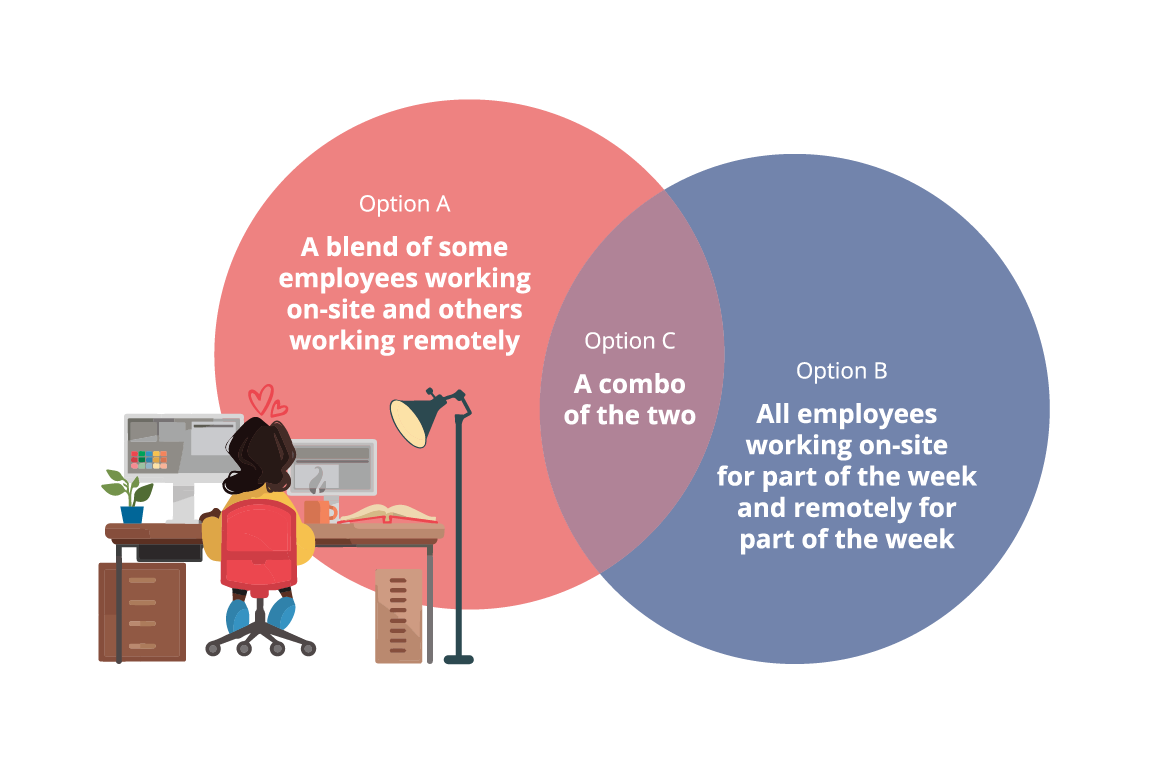 Hybrid Work Model Options Venn Diagram5
The Benefits of a Hybrid Working Model
Many people feel reluctant to return to a centralized workspace after experiencing full-time remote working or working from home. As with remote working and office-based working, hybrid working has its own benefits. Some of the most attractive benefits include:
Social element of the office – e.g., some people may feel isolated working remotely and are energized by being around people.
Diversity and inclusion – increasing remote work can open opportunities for people with disabilities or working mothers.
Increased employee wellbeing – hybrid working offers more freedom and flexibility for people to pick where to work from based on the nature of the work, task, or project. People can fit in tasks such as school runs and structure their workday in a way that ultimately enables greater balance and control over their own wellbeing. For a creative project which calls for collaboration, it could be beneficial to go into the office to work in person with colleagues. Whereas, for a project that is more analytical in nature, one could opt for a few days of remote working where the environment is likely free from disruptions to help get into the flow of it. Remote working allows the individual to choose the best working arrangement for them, to allow them to be both efficient and in control of their wellbeing.
Instant money back in your pocket – according to Advance Workplace, pre-Covid, people typically spent anything between £20-£30 per day6 to commute to the office and in some cases even more. People can save money by commuting less and organizations can contribute to a healthier environmental green footprint.
Reduced exposure to illness – 66% of people report feeling anxious thinking about their health and safety when returning to work. The research done by Envoy, suggests that having fewer people coming into the office lowers the risk of spreading contagious infections. As a result, organizations should have a healthier workforce which inherently increases overall productivity.
Savings on office rental – hybrid working arrangements allow for fewer people gathering at the organization's central office. Downsizing on office space could save the organization a few bucks and at the same time allow the organization to grow their headcount without the extra space-related cost.
Access to a global talent pool – with hybrid working arrangements, organizations can hire specialized skills from anywhere in the world. Previously, people would apply for a job in the same geographical area in which they live. However, now with hybrid working, it is much easier for employees to work from home and go to the organization's offices in another geographical area for an event without the need to relocate.7
"48% expressed a desire to be fully remote. 44% of employees favored hybrid working arrangements. Among employers, 51% support the hybrid work model, while only 5% mention fully remote work as a possibility". — Remote Work and Compensation Pulse Survey, May 2021.8
All these benefits9 are supported by research which shows that people working remotely have higher performance. This is because they tend to wish to go above and beyond in delivering, due to their flexibility to choose when, where, and how to accomplish their work goals.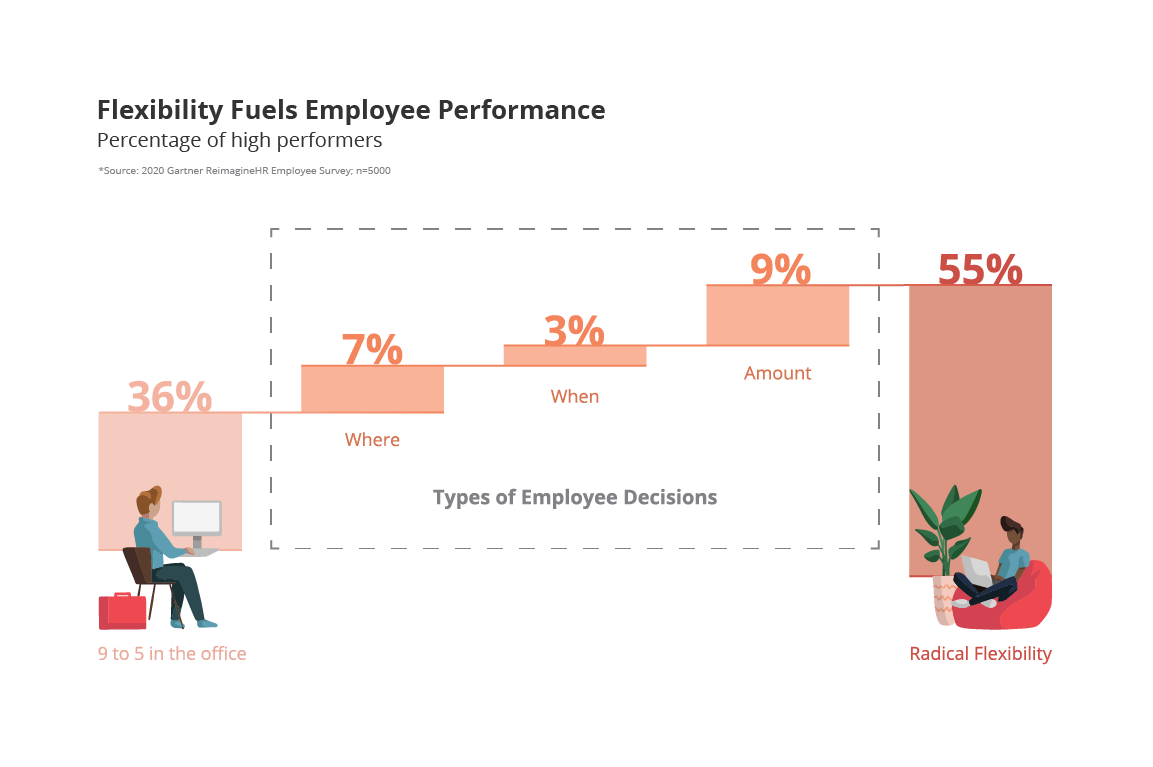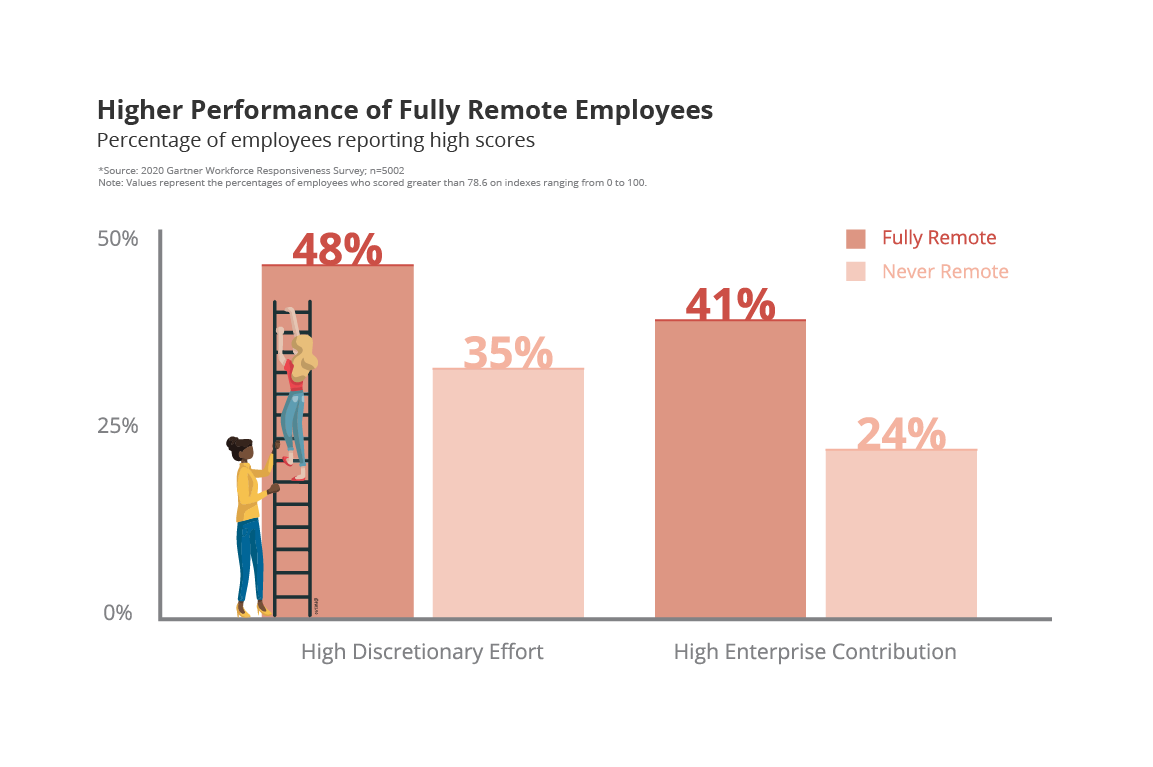 Why can a hybrid working model be challenging?
However, as attractive as it sounds, we must strike a good balance between the two types of working arrangements. A survey done by Tinypulse, an Employee Engagement and Feedback Software company10, found that hybrid working can have an emotionally exhausting effect on employees. They found that it can create an unsettled and disruptive feeling when required to stop-start their daily remote working routine, take working equipment to and from the office, and commute up and down.11 One employee reported that they felt they had to keep two workspaces, one at the office, and one at home, and said hybrid working requires a psychological shift every time you move working spaces.
BBC reports that hybrid working can have a higher risk of digital presenteeism when compared to fully remote working. Where organizations previously allowed for autonomy and flexibility while people were working remotely, hybrid working arrangements can make people feel as though their people leaders are applying pressure to show that they are not taking advantage of home working, which ultimately can lead to being overworked and burnout.
Implementing a hybrid working environment
Gartner busted some myths12 that could stand between organizations and the future of hybrid work. These findings can be a useful guide to organizations when considering or planning to implement a hybrid working arrangement. Based on their findings, here's what organizations could do differently when considering a hybrid working environment:
Create your hybrid working strategy by defining a business case that promotes a reduction in office rental expenditure; improved employee engagement and employee wellbeing; and access to a global talent pool. Also, consider the desired workforce outcomes and the range of flexibility of different roles.
Set your workforce up for a successful hybrid working implementation by supplying managerial support in the form of weekly or bi-weekly check-in meetings to clear obstacles and catch up on project progress. Take note of your team's needs, people who spend more time working remotely might wish to connect more often with their manager.
Gartner found that 70% of organizations are allowing people to take their work equipment home and 58% of organizations supplied new hardware. Organizations can offer their people working remotely with the required infrastructure and equipment to carry out tasks effectively.
When measuring performance, aim to focus on how consistently your workforce is producing expected outcomes rather than focusing on how much people get done.
Once you have identified the tasks that can be done from a remote location, gather your workforce's preferences about where they wish to work. Through this journey, you might even redesign roles and assign immobile tasks to people who already have tasks that only can be done in the office.
From a best practice principle, agile organizations continuously review and reengineer their IT strategies and infrastructures, thus IT should cater to the "everywhere" needs of hybrid working arrangements.
Further to these findings, organizations can leverage digital social channels across the organization to ensure all employees feel connected and involved even if they work remotely. By doing so, it is possible to create a culture that allows for collaboration between office-based and remote employees in a way that creativity and innovation is not compromised.
Looking ahead
Hybrid working is the new agile working arrangement, where people can both work remotely from home and drop in and work at the office depending on their preferences.
Josh Bersin said, "The world is going hybrid", and the Annual Work Trend Index Report13 published by Microsoft, shows convincing statistics to suggest that organizations should seek ways to embrace a hybrid working model and make it work.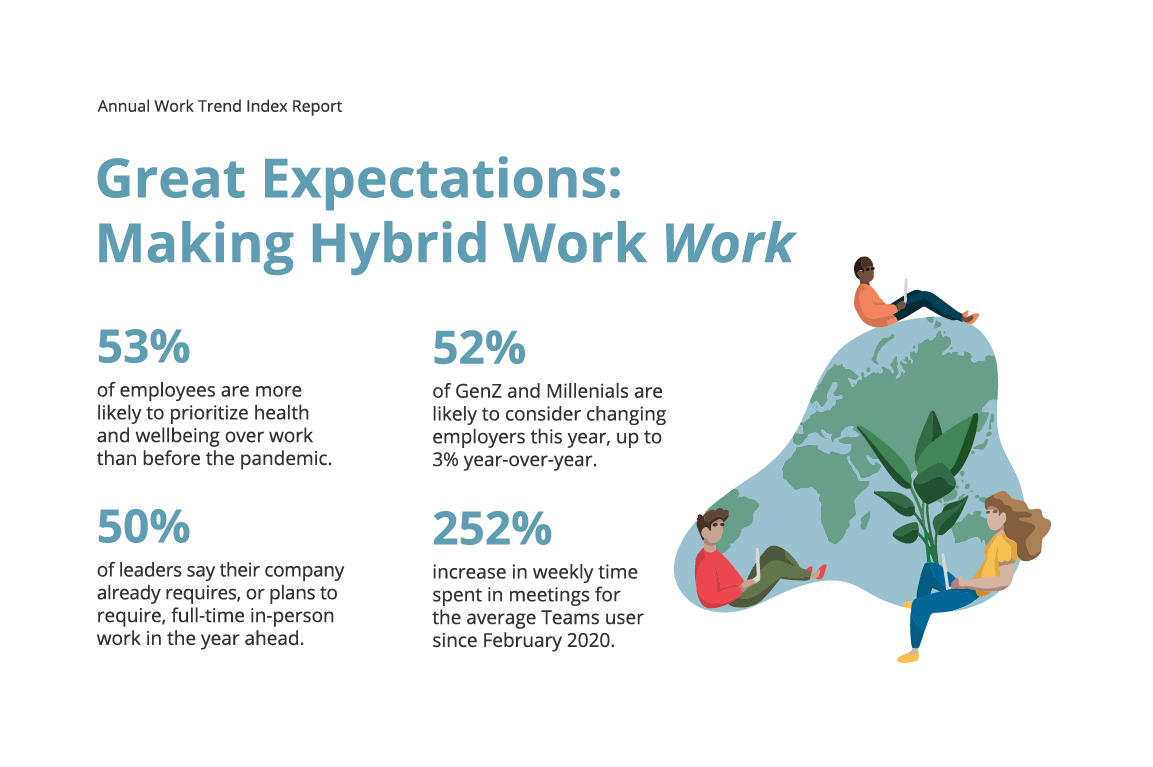 Harvard Business Review14 suggests including your team in the evaluation and feasibility of implementing a hybrid working arrangement by asking each member to score the 5C's challenges checklist. The 5C's include Communication, Coordination, Connection, Creativity and Culture. They explain that it is best to first understand the five challenges and then score these in terms of how it affects the nature of your work and objectives. It should be a top priority to put your peoples' needs first and strive to maintain a happy, healthy, and productive workforce.
Ultimately, the key is to engage with your workforce to understand their individual needs. Having given people free reign to be productive working remotely in recent years, it is essential to consider them in implementing new working arrangements now.
Considering all the immediate benefits both to the organization and the workforce, we expect that hybrid working is here to stay. To remain relevant and resilient, organizations should think seriously about embracing hybrid work.
1. 7 Myths Standing Between You and the Hybrid Future of Work, Garter. https://emtemp.gcom.cloud/ngw/globalassets/en/insights/documents/future-of-work-campaign-ebook.pdf . Accessed unknown.
2. AWA's Guide to Hybrid Working. https://www.advanced-workplace.com/awa/expertise/hybrid-working/. Accessed unknown.
3. AWA's Hybrid Working Spectrum. https://www.advanced-workplace.com/awa/expertise/hybrid-working/. Accessed unknown.
4. Future Of Work: The 5 Biggest Workplace Trends In 2022, Bernard Marr. https://www.forbes.com/sites/bernardmarr/2021/11/22/future-of-work-the-5-biggest-workplace-trends-in-2022/?sh=3b5100c87d0f. Accessed 22 November 2021.
5. Envoy. https://envoy.com/wp-content/uploads/2021/03/0316-2-e1616045220268.png. Accessed unknown.
6. What are the Benefits of Hybrid Working?, AWA. https://www.advanced-workplace.com/what-are-the-benefits-of-hybrid-working/. Accessed 21 October 2021.
7. What is hybrid work and why do employees want it?, Tiffany Mallow. https://envoy.com/blog/what-is-a-hybrid-work-model/#:~:text=In%20a%20hybrid%20work%20model,work%20from%20a%20remote%20location. Accessed 11 May 2021.
8. 19 Important Hybrid Working Statistics To Know Now And For The Future (2022), Apollo Technical. https://www.apollotechnical.com/hybrid-working-statistics/. Accessed 6 January 2022.
9. 7 Myths Standing Between You and the Hybrid Future of Work, Garter. https://emtemp.gcom.cloud/ngw/globalassets/en/insights/documents/future-of-work-campaign-ebook.pdf. Accessed unknown.
10. Tinypulse. https://www.tinypulse.com. Accessed unknown.
11. Why Hybrid Work is Emotionally Exhausting, Alex Christian, BBC. https://www.bbc.com/worklife/article/20220120-why-hybrid-work-is-emotionally-exhausting. Accessed 21 January 2022.
12. 7 Myths Standing Between You and the Hybrid Future of Work, Garter. https://emtemp.gcom.cloud/ngw/globalassets/en/insights/documents/future-of-work-campaign-ebook.pdf . Accessed unknown.
13. Annual Work Trend Index Report, Microsoft. https://www.microsoft.com/en-us/worklab/work-trend-index. Accessed unknown.
14. 5 Challenges of Hybrid Working, Harvard Business Review, Martine Haas. https://hbr.org/2022/02/5-challenges-of-hybrid-work-and-how-to-overcome-them. Accessed 15 February 2022.