Originally published 1 August 2023on the HR Director by Anne Fulton
'Insights' is one of those terms that gets bandied about with some frequency in the human resources space. Everyone seems to want to go deeper, but not everyone understands what that means – or how to put insights into action. There are, of course, countless types of insights available in today's world, but let's focus on skills specifically and ways to use these insights to build talent strategies and make better workforce decisions that benefit organizations in both the near- and long term.
The terms 'skills' and 'skills-based' are also used frequently, with McKinsey explaining that while companies recognize that skills represent a powerful solution to many workforce challenges, only a few organizations have embraced these practices broadly. Why? After all, the value is clear: "Through a skills-based approach, companies can boost the number and quality of applicants who apply to open positions and can assist workers to find more opportunities to advance internally, which can help employers improve retention. It also helps communities by creating more and better job opportunities for a broader, diverse pool of workers."
Despite ample evidence reinforcing these benefits, there seems to be decision paralysis at play, likely due to a lack of insights. In essence, HR and talent leaders find themselves caught in a cycle of knowing what they want without knowing how to get it. In fact, some 80 percent of leaders admit to still using gut feelings and personal opinions to make decisions that affect their talent management strategies. At the same time, Josh Bersin found that while 3 in 4 companies believe workforce analytics is an important issue, only 8 percent think their organization is strong in that area. This begs the question, what is standing in the way, and more than that, how do we overcome these obstacles?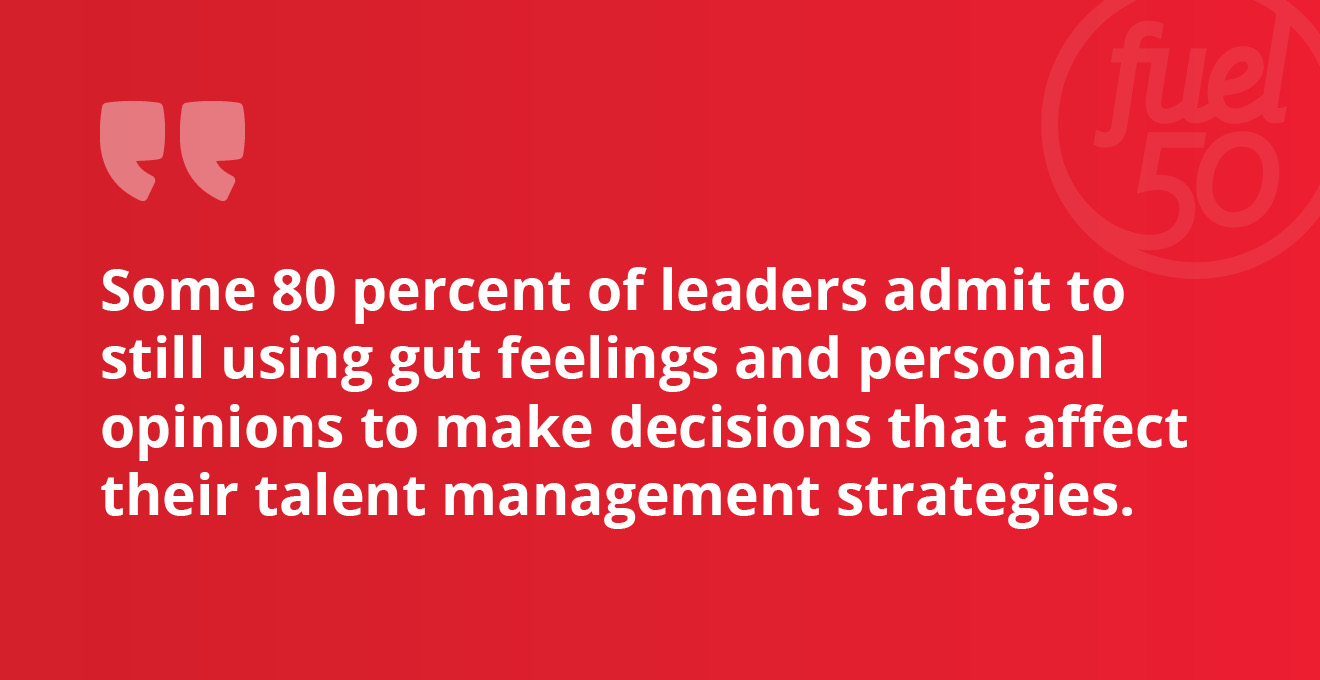 Refine and Redefine
One of the primary reasons that 'insights' remains such a broad term is that it can mean something different to every organization. It is my belief that insights give HR and talent teams the ability to make better, faster, data-driven decisions and enable their organizations to become talent led. That being said, to go beyond simple analytics and leverage comprehensive insights, HR and talent leaders must determine what this means for the use case at hand. Bersin confirms, "Every company who has built an HR data warehouse (or even a big spreadsheet of HR data) figured out that "definitions of terms" or the "data dictionary" was the #1 challenge they had. Every data element about people needs a time-series view, a clear definition, and an agreement among users about what it really means."
If we go back to skills, some insights will be more useful than others because, as Fuel50's own research shows that 67 percent of HR and talent leaders have little to no visibility of the skills within their organizations. So, of course, organizations keen to rely on skills insights will need to define skills, talents and capabilities upfront. And as industry analyst George LaRocque recently remarked on LinkedIn, "The skills-based organization can't be successfully built on 'hard skills' alone."
To this point, building skills-based talent strategies requires knowing more than just the hard skills – insights are only as good as the information provided. By digging into various skill sets with support from the right technology, it becomes possible to learn how a workforce lives, breathes and feels about the work they do, in addition to what's in their background and training. That includes what motivates and engages them, how they like to work, where they like to work, what they hope to achieve in their career, what their values are and much more.
Thinking through the end game before diving into data will help to narrow the scope and bring the insights into focus, making the information uncovered immediately more helpful.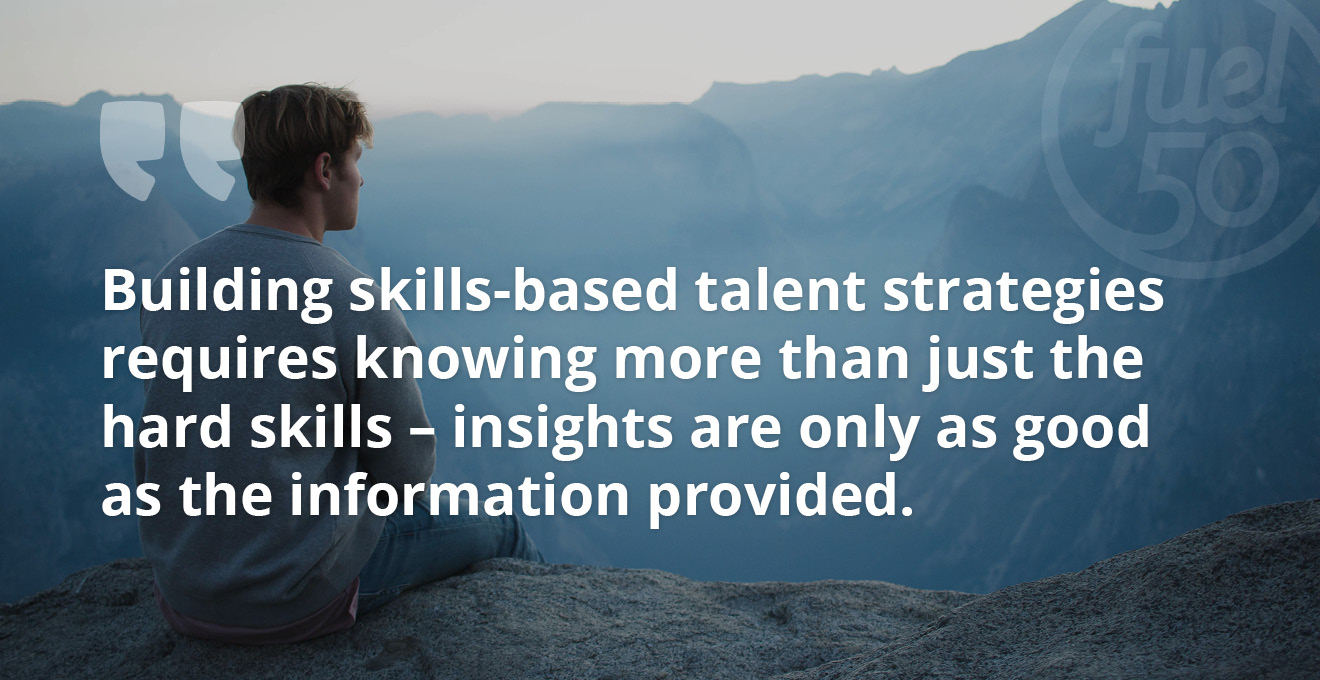 Fuel Better Workforce Decisions
From the skills perspective, there are a number of advantages that having insights will provide, fueling the organizational journey from skills-based to talent led. HR and talent leaders gain the ability to curate need-to-know information aligned with the defined strategy; generate data visualizations, reports and alerts to keep a pulse on the workforce; spot potential risks and reach in real-time to adapt recruiting retention and redeployment practices; and anticipate and develop future talent currency through skills.
Doing so will push the organization in the direction of a newly coined phrase, "Systemic People Analytics," which Josh Bersin describes as "bringing together all the people data in a company to inform important business decisions." He sees this as a natural progression of what organizations continue to struggle with, particularly around skills. Still, even Bersin notes that this isn't possible without deeper insights to ensure increased visibility.
This is where the role of technology comes into play again. There are potentially tens to hundreds of thousands of skills in the workforce, each of which may trend up or down based on several factors. With a technology-powered solution in place, it becomes easier to manage the skills information that is collected, keeping data clean and ensuring that the insights provided rely on up-to-date inputs. It's no longer enough just to do a skills taxonomy, Bersin says. There needs to be structure, rigor and intelligence behind these initiatives – otherwise, the insights gleaned will never be enough to power better workforce decisions.
The reality is that becoming a skills-powered organization does not happen overnight, at least not without the help of insights. And getting insights means knowing what you're looking for, defining what this data means to the organization and exploring the results through different lenses to find out what is really happening – and what needs to happen. The benefits are boundless for organizations that recognize skills will trend, talent strategies shift, engagement levels go up and down, and the like. Ending the push and pull of want versus need and putting the systems in place to gather information and follow the data is a shift in mindset many have yet to face. The insights are there for the taking, but it's up to HR and talent teams to chart the course.