The Academy to Innovate HR1, an online training academy, states that "The field of diversity and inclusion has never evolved more rapidly than in the past two years. We have learned that the more traditional 'diversity and inclusion' (or D&I) is not enough in a society that is inherently biased. This has helped the field move towards 'diversity, equity, and inclusion' (or DEI). But being diverse, equitable, and inclusive is not enough to create a work environment that helps people get the best out of themselves. It will, therefore, not be fit for the new era of work. Even a workplace that has every intention of being DEI sometimes fails to retain employees from underrepresented groups because they don't feel like they belong".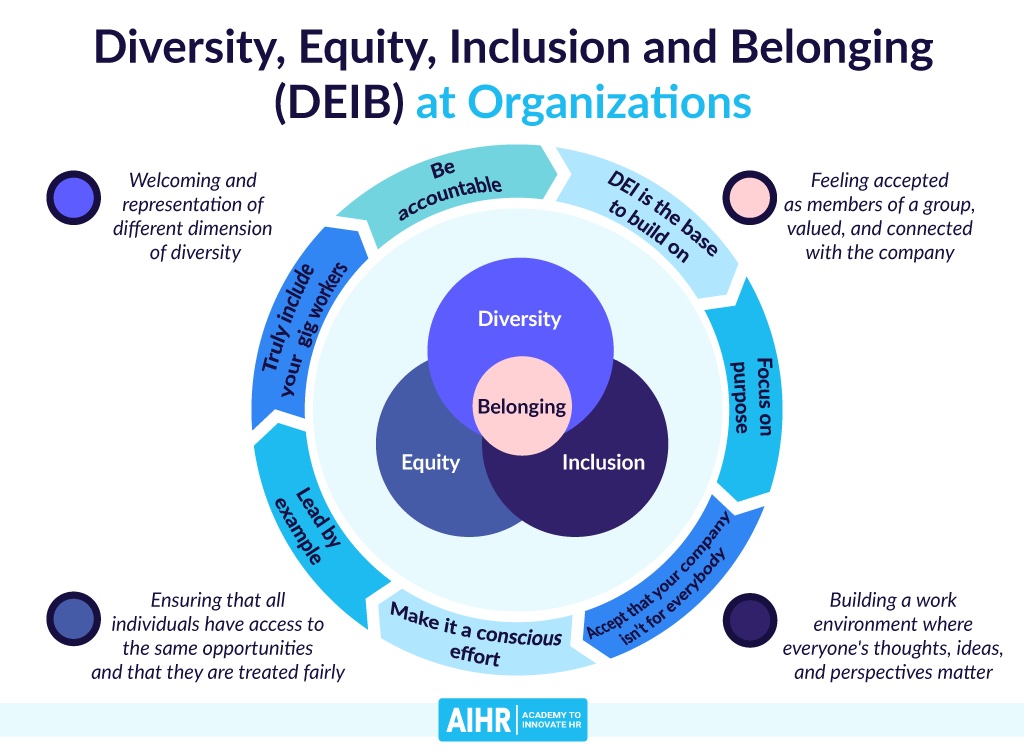 This hot topic is nothing new to us. We've read numerous articles explaining what it is and why it is important. The diagram above clearly captures how all the elements of DEIB fit into our organizations. In this blog post, we explore diversity, equity, and inclusivity, with an emphasis on belonging and why it is important. We look at DEIB's prevalence in organizations and highlight what we believe are imperative DEIB capabilities and specialist skills to embed in your organization.  
Before considering the importance of DEIB in organizations, let's first look at what these mean in the world of work. Collective Health, a healthcare company striving to enable people to live their healthiest lives, published an educational piece for those considering DEIB for the first time. Collective Health defines DEIB as the following: 
Diversity

: refers to how diverse a company is, not only in terms of race and gender but also sexual orientation, age, national origin, physical ability, religion, and more.

Equity

: represents how fair and impartial the workplace is to ensure that all employees have equal opportunities to grow and progress. It also means creating room for underrepresented voices, tackling unconscious biases, and providing inclusive, culturally competent care through your health plan.

 

Inclusion

: highlights the importance of creating a welcoming environment for all, not just ensuring that people are treated fairly. In policy and practice, employers should focus on ensuring that everybody is heard and can surface their opinions, not just those comfortable in the spotlight.

 

Belonging

: is the newest addition to DEIB values and the last part of the puzzle. It represents the affinity and positive relationships between employees of various backgrounds when businesses actively promote diversity, equity, and inclusion within the workplace
Collective Health promotes DEIB as more than an attempt to obtain targeted percentages. They believe that DEIB is about creating equality in the workplace to enhance the employee experience. At Fuel50, we are passionate about driving an amazing employee experience by ensuring your workforce strategy reflects the latest global capability trends. So, let's consider why DEIB capabilities and specialist skills can help promote a great employee experience.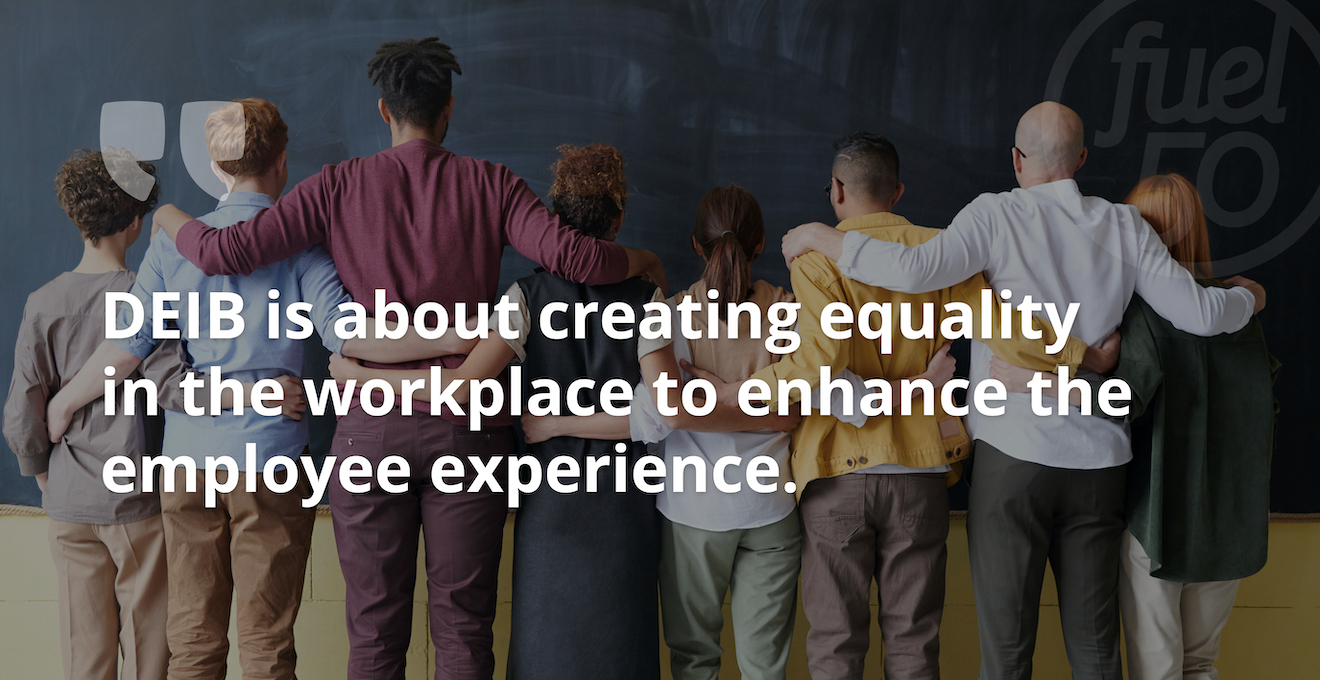 What is the benefit of focusing on diversity, equity, inclusivity and belonging?
Deloitte2, an industry-leading audit, consulting, tax, and advisory services consulting firm, found in a study that DEIB improves an organization's competitive advantage within their industry by almost half (46%) and the quality of decision-making by just less than half (40%). A third (30%) of organizations reported improved financial performance after making DEIB a critical focus area in their businesses.  
Academy to Innovate HR1, reports in a culture report3 that DEIB: 
Positively affects retention

: 40% of respondents with a strong sense of belonging rarely consider looking for a job elsewhere.

 

Boosts productivity

: 45% of respondents with a strong sense of belonging say they are their most productive selves at work.

 

Is the best kind of employer branding

: 51% of respondents with a strong sense of belonging would recommend their company as a great workplace, versus 4% of those with a low sense of belonging.

 
Cigna Group4, a global healthcare company, lists ten statistics that demonstrate the benefit of diversity, equity, and inclusion (DEI) for businesses:  
DEI helps engage employees and increases productivity and retention rates.

5

Employees want to work for organizations that prioritize diversity. More than 75% of job applicants say a diverse workforce is important when deciding where to

work.6

More than half (62%) of workers consider DEI an important factor in their company's ability to drive

success.7

Companies with diverse and inclusive workforces are 35% more likely to outperform their

competitors.8

Diverse leadership teams deliver 19% higher revenue.

9

An overwhelming 89% of people want their company to include individuals with intellectual

disabilities.5

Diversity in thought (cognitive diversity) can enhance team innovation by up to

20%.10

Organizations with above-average gender diversity outperform their peers by 46% to

58%.11

An age-diverse workforce brings business benefits, and 83% of global executives recognize that multigenerational teams perform better, lead to greater worker satisfaction, and produce greater revenue for

companies.12

The good news is that most employers (94%) and workers (74%) say that their organization has committed to advancing DEI in the

workplace.13
From the above, we can deduce that in addition to being a positive moral objective for organizations, DEIB has a strategic advantage too. 
Our proprietary skills library, Fuel50's Talent Ontology™, has a DEIB Capability Cluster (see below) to assist organizations in incorporating DEIB skills into their workforce strategy. How prominent are these capabilities and skills within your organization. Are they part of your DEIB strategy?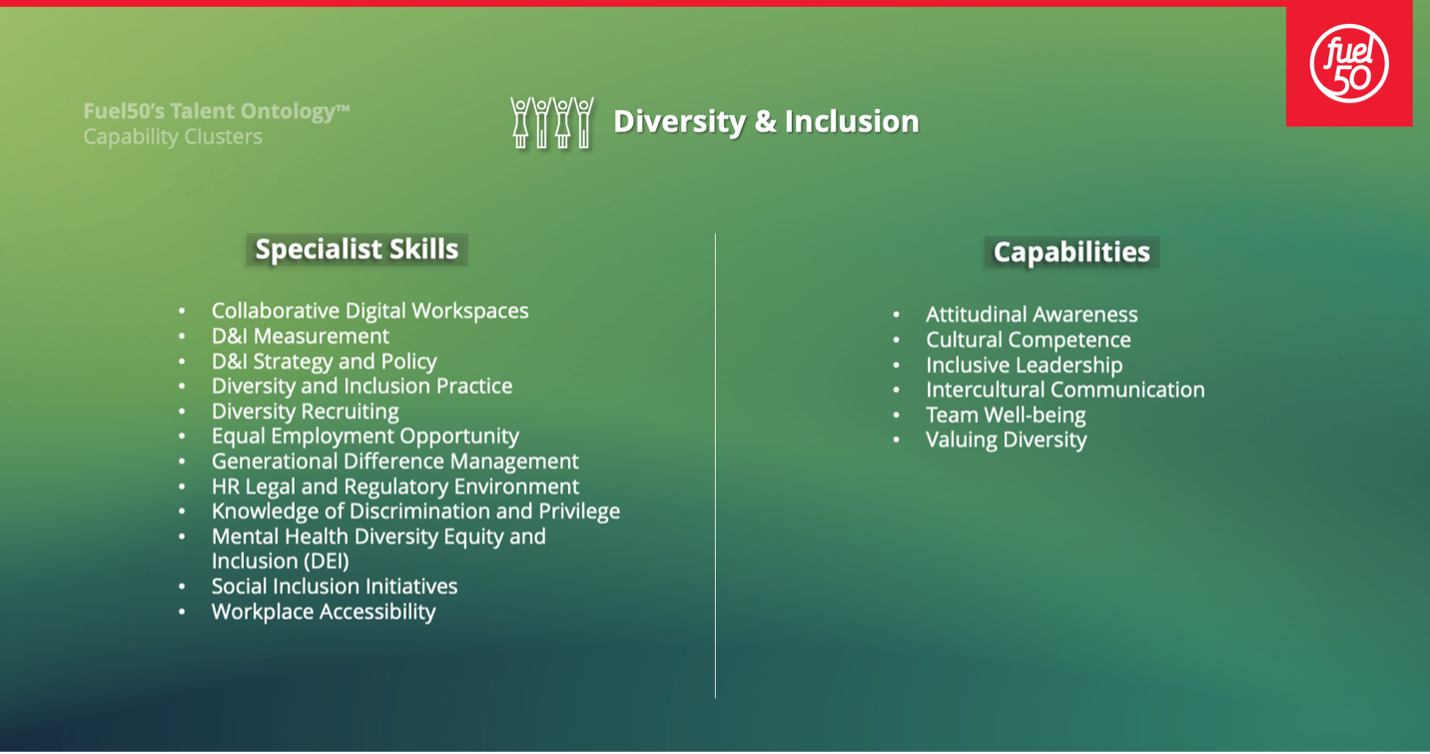 Key takeaway
DEIB initiatives are critical to driving organizational success, performance, employee experience and retention. Incorporating the above capabilities and skills can go a long way in fostering a culture where people feel a sense of belonging, want to be affiliated with the organization, and actively contribute to the organization's performance. 
Written by Fuel50's Workforce Architecture team
Contributors: Janine Lee, Natalie Mabaso
Fuel50's dedicated team of Workforce Architects and Industrial and Organizational Psychologists feed the Fuel50 Talent Ontology, train our ethical AI with Diversity, Equity, and Inclusion design principles at heart, and support best-in-class organizations using Fuel50 to transform and future-proof their talent strategy and workforce architecture.