As we approach the end of another year, here are five great workplace lessons learned in 2022 that we can reflect on and appreciate as we head into the New Year and 2023.
1. Remote work is here to stay
Like it or not, for the foreseeable future, remote and hybrid work are here to stay. Or, as one influencer observed, "it isn't a moment, it's a movement." A recent Harris Poll found that of U.S. companies that worked remotely during the pandemic, 82% of surveyed hiring managers said their companies anticipated continuing to allow staff to work remotely.
Still, as Forbes pointed out, "employees and employers don't seem to be on the same page. A Microsoft report shows that employees embrace flexible work and its benefits while leaders long for the office culture." And the report also found that while the debate about remote and hybrid work won't end any time soon, the longer the status quo leans towards the flexibility that remote work provides, the more entrenched it becomes.
Forbes put it like this: "Remote work is still work. It saves companies and employees money, is environmentally friendly, and provides the flexibility that employees, especially new generations, demand." That's a great lesson we can all appreciate moving ahead.
2. Retention is the REAL concern for talent managers moving ahead
The increased talk about retention this past year was prominent in the buzz at conferences like HR Transform and Unleash America last spring, where it was clear that talent managers were realizing that finding more ways to help people grow their careers is also a great way to keep them in their employ.
Fuel50's research on employee engagement and retention described it like this: "The key to success in this increasingly competitive environment is to add value to your employees by tailoring work conditions to their individual needs, preferences, and talents. At the same time, providing meaningful development opportunities allows employees to strengthen their 'career capital' and deepen their commitment to their role. This ensures a broad talent base with increased confidence and the ability to add value, as well as allowing you to build an organization where people want to work because they gain valuable skills and experience."
Forbes calls this "creating a positive work environment," and The Harvard Business Review spelled out just WHY that's so important:
The best way to stabilize your business is to stem the tsunami of attrition and increase your retention. In the frantic need to hire more people, the group we often forget to attend to are the folks who stay — those showing up day-in and day-out shouldering the work that needs to get done. Think about what these people — the ones who are here, working for and with you — need now. The short answer is they need to be seen for who they are and what they are contributing. It's your job as the leader to make sure they're getting the recognition they deserve.
Organizations will always need to recruit new talent because even the very best companies lose employees for a variety of reasons, but as we learned in 2022, the more you do to retain your workforce and grow their skills (and more on that shortly), the less pressure you'll put on your recruiting team to always be grinding away to find new people  – and the happier and more productive your staff will be.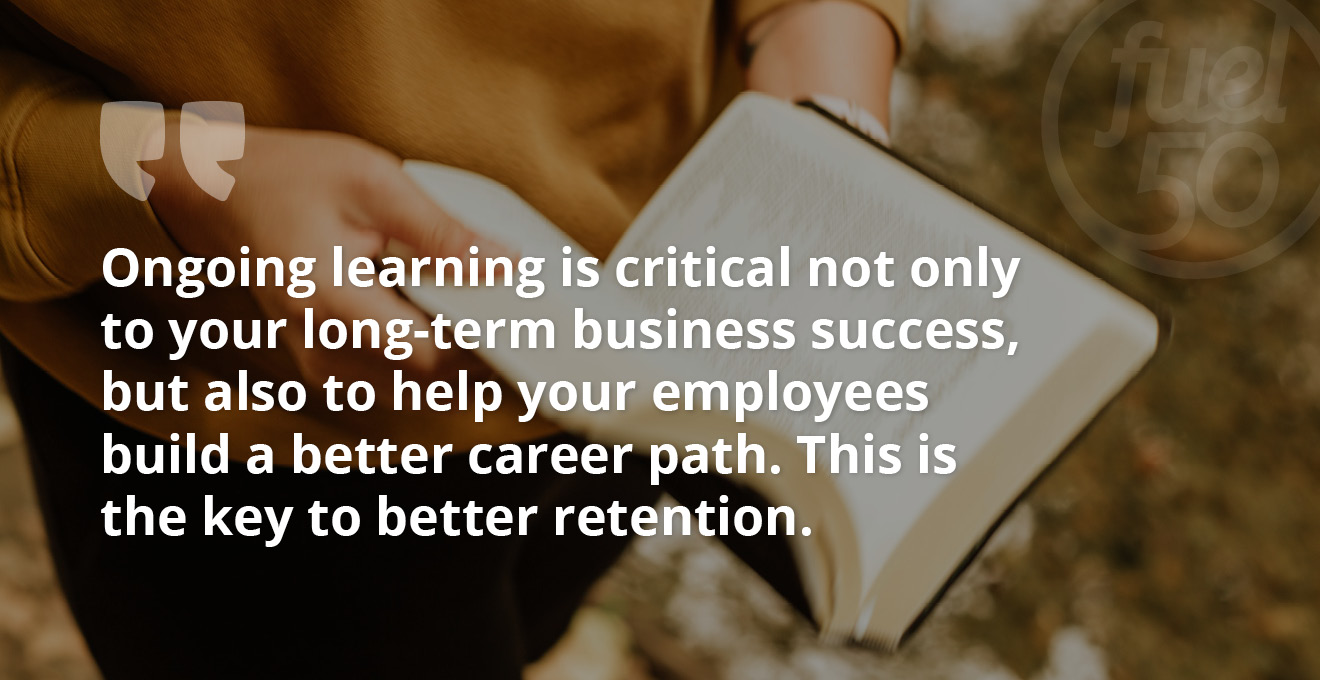 3. Ongoing learning is key to your ongoing success
Reskilling, upskilling, and ongoing learning are critical to your long-term success. Longtime influencer Lance Haun, who was a recent guest on Fuel50's Talent Experience podcast, wrote that, "Upskilling and reskilling should be on (your organizational) agenda … If there is one thing we all know improves retention and performance, it's investing in the workforce and showing a path forward within the organization. In all the scrambling about hiring and pivoting the workforce, far too little attention is being paid to learning and development."
Yes, reskilling, upskilling, and ongoing learning are important to your organization because these are the basic elements in building a better workforce that is agile and flexible enough to handle whatever needs your company may have in the months and years to come. Ongoing learning is critical not only to your long-term business success, but also to help your employees build a better career path. This is the key to better retention, because it tells employees you care about helping them build their career within your organization and that's good for everyone in your employ. Especially, since it helps future-proof your organization for whatever may arise in the near and long-term future.
Here's how Forbes explains it: "Whether the choice is made to go with an upskilling or reskilling targeted initiative, it is all about future-proofing the organization. Companies that have a real future focus on having a dynamic skills taxonomy will constantly update the team's skills, and in doing so, the employee experience. These iterative changes will lead to a stronger skills profile for each employee and subsequently each organization. A strong skill signature profile for each employee will help drive future growth by future-proofing the skills profile of the organization and its talent."
4. Employee wellbeing is not only important but will remain a top business priority
Gallup made the case that organizations should focus on the importance of employee wellbeing during 2022. Their research found, "When your employees' wellbeing is thriving, your organization directly benefits — they take fewer sick days, deliver higher performance, and have lower rates of burnout and turnover. But when your employees' wellbeing suffers, so does your organization's bottom line."
A lot of organizations took that advice to heart, and the need for a stronger organizational focus on wellbeing was a staple of many HR and talent management conferences throughout this past year. Mai Ton, the Chief People Officer at Fabric, made these observations on employee wellness in Las Vegas at HR Transform 2022.
Ask yourself – are we happy at work?
Remember that mental health is more important than ever before
Burnout is real… and so is Zoom fatigue
The next normal will be the new default for the way we work
We need to create new norms
A new and more sustainable way of working is the 32-hour work week
"Employers are beginning to take more of an interest in the well-being of their employees," Forbes reported. "The pandemic has shown us just how important it is to support not only physical health but also mental health. Plus, employers are tuning into the fact that healthy and happy employees are more effective, engaged, and satisfied in their jobs.
Both Forbes and Mai Ton are making the same point – wellness and wellbeing are critical for organizations that truly care about employees. Although wellbeing has been a big business focus coming out of the pandemic, the progress made in 2022 is just the start of what will be needed in 2023 and beyond.
5. "Empathy" an important new buzz word for today's leaders
"Empathy" is the big buzz word for leaders today. This popped up at another HR conference in Las Vegas this past year and given that it was one of the first live events since the lockdown kicked in, it resonated with attendees a lot more than it would have at a pre-pandemic event.
Stephen Bailey, CEO and Co-Founder of ExecOnline, made the case that a real key for leaders and managers today is to "be willing to be vulnerable and admit what you don't know."
Rarely do you hear leaders talking about the need to be empathetic and vulnerable, but it was mentioned in several sessions at a few HR and talent management conferences. This is THE big thing that employees are looking for, and the conference buzz was that managers that don't have the ability to be sensitive and empathetic simply won't be successful in the new world of work.
Forbes spelled out the need for empathy, saying that, "Empathy has always been a critical skill for leaders, but it is taking on a new level of meaning and priority. Far from a soft approach it can drive significant business results. You always knew demonstrating empathy is positive for people, but new research demonstrates its importance for everything from innovation to retention. Great leadership requires a fine mix of all kinds of skills to create the conditions for engagement, happiness and performance, and empathy tops the list of what leaders must get right."
The stresses and challenges of the post-pandemic workplace is critically important in a world where workers feel their lives have been turned upside down over the past two years. Forbes made this clear and it is something we all need to remember: "Empathy may not be a brand-new skill, but it has a new level of importance, and the fresh research makes it especially clear how empathy is the leadership competency to develop and demonstrate now and in the future of work."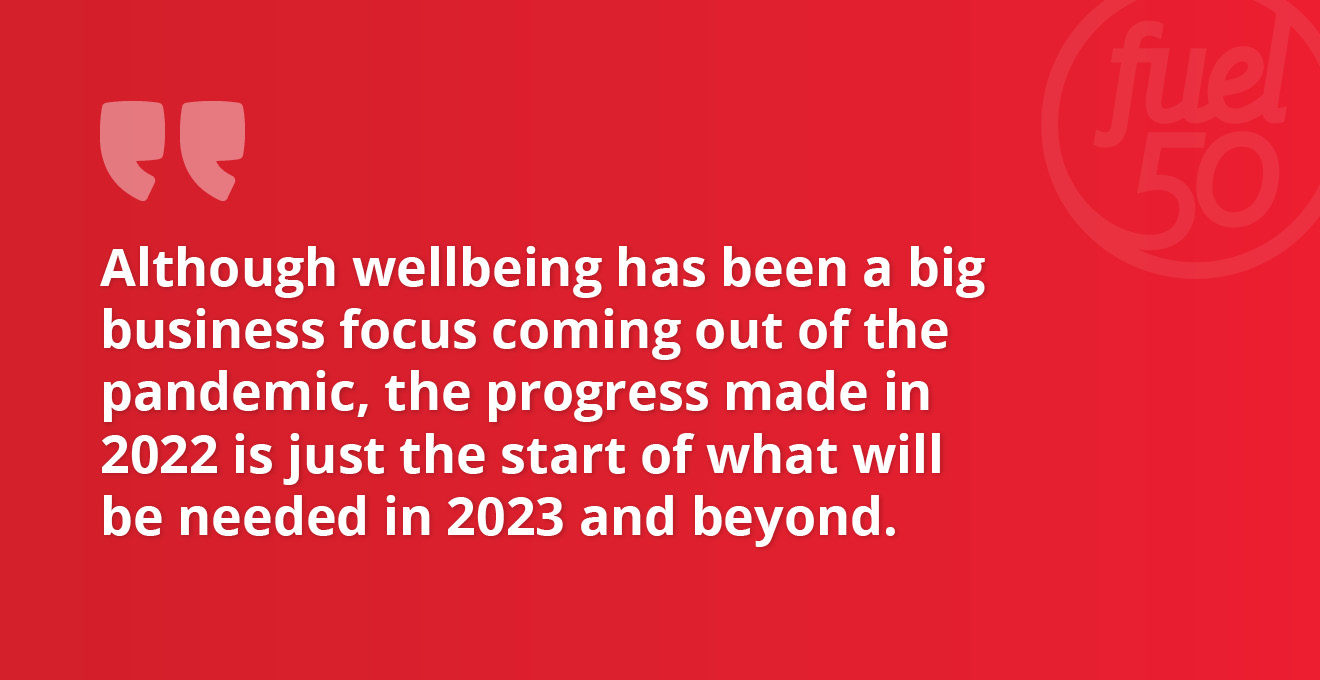 Final thoughts
There are many workplace lessons to remember from 2022, but these five are worth thinking about as we get deeper into the New Year and all that 2023 has to offer.
Yes, there will be new lessons to learn and digest over the coming 12 months but remembering some of the ones from the past year are a good way to not only kick off the New Year but also to take what you have already learned and make it work for you.
Henry Ford, the great American automaker, and father of the assembly line, put it like this: "Anyone who stops learning is old — whether this happens at 20 or at 80. Anyone who keeps on learning not only remains young but becomes constantly more valuable — regardless of physical capacity."
That's another lesson worth remembering and one which resonates highly with the team at Fuel50, that no matter what 2023 may bring – we must all strive to be empathetic, stay young, keep learning, and ultimately make ourselves more valuable.