Succession planning across all levels has always been important, but you wouldn't necessarily know it given that the focus of many organizations remains on succession planning only for senior leadership.
Planning for a leadership transition is important, of course, but so is making sure you have a succession plan for employees below the leadership level. Maybe the standard definition of succession planning is part of the problem.
Succession planning isn't just for leadership roles
Here are a few definitions of succession planning to show what we're talking about:
From Investopedia: "The term succession planning refers to a business strategy companies use to pass leadership roles down to another employee or group of employees. Succession planning ensures that businesses continue to run smoothly and without interruption, after important people move on to new opportunities, retire, or pass away."
From TheBusinessProfessor.com: "In business, Succession planning means the process where an organization identifies key in-house personnel with a potential to take up a top leadership position and developing them with the hope that they will undertake such roles as they become available."
From CIPD, the Chartered Institute of Personnel and Development: "Succession planning is the process of identifying and developing potential future leaders and senior managers, as well as individuals, to fill business-critical roles. The aim is to be able to fill key roles effectively if a current post holder leaves the organization. Succession planning programs typically include practical, tailored work experience relevant for future roles."
There are a lot more definitions like this, but you get the idea. Succession planning, especially in the United States, is largely about identifying people for leadership and senior manager roles — and that's the focus of most descriptions of the process.
One of the best definitions of succession planning comes from SHRM, the Society for Human Resource Management. They take a much broader and more inclusive approach:
Succession planning is the process of identifying long-range organizational human capital needs and cultivating a supply of internal talent to meet those future needs. Succession planning is used to anticipate the future needs of the organization and to assist in finding, assessing and developing the human capital necessary to realize the strategy of the organization.
That's a definition of succession planning that really makes a lot more sense.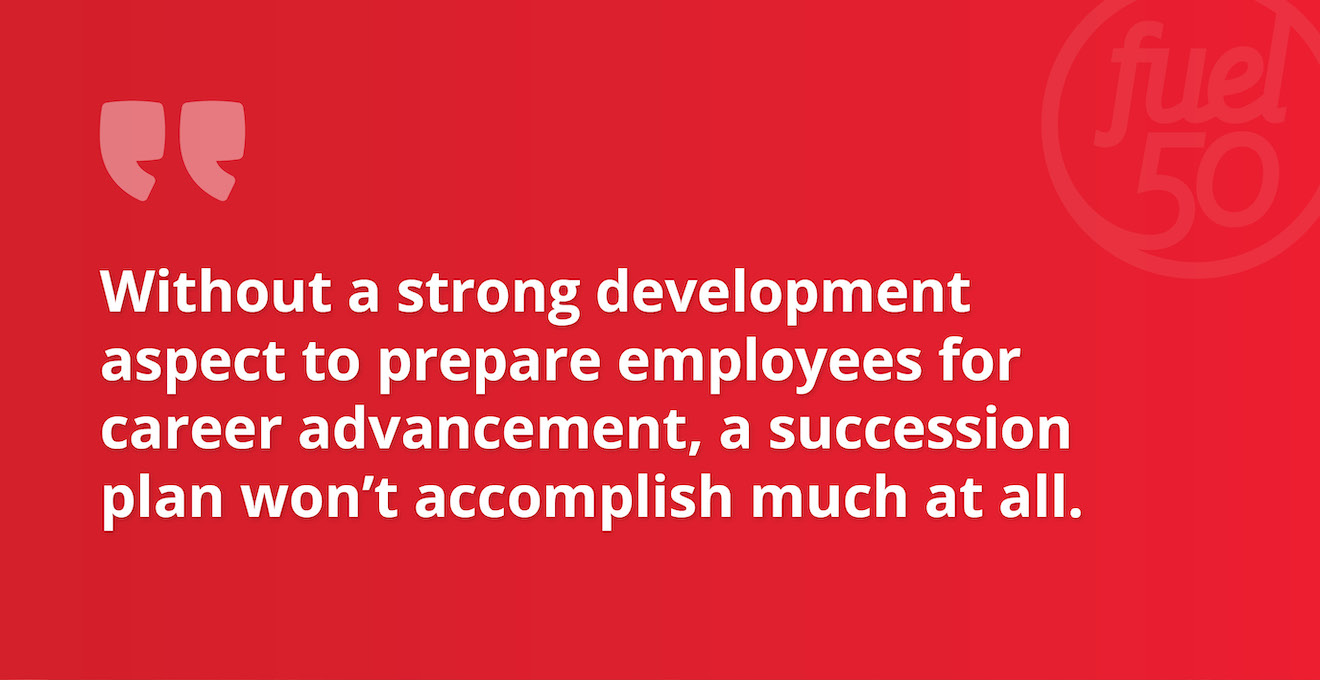 Would it help to call it "succession development" instead?
According to Marshall Goldsmith, the well-known executive coach and author of What Got You Here Won't Get You There, we should stop calling it succession planning and start using the term "succession development" instead. Here's why, as Goldsmith describes it:
Plans do not develop anyone — only development experiences develop people. We see many companies put more effort and attention into the planning process than they do into the development process. Succession planning processes have lots of to-do's — forms, charts, meetings, due dates and checklists. They sometimes create a false sense that the planning process is an end in itself rather than a precursor to real development.
To create an effective succession plan, one that is focused on more than just senior managers, leaders first need visibility to their talent in order to see the skills and talent they currently have so that they can evaluate their employees' readiness for specified roles.
Goldsmith may be on to something, because if greater visibility into the skills and talents of your people is critically important, perhaps calling it "succession development" will help both managers and staff to be better focused on what it takes to help people develop their skills to take on new and more challenging roles.
According to Fuel50's Global Talent Mobility Best Practice Research, less than 33% of organizations currently have the technology to really see their talent. On top of that, 60% of leaders say they don't have the tools to search for skills and capabilities across the organization and build talent pipelines outside of HR.
Not having the right technology to support critical elements such as succession planning, agile redeployment, and workforce restructuring can have a detrimental effect on productivity, performance, and employee retention.
What can help organizations to build those talent pipelines is the adoption of HR technologies such as a Talent Marketplace that gives organizations real insights into what talent they have across their entire workforce. By doing this, business leaders can not only create and manage talent pipelines but can predict talent shortages and skills focus areas as well.
This fosters a shift in organizational mindset and focuses on maximizing the existing talent rather than focusing so heavily on recruiting new hires. Not only does this unlock the ability for smart succession planning, but it also encourages more talent mobility.
In fact, boosting internal talent mobility is now a top strategic priority for HR, with 60% of respondents saying that it has become an extremely important element in their organization. This isn't surprising when you consider that internal recruitment costs half as much as external hires, and, that internal recruits generally have both higher engagement and greater productivity.
This is the "succession development" that Marshall Goldsmith was making a case for.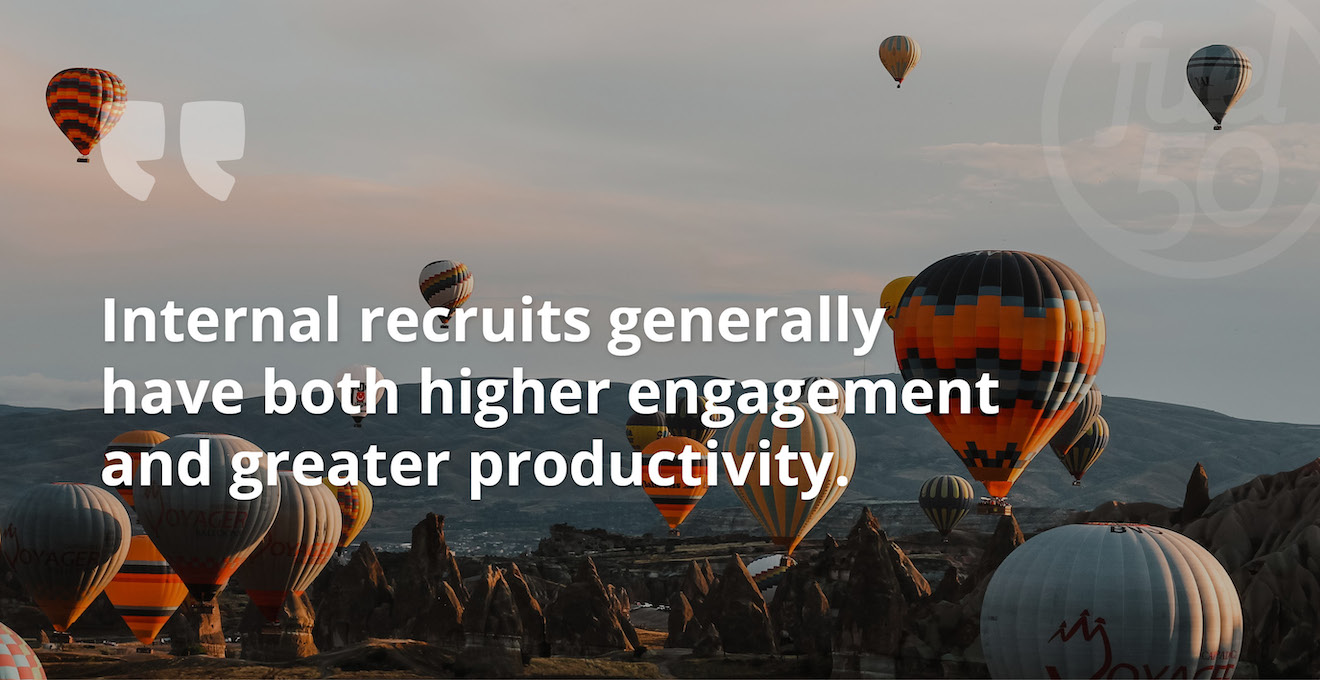 Building a pipeline to develop high-potential talent
LinkedIn Research found that employees are twice as likely to stay at an organization if they have a chance to take on other roles within the business. This goes to show how important internal opportunities and succession planning can be in retaining talent and preparing both individuals and organizations for long-term success and growth. Jill Pioter, Director of Branding & Communication at Psychological Associates put it best:
When organizations commit to succession planning, they're building a leadership pipeline that develops high-potential talent, keeping those team members invested and on track for future success with the organization.
It's clear that employee development is an essential component of any effective succession plan. In fact, without a strong development aspect to prepare employees for career advancement, a succession plan won't accomplish much at all.
And in a time deemed "The Great Resignation", succession planning is more crucial than ever. Brigin Walsh, Strategic People Change Leader at Allied Irish Bank, eloquently describes it,
We no longer have the luxury of succession planning for the elite talent. We now need to face every day with a crisis response contingency plan for every single person on our team. We need to ensure our business stays open and our people remain healthy and safe during this crisis period we are facing.
Organizations will need to focus on identifying and nurturing individuals for critical roles within an organization and providing them with relevant training and development to help them build the skills they will need. A proactive approach to building talent pipelines is key in ensuring employee resignations don't negatively impact business outcomes.
With a succession plan in place – especially one that focuses on building talent at all levels of the organization – it will be a win-win for everyone and build a stronger organization too.