For the past few years, the world has been a tumultuous place with more regular natural disasters, ongoing crime and corruption, the prevailing COVID-19 pandemic, and now also the war on Ukraine.
As a result, people's sense of safety (psychological, emotional, and physical) is being affected and hence ignites the call to address this sense of safety. Organizations that focus on resilience, wellbeing, and safety of their employees could have a huge competitive advantage in an unpredictable world.
In this report, we identify 16 of our trending capabilities associated with navigating the impact of external safety threats.
The COVID-19 pandemic and geopolitical risks continue to take the center stage with its impact on human wellbeing, economic growth and advancing technological progress.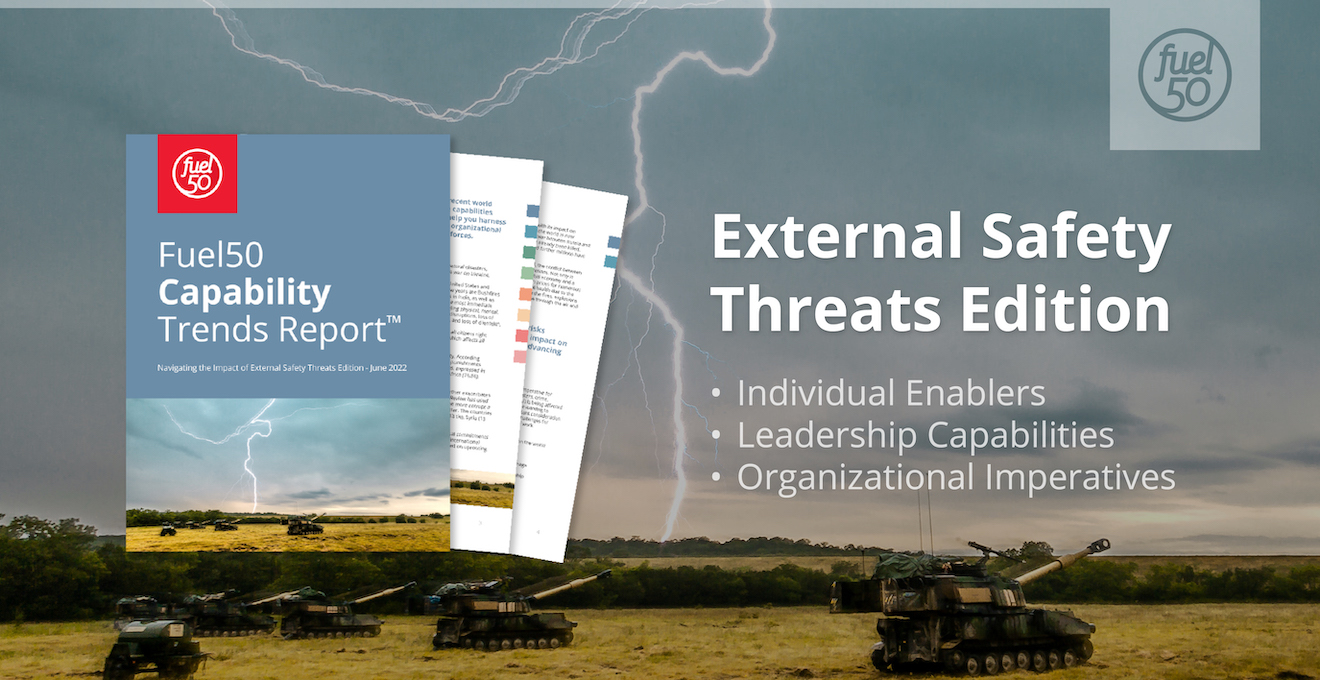 External Safety Threats
Organizations that invest in safety experience multiple benefits, including employee retention, ROI, employee productivity, company reputation, and employer branding. This Fuel50 Capability Trends Report explores how organizations can navigate the impact of external safety threats and identifies transformational capabilities to support in creating sustainable change and creating an environment where employees feel safe.
This report is designed to help you harness the latest global capability trends to ensure that your organizational talent strategy is aligned to the current driving global force.
Discover the latest capability trends from across the globe.
What has been happening in the world?

How do we anticipate these events will impact the world of work?

The importance of amplifying the right capabilities to minimize or embrace these world events
The capabilities and specialist skills highlighted in this report need to be embedded into the following three levels of workforce architecture: Individual, Leadership, and Organizational. We have also included some reflection questions to help you evaluate the importance of each capability for your organization.
Enjoy reading! We look forward to sharing more research and insights with you.
Written by Fuel50's Workforce Architect team
Contributors: Havisha Rampersad
Fuel50's dedicated team of Workforce Architects and Industrial and Organizational Psychologists feed the Fuel50 Talent Ontology, train our ethical AI with Diversity, Equity, and Inclusion design principles at heart, and support best-in-class organizations using Fuel50 to transform and future-proof their talent strategy and workforce architecture.