2022 is the year to rebuild your company culture.
By this point, workplace cultures worldwide have been battered and bruised by the changes that organizations have had to make during two years of pandemic lockdowns.
With many employees now using new technologies to be able to work remotely, workplace culture must follow suit and shift into a new dynamic.
Here's how Forbes describes what needs to happen to get company culture back on track:
"A new year offers employers the opportunity to reflect on how their organization has adapted to recent challenges. It's also the perfect time to reimagine workplace culture. That's because employers have struggled to recruit and retain top talent in recent months. And according to a new report from Glassdoor, the tight labor market trends will continue into 2022.
One key to winning the war for top talent is a renewed focus on company culture. The organizations that succeed will rethink employee engagement and develop an employee-centric work environment."
As a result of these recent challenges, internal mobility, career development, and growth opportunities are all increasingly important within an organization. And employees simply aren't willing to settle for less anymore. A talent marketplace can unlock opportunities, offering employees a chance to grow and organizations a platform that is dedicated to supporting and sharing their existing talent.
Prioritizing your people's needs is key in helping rebuild company culture and creating a workplace that supports growth and development. Here are three ways a talent marketplace can help you get there.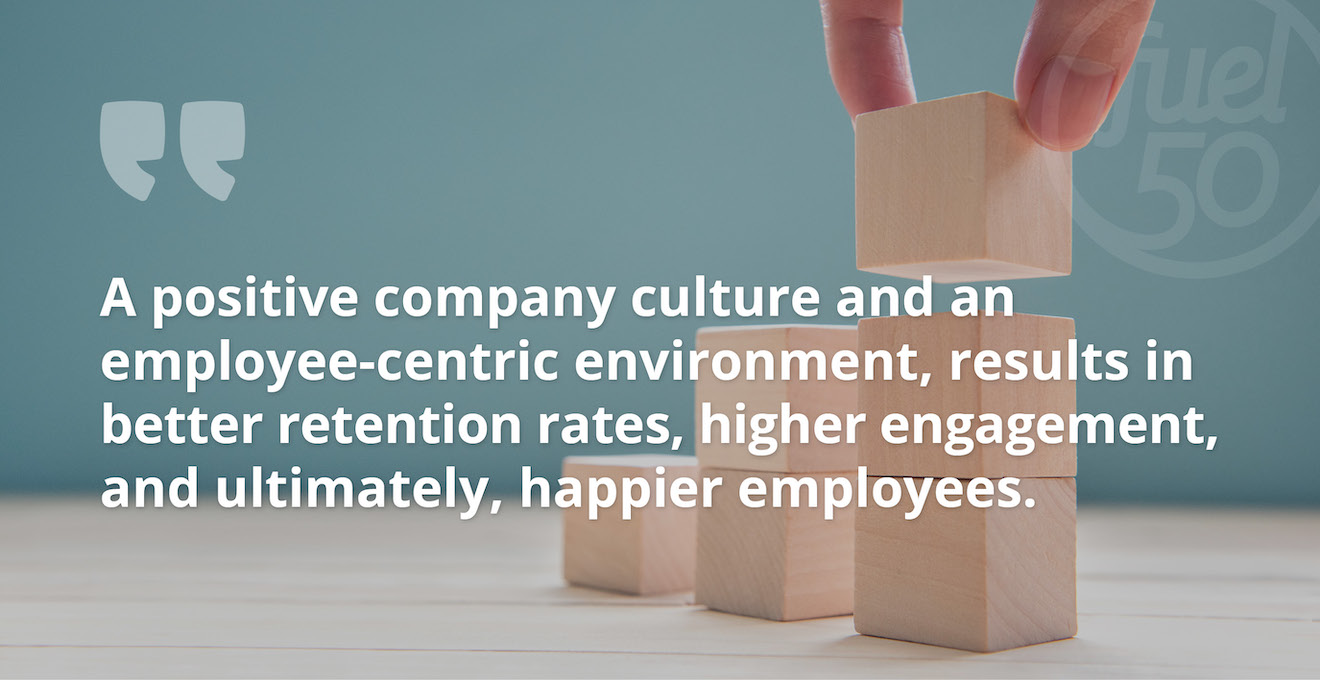 1. Creates Opportunities for Employee Growth & Development
Now, more than ever, people are looking for jobs in organizations that allow them to grow, develop, and build their careers. In fact, much of the turnover during The Great Resignation has been driven by employees looking for better opportunities to do just that.
A recent story in the Harvard Business Review focused on this very fact. It describes it like this:
"In the last two years, millions of Americans have left their jobs. It's the outgrowth of the tremendous disruption of the pandemic, an event unlike anything most of us have ever experienced. The mass movement began two years ago under that duress and has gained momentum even as the pandemic itself eases. It's been called the Great Resignation, but I push back against that descriptor. I am inclined instead to name it the Great Aspiration. …
The Great Resignation appellation is … mistaken. Most workers are not simply quitting. They are following a dream refined in pandemic adversity. They are aspiring to grow in the ways most important to them."
The concept of the talent marketplace — defined by Deloitte as a platform or system that utilizes AI to empower employers and employees to connect skills and interests to the right opportunities — speaks directly to the needs of so many workers who are "aspiring to grow in the ways most important to them."
A great many workers want to not only broaden their skillsets, but also want more opportunities for advancement. That's because a job without growth can make people feel stagnant and unchallenged.
When organizations invest in their employees, their abilities, engagement, and retention rates grow."
And this is exactly what talent marketplaces do. They equip employees with the tools to harness their skills and take ownership of their career trajectories, reinforcing a culture of growth and development.
2. Supports & Promotes Internal Mobility
Talent marketplaces allow employees to see beyond their current roles and responsibilities. They are given the opportunity to expand their skills, learn something new, or simply try something they haven't done before. When managers encourage their people to engage in projects, stretch assignments and gigs across the organization, it breeds a culture of talent sharing that diversifies their 'talent ecosystem'.
Denise Moulton, a Vice President at Deloitte, talked about how Deloitte's research and data show the benefits of this:
"The talent marketplace really can offer something for everyone. For workers … it's all about growth and opportunity. For the organization, it actually can help manage resources in a scalable way.
Think about the supply and demand challenges we have with talent in the marketplace. You can really start to mitigate some of those challenges and be more thoughtful about how you're moving folks throughout the organization. A (talent) marketplace is really that total talent ecosystem that keeps us all together in service of a unifying goal — which is about performance, worker performance, everybody's performance…
When it's done well, the internal mobility marketplace may help remove some of those barriers to workers seeking new opportunities or looking to change roles. It will also help support filling open roles in a quicker, more efficient fashion. And as internal hiring practices become more streamlined, organizations can be a lot more deliberate and start to focus on cultivating their internal talent pool as a matter of practice, not by chance or by accident."
However, to truly realize these benefits, managers must embrace change and create a supportive culture that encourages employees to not only build their skillsets but also share them across the enterprise. The Harvard Business Review touched on the role of leaders in rebuilding culture in a post-pandemic world. They said:
"All cultures are the product of legacies — in particular the historical values of their leaders … The temptation to cling to the past is always strong. But big, external changes force cultures to evolve. …
What is clear is that one cannot draw too many conclusions from surveys and close dialogue with the employees during a pandemic, since people are living with fear, anger, and depression. As we emerge from the pandemic, we need to figure out how to create a sense of belonging and community within organizations where the fear, anger, and depression are being replaced by choice, flexibility, and freedom."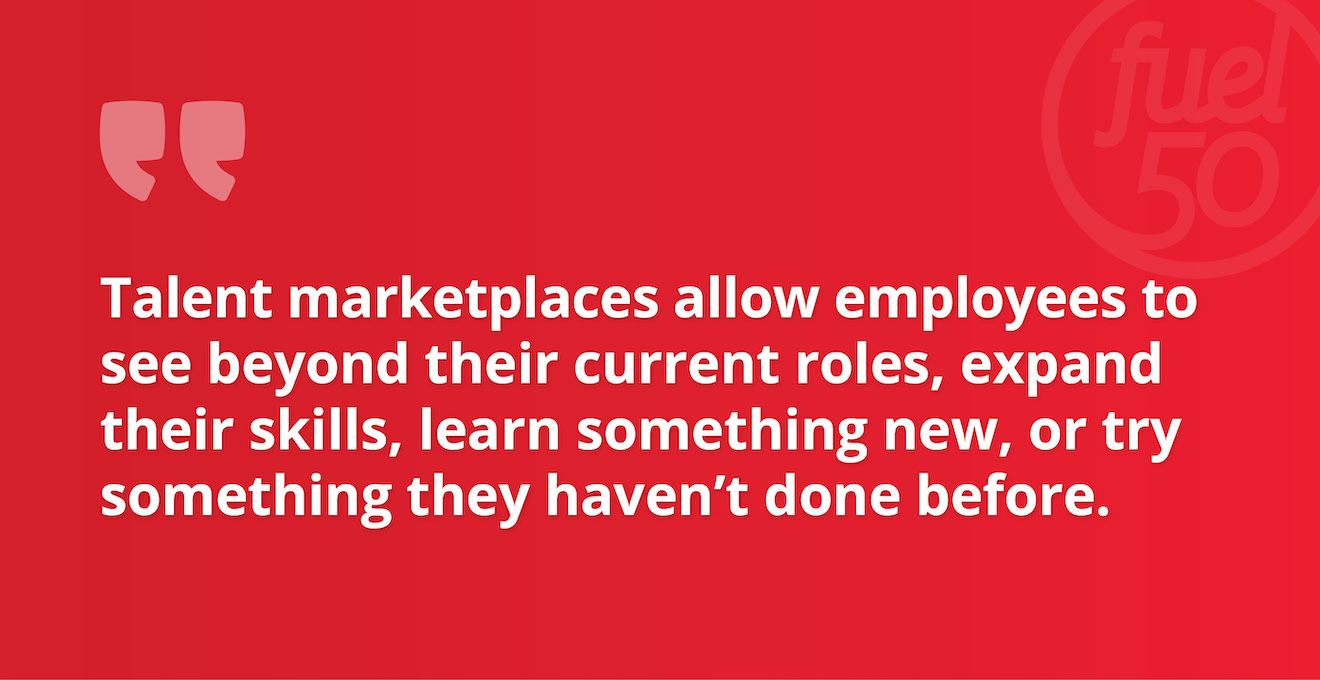 3. Enhances the Employee Experience
Just what is the "Employee Experience?" Gallup defines it as "the journey an employee takes with your organization. It includes every interaction that happens along the employee life cycle, plus the experiences that involve an employee's role, workspace, manager and wellbeing."
Beyond the definition, however, the employee experience is about how you handle your evolving organizational culture — something that they embraced completely during the pandemic at Madison Square Garden (MSG).
"We went from selling out to lights out in the blink of an eye when 2020 happened," said Carolyn Rooney, MSG's Senior Director of Leadership and Talent Development. "It challenged every part of our work … and it challenged our employees and the future success of our company as well."
In a presentation at Fuel50's FuelX Talent Mobility Conference, Rooney and Marina Sideli, Senior Specialist of People Development at MSG explained the close connection between the customer experience and the employee experience. In fact, they found that in order to rethink and rebuild their customer experience, they first had to rethink and rebuild Madison Square Garden's employee experience.
How did they do this? Carolyn Rooney explained:
"We have a phrase at Madison Square Garden — meet people where they are. So, in order for us to meet our employees where they were, we needed to understand where they were. We created a survey to understand that collective mindset on customer-centricity. And this survey helped us better understand how employees orient themselves to our customers and to one another, which was really important to us.
It's not just how our employees orient themselves to the customer, but how do we support each other to create that valuable customer, fan, and guest experience? And the way that we use this data is to really understand where are we, right, in meeting people where they are? And then next, what are the training and development opportunities that we need now, the skills and the behaviors that we need to build in order to reimagine that customer experience?"
MSG's managers and leaders made sure they really listened to their employees as they juggled the needs of both customers and employees and listening to both was a critical part of the process.
In fact, one important finding that came out of MSG's employee feedback, and it is what a lot of organizations are seeing in their workforces around the globe, is that employees and workers are more likely to stay with their organization if they have a strong focus on career development.
The great thing about a talent marketplace is that it helps to improve employee experiences by providing ample opportunities for career development, increasing internal mobility, and opening the doors to infinite career paths. This cultivates a positive company culture and an employee-centric work environment, resulting in better retention rates, higher engagement and ultimately, happier employees.
Offering something for everyone with a Talent Marketplace
Yes, talent marketplaces support career development, internal mobility, and employee experiences, but it's also so much more than that. It's about putting employees at the heart of it all. When organizations invest in their people, they are also investing in a positive work culture where workers feel valued, appreciated, and heard.
And as Deloitte's Denise Moulton observed,
The Talent Marketplace really can offer something for everyone. For workers, we've talked about it. It's all about growth and opportunity. For the organization, it actually can help manage resources in a scalable way."
That's a win-win for everyone.