The demand for internal talent mobility is trending as a result of pandemic-led changes to the talent supply dynamics. The world is changing at an accelerated pace, and there is an urgent need for HR professionals to harness change as a catalyst for engagement and growth across their ever-evolving workforce. Talent leaders have recognized that traditional talent management solutions make it more challenging for their organization to be agile. Now business leaders are starting to acknowledge the need for HR teams to have a fresh mindset that aligns with the new realities of supporting their dynamic and fluid workforce.
Managers must, therefore, start thinking about their talent strategy in terms of the progression of their people who want to grow and add new value to the business. Meanwhile, Chief Human Resource Officers (CHROs) have an immediate opportunity to grow HR's responsibilities for internal talent mobility to shape the future of their organization.
Building an inclusive culture of talent sharing should be seen as a crucial part of a larger, systemic approach to internal talent mobility. To begin implementing this kind of culture, HR leaders must highlight to their stakeholders that talent sharing is one of the most effective ways to promote retention and career ambition across the organization. Furthermore, an overarching culture of talent development can be a vital component of the workforce value proposition.
We should recruit internally before recruiting externally. We might – probably, if we're honest – have the skills we need inside our own organization. People love and deserve to be challenged and developed so they can grow their career with you rather than attrite to do it elsewhere. Creating this kind of internal mobility and organizational agility just makes good business sense. All of this makes sense, right? Then why haven't we cracked the internal mobility nut yet?
When it comes to aligning talent to the strategic needs of the business, we tend to trip over our own shortcomings. We forget about all available talent in our full and extended workforce, we lack a complete and timely line of sight to where they are and the skills and capabilities they offer, and we tend to focus on counting heads more than we focus on making heads count. People rarely work for a single employer for their entire career. Wonder why? What if we had a better way of constantly realigning talent to the business so they are better developed, served, and engaged — while the needs of the business are better and more immediately addressed by the people who know it best? And it's not just about filling jobs but finding the right skills and capabilities to sustain and future-proof the business.
Driven employees want transparency into opportunities to learn new skills, take on different assignments, shadow on projects, find mentors and volunteer opportunities, and work with different teams and managers. They naturally look internally for personal growth journeys and new challenges. In fact, Gallup research (1) found that intentional development of talent yields incredible benefits — up to 11 percent in increased profitability — and organizations are twice as likely to retain their employees. CHROs should assess all aspects of the talent equation by determining how best to optimize costs and redeploy workers while maintaining a human-centric approach.
Figure 1: The internal recruiting gain spiral — correlations between best career engagement practices, internal recruiting and business outcomes.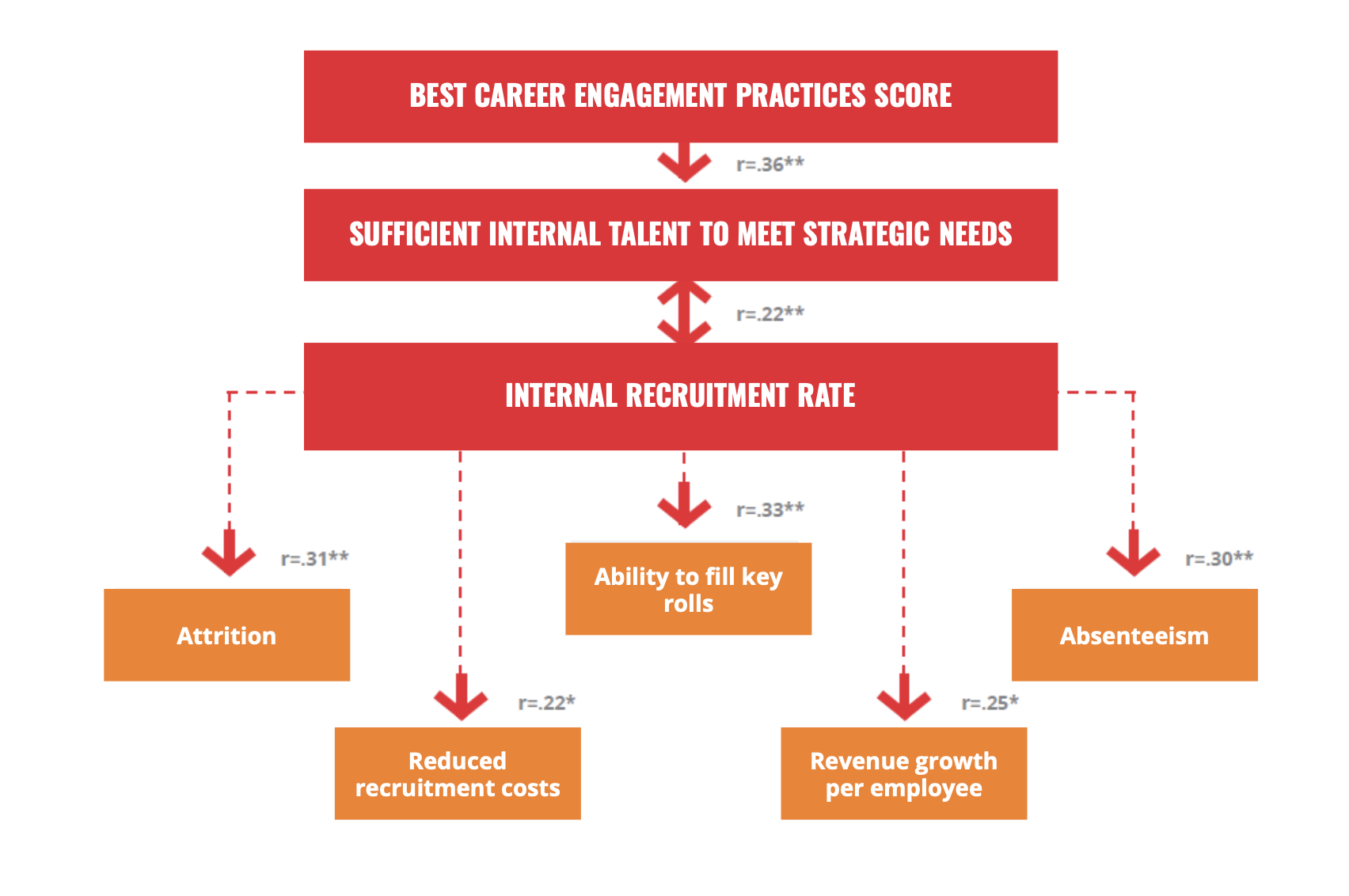 Investing in Talent Mobility
Results show that best in class career pathing and development practices are connected to improved HR functions and better business performance at large. A closer drill down into these relationships shows that best career engagement practices lead to business return primarily by building internal talent bench strength. Top performing organizations built a broad and diversified internal talent pool, which provided them with sufficient internal talent to address strategic challenges. Leveraging Fuel50 Career Engagement Benchmark Practices, they were able to correlate overall revenue growth and revenue growth per employee with improvement on a range of key HR performance metrics including reduced attrition, reduced absenteeism and lower overall recruiting costs (r=.421**).
Fuel50 Career Engagement Benchmarking Study March 2019 Edition
What is a Talent Marketplace?
A best-in-class talent marketplace is an ethical, AI-powered platform that matches employees to projects, learning opportunities, experiences, stretch assignments, mentors, and other opportunities on their career journey posted by managers and leaders. The experience should be employee self-driven and focused on skill development with success measured by retention, engagement, internal mobility ratios, and more. It should also enable the enterprise to meet its needs for reskilling, succession, and leadership development. 
Companies who have full visibility to all of the different types of talent at their disposal, who have a true line of sight to how work is getting done, by whom, with what skills, and performed where and at what value, will have an immediate and significant competitive advantage. An inclusive talent marketplace allows the entire workforce (full-time, part-time, gig workers) to connect people with passion and purpose to the right opportunities and broadly promote their skills and aspirations in a democratized fashion. Changing workforce and labor dynamics require a talent marketplace solution to include key information like skills, credentials, and training certifications for previous freelancers, contractors, and consultants. 
Initially, the rapidly expanding segment of the workforce known as the "gig economy" – where approximately 150 million workers in North America and Western Europe have been working as independent contractors – was primarily driven by ride-sharing and task-oriented service platforms. A report by McKinsey, however, found that knowledge-intensive industries and creative occupations are becoming the largest and fastest-growing segments of the "freelance" economy. Organizations need to apply the concept of the gig economy inside their own firms. This approach will enable talent sharing across departments by dynamically matching and deploying skills to areas of the business that are most in-demand. According to a 2020 PwC study, a staggering 74 percent of CEOs were concerned about the availability of key skills. But it's not only about skills; it is also the idea of enhancing workers' resilience in the face of constant change. Many organizations have focused on creating and executing stable plans, which works well when factors are clear, predictable, and consistently the same. Resilience, however, tackles what is unknown, changeable, unpredictable, and improbable.
Figure 2: The Talent Marketplace – Enabling an Employee's Career Journey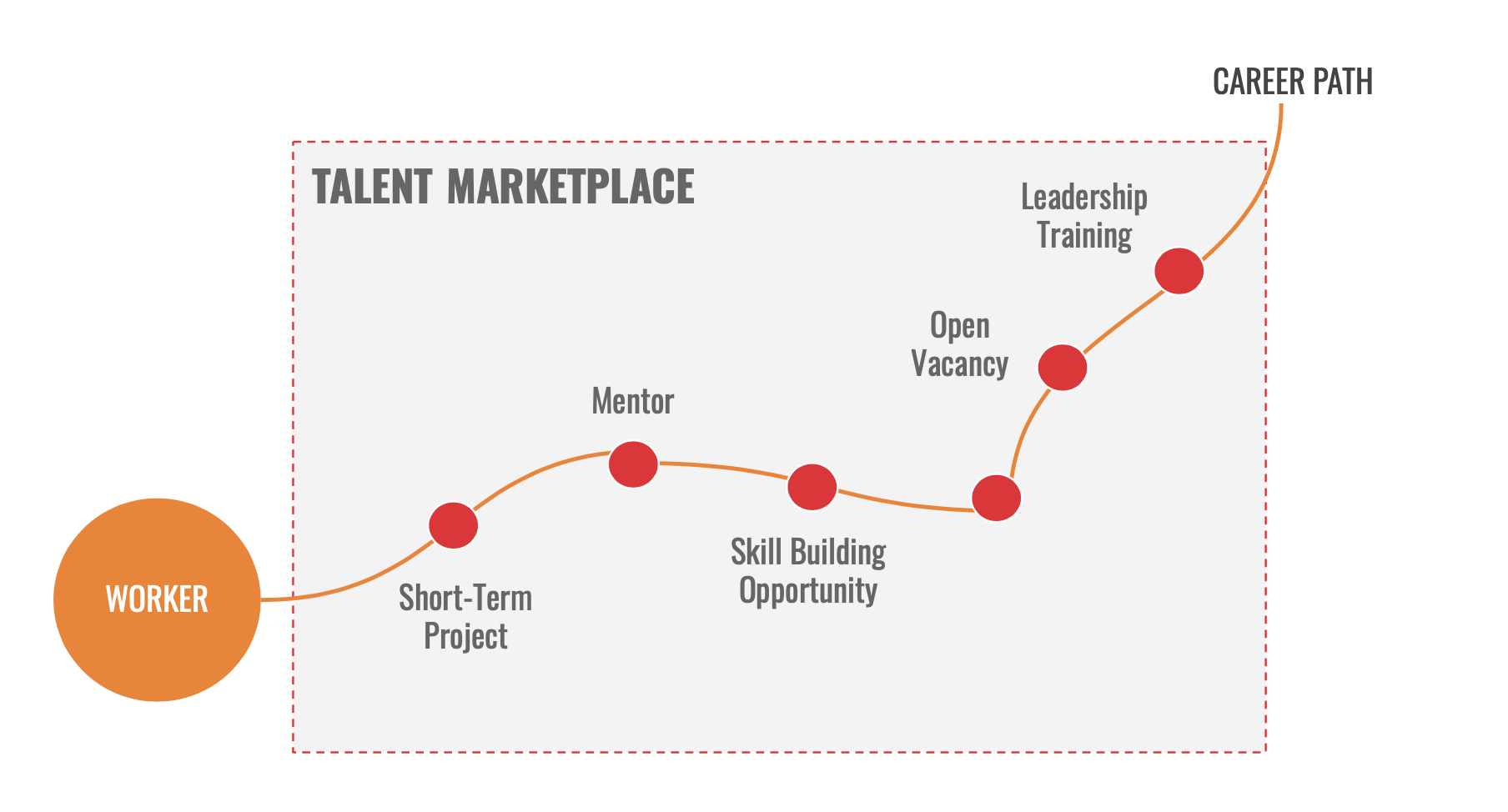 Talent Marketplace vs. Opportunity Marketplace
With internal talent mobility being essential for complex working environments, a clear distinction needs to be made between a talent marketplace and an opportunity marketplace. Talent marketplaces tend to be a bit more limited as they are rooted in application tracking from an external perspective,organizationally-centric, and restricted to transactional matching of employees to projects and job opportunities. Success tends to be measured on the number of jobs filled, projects matched or project hours completed (2).
As Deloitte explains, an opportunity marketplace goes well beyond simply matching people with full-time roles to deliver the full potential of the workforce and the workplace. Opportunity marketplaces, according to MIT Sloan Management Review (3), "are systems, digital platforms, and virtual places where organizations provide and workers find the opportunities that are most relevant to the mutual benefit and success of both parties. Markets that facilitate successful exchanges between organizations and their workers around defined opportunities that tend to efficiently and fairly allocate talent. They empower and encourage workers to evaluate, choose, and act on opportunities that are important for the organization and for themselves. In turn, opportunity marketplaces can provide an organization with actionable data and analytics, which can help it become more efficient, valuable, and productive.
Beneficial to employers and workers through sustained employment, untapped capabilities revealed, and motivation in new ways, opportunity marketplaces deliver important internal talent mobility measures, such as a more strategic lens on reskilling and reallocating talent by tracking their number of reskilling actions taken, leadership coaching effectiveness, as well as their number of project hours completed. Deloitte further contends that these platforms are a faster and more effective way to address investment constrained environments than traditional workforce planning and deployment methods. For a talent marketplace or opportunity marketplace to be fair for all, ethical AI needs to be applied. Not only can this vastly reduce bias in internal hiring but also it can enhance meritocracy, making the association between talent, effort, and workforce front and center.
Built on the principles of fairness, transparency, and inclusivity; an opportunity marketplace allows organizations to identify a broader pool of qualified internal workers for more key roles and projects beyond the traditional succession planning of only the top tier of the workforce. As a result, leaders can more readily assess skills gaps and risks associated with capability deficiencies. That understanding, in turn, improves management's ability to direct talent where it can generate the most value.
In the next article of the series, Jim Holincheck will explore how organizational leaders must develop internal talent mobility mindset.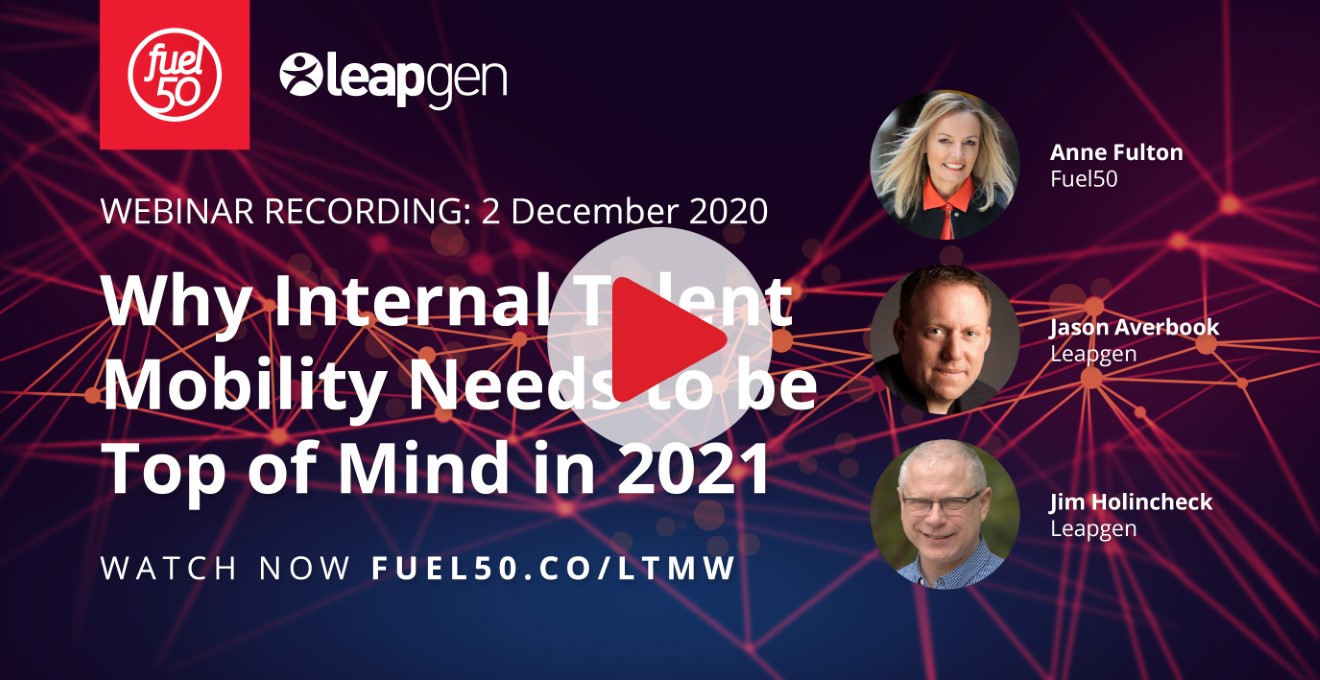 A Best Practice Guide to Internal Talent Mobility
Internal talent mobility is essential in this new era of work, and a talent marketplace solution is required to apply this talent operating model in a sustainable and scalable way. In this playbook, we explore why organizations need to invest in an internal talent marketplace.
About the Author
Jason Averbook is a global keynote speaker, industry analyst, thought leader, and consultant in the area of human resources and workforce experience. He is the co-founder and CEO of Leapgen, a digital transformation shaping the future of work. Author of The Ultimate Guide to a Digital Workforce Experience ~ Leap for a Purpose, Jason seeks to broaden executive mindset to rethink how to better design and deliver employee services that exceed the expectations of the workforce and the needs of the business.
Prior to founding Leapgen, Jason served as the CEO of The Marcus Buckingham Company (TMBC). In 2005, he co-founded Knowledge Infusion LLC and served as its CEO until 2012, when the company was sold to Appirio. Earlier in his career, he served as the Chief Business Innovation Officer at Appirio Inc., where he led the HCM business. He has also held senior leadership roles at PeopleSoft and Ceridian Corporation. Jason has more than 20 years of experience in the HR and technology industries and has collaborated with industry-leading companies in transforming their HR organizations into strategic partners.